Prepackaged smoked salmon is a staple in my refrigerator. Its thin slices and salty flavor are perfect for quick lunch salads or even an evening omelet. Besides its flavor, smoked salmon is a healthy and nutritious protein that belongs in a kitchen routine.
While a variety of quality, prepackaged smoked salmon are items readily available for purchase at Market Street, there is another way to acquire this delicious, versatile seafood: make it at home.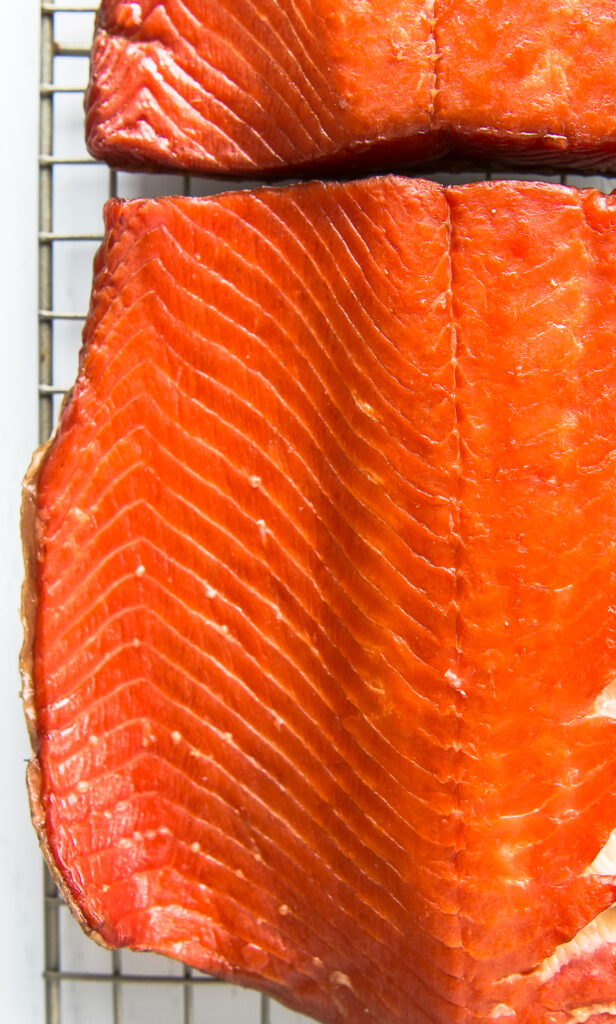 Smoking salmon at home probably hasn't crossed your mind that often. We tend to think about smoking land animals, but smoking fish is just as rewarding, if not more since smoked seafood is so unexpected (click here for a smoked shrimp recipe).
Home-smoked salmon involves three simple steps that occur over the course of 2 to 3 days.
Brine: 24 hours
Dry: 12 to 24 hours
Smoke: 5 to 7 hours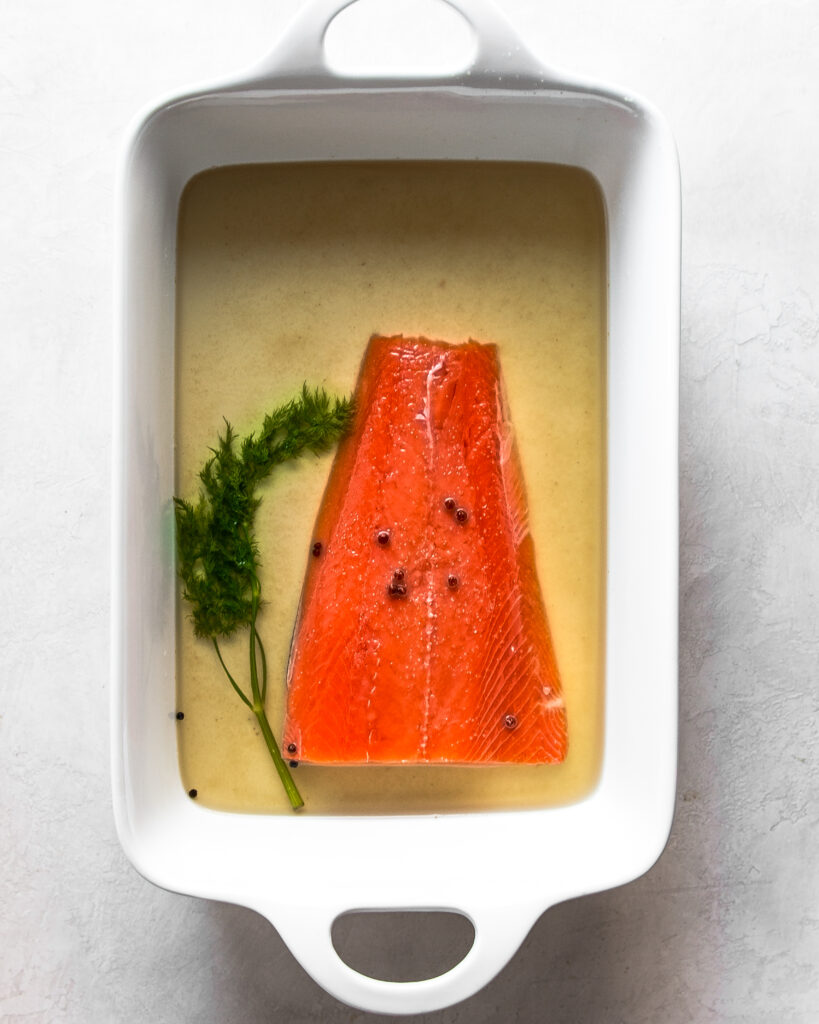 Don't let the time frame turn you off of this exciting and rewarding task. The labor involved is so minimal it feels practically hands-off.
One thing to keep in mind when smoking salmon at home is the end result. While many of our smoked salmon experiences revolve around a thinly sliced salmon, this smoked result will be more flaky and thick. Another benefit to smoking your own salmon—variety!
Market Street has all that is needed to help you on this smoking task. Besides quality fresh salmon and basic brining ingredients don't forget to pick-up charcoal briquettes and a cooling rack at Market Street. You won't be able to execute this recipe without these items.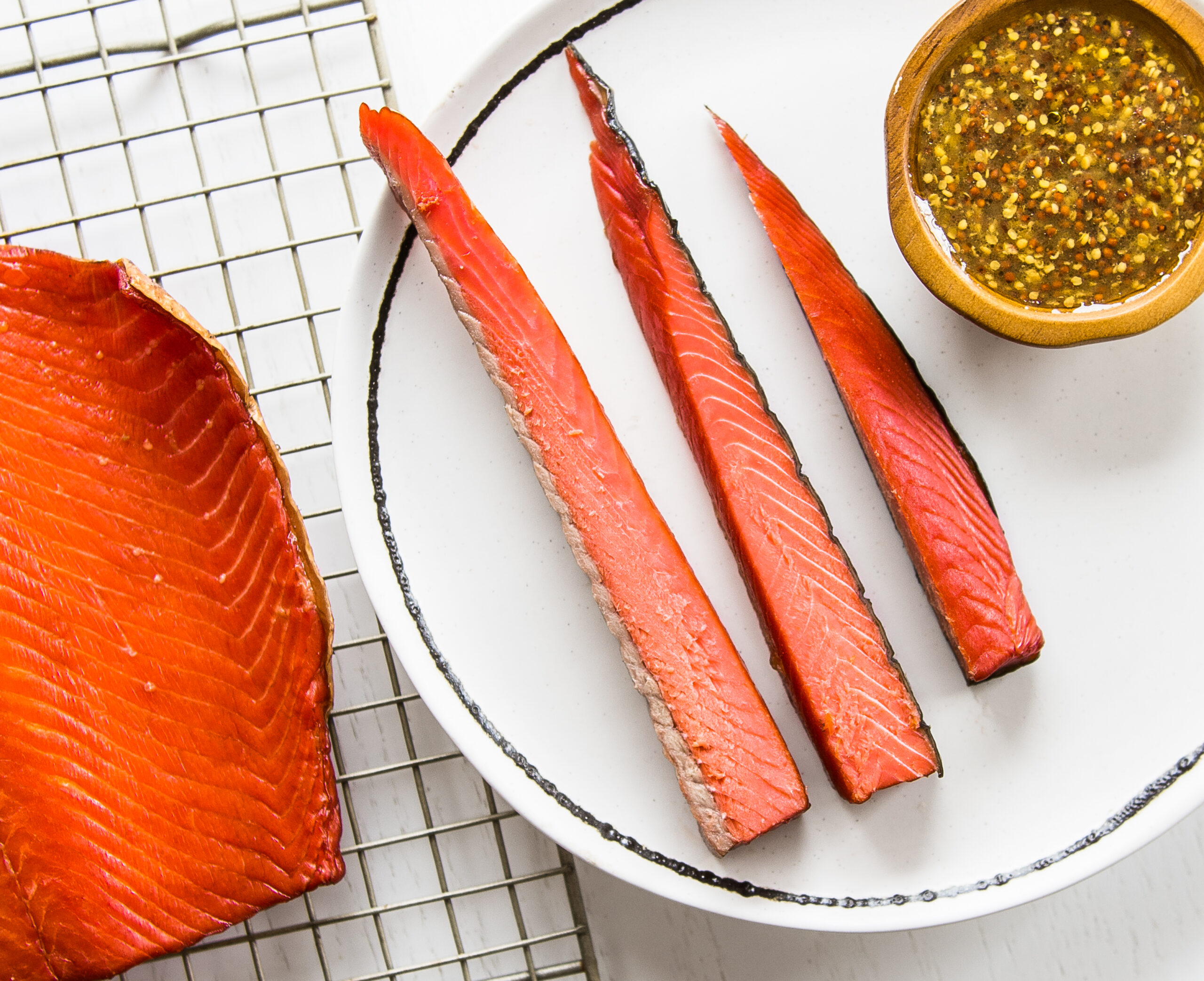 This week, skip the premade smoked salmon and plan to make it at home—you won't regret this decision, and who knows, you might acquire a new beloved hobby.
Disclosure: This is a sponsored post on behalf of Market Street. All opinions are my own.
How to Prepare a Charcoal Grill to Smoke:
The smoking temperature for salmon is a little lower (180-200) than what would typically be used for smoking land animals (225-250). This temperature can be a little tricky to maintain with a charcoal grill because it requires a delicate balance of air flow and fuel. If you're a little uneasy about trying for this temperature, don't worry, there is an almost foolproof method to achieve low temperature smoking glory: the charcoal snake method.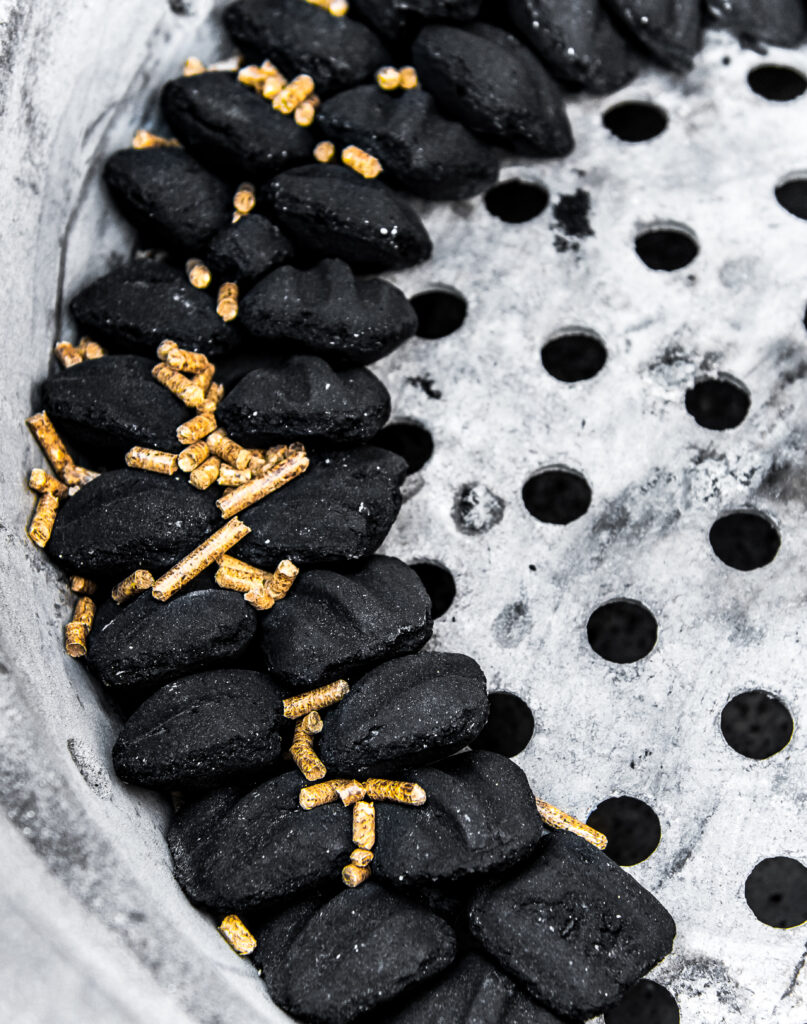 The Charcoal Snake Method involves arranging charcoal briquettes in a neat path around the perimeter of your grill. Briquettes are ideal for this because they are consistent in shape and don't burn quite as hot as lump charcoal. This technique will require your hands to get a bit dirty, but in the end when eating this delicious smoked salmon, you won't mind.
Clean the Grill. Make sure the grill is clean and in good working order. For me, this just means taking a few minutes to clear out any ashes leftover from prior use.
Arrange the Briquettes. Working with a few briquettes at a time, neatly arrange a trail of briquettes around the perimeter of the grill ensuring that each briquette is resting snugly against its neighbor. This will allow the fire to transfer from briquette to briquette following the path all the way around the ring. A few things to keep in mind.

Only a few briquettes will be lit at any point in time which helps keep the temperature low.
Use enough briquettes to get about 80% of the way around; if the grill is a clock, there will be briquettes from 12 o'clock all the way around to about 10 o'clock. Then, arrange another circle of briquettes next to the first one.
Two rings of charcoal around 80% of your grill should be about right for 5 to 7 hours of smoking at 180-200 degrees.
Exact temperatures and time will depend on the weather conditions, the size of your grill and how often you open the grill to check the salmon.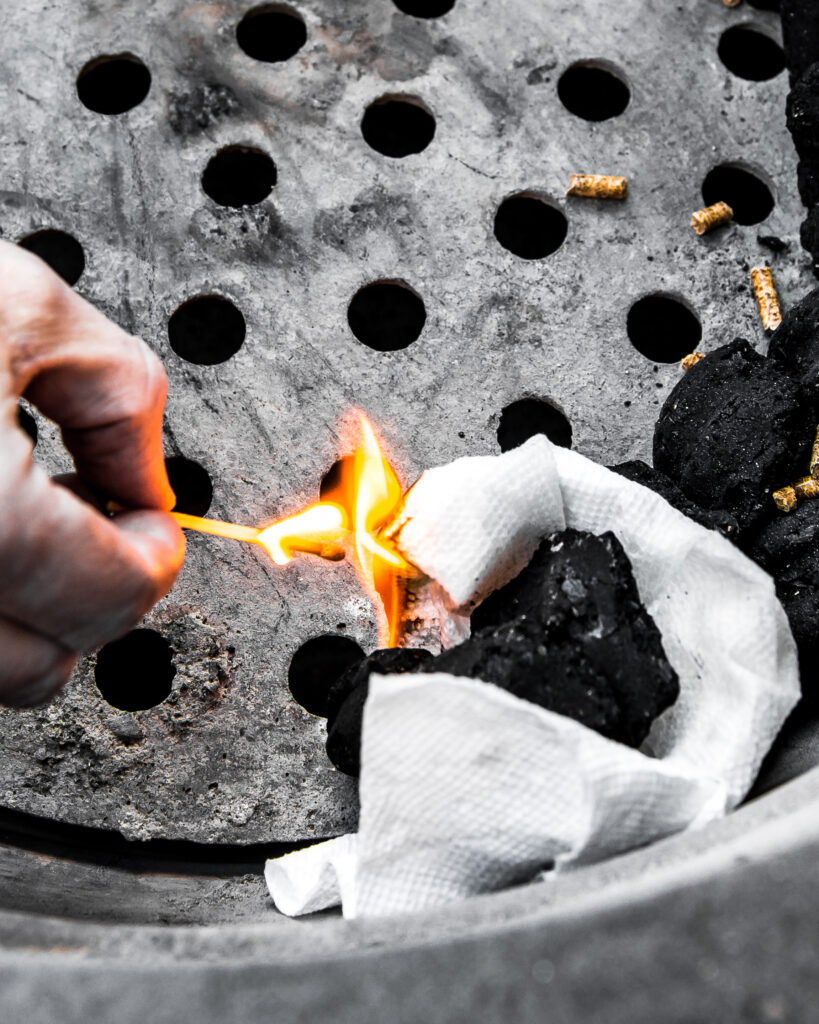 Add the Smoking Wood. Once the two rings of charcoal are in place, evenly spread your preferred smoking wood over the top of the charcoal. I recommend fruit woods (apple, cherry etc.) or other light smoking woods as their mild flavor pairs well with fish. Pellets, chips or slivers of split wood can also be used in place of the smoking wood.
Light it Up. When ready to light the charcoal follow these steps:

Drizzle a little bit of olive oil into a bundled-up paper towel (the paper towel shouldn't be completely soaked in olive oil, keep some dry to help it light).
Drizzle a few drops of the oil on top of the starting end of the charcoal ring.
Stuff the oiled paper towel around the first couple of briquettes and place 2 additional briquettes on top of the paper towel. Light the paper towel and leave the grill open to provide plenty of air flow until the fire gets going. Check the fire after about 5 minutes to be sure it is still lit.
Let the fire continue to smolder until the paper towel is completely burned out and there is evidence that the charcoal is lit (you will see some glowing orange embers and there should be a good amount of grey ash on the first few briquettes).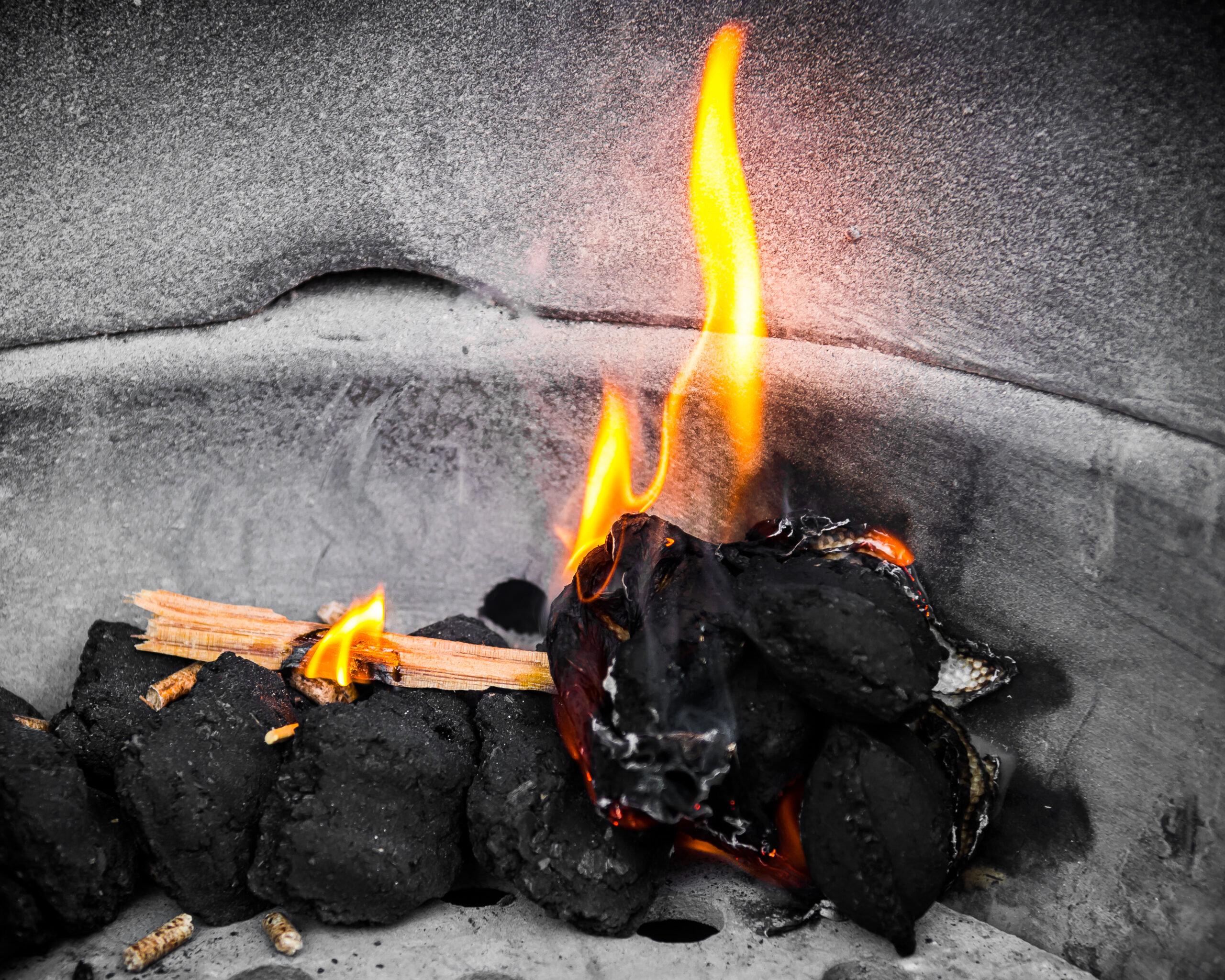 Warm the Grill. Once the charcoal are properly lit, close the grill and wait another 10 to 15 minutes for the fire to stabilize and for the grill to warm up. Once the grill is close to 180 degrees, the salmon can be placed onto the grill.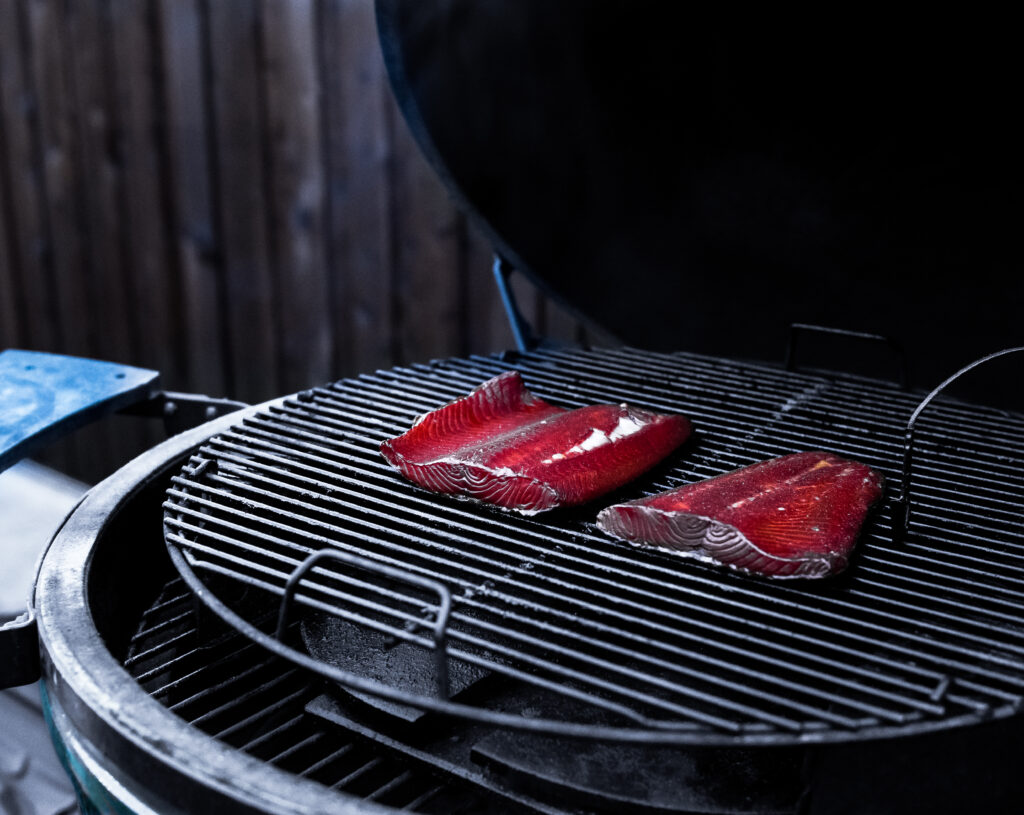 Smoke the Salmon. Smoke the salmon for 5 to 7 hours keeping the temperature between 180 and 200 degrees. A few notes to remember when smoking:

Adjust the vents on your grill as necessary, opening for more air flow to increase temperature and closing to reduce air flow and decrease the temperature. Remember that vent adjustments can take 5 or 10 minutes to make an impact on the temperature, so be patient. As long as there is not a runaway fire headed over 250 degrees, the salmon will be fine.
After 5 hours, check the internal temperature of the salmon. If the temperature has reached 130 degrees, you now have a decision to make. For a softer texture, remove the salmon now. If you prefer the salmon a little firmer, continue to smoke until the desired texture is achieved. Anything over 7 hours will begin to resemble salmon jerky, which is delicious, but not quite as versatile.
Smoked Salmon
Ingredients
8

cups

water

5

tablespoons

kosher salt

1/4

cup

brown sugar

1

tablespoons

peppercorn

2

teaspoons

garlic powder

3

sprigs of fresh dill

2 ½ to 3 ½

pounds

salmon

,

cut in half or into three pieces
Instructions
In a large saucepan combine the water, salt, sugar, peppercorns and garlic powder. Cook over medium heat until the ingredients have dissolved and are well combined. Remove from the heat and add the dill. Let the brine come to room temperature, this will take about 4 hours.

Place the salmon into a rectangular baking dish. Pour the room temperature brine over the salmon, making sure to submerge the salmon. Cover and place into the fridge to brine for 24 hours.

After 24 hours, line a rimmed sheet pan with foil. Place a cooling rack on top of the sheet pan. Remove the salmon from the brine, rinse with cold water and pat dry. Place the salmon onto the cooling rack and place into the fridge to dry for 12 to 24 hours.

When ready to smoke, heat a grill to 180 to 200 degrees. It will be important to maintain this temperature for the 5 to 7 hours while the salmon smokes. (See above for a more in-depth instruction on smoking salmon with a charcoal grill.) If using a gas grill or pellet-type grill, adjust the settings as necessary to hit the smoking temperature.

Place the salmon onto the grill. Close and grill lid and smoke for 5 to 7 hours, or until the salmon reaches an internal temperature of 135 degrees.

Remove the salmon from the grill. Place onto a cutting board and let rest for 10 to 15 minutes. If not serving immediately, place into an airtight container and store in the fridge.

Serve warm or chilled with fresh chopped herbs or a mustard dipping sauce (see recipe in the notes).
Notes
Be sure to select a salmon that has been de-boned. For a simple dipping sauce combine a few dollops of whole grain mustard, a large spoonful or two of extra-virgin olive oil, a splash or two of red wine vinegar and a pinch of red pepper flakes. Stir well to combine and enjoy!