This past spring I started to come across rice stuffed pumpkin recipes– I wasn't looking for them and I wasn't thinking on fall recipes. I stumbled across a handful of these recipes in middle eastern cookbooks and was mesmerized. The rice and all the aromatic herbs used to scent the dishes were unforgettable.
I noted to revisit this idea of stuffing rice into a pumpkin come fall. And here we are.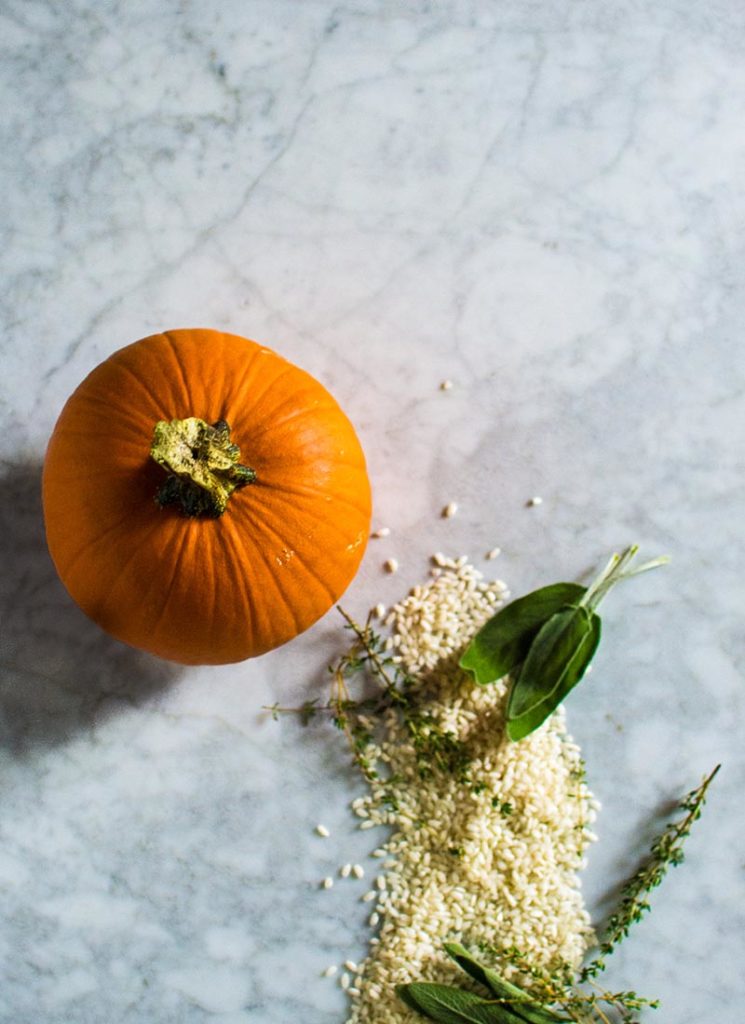 Folks. If you've never stuffed a pumpkin with rice and baked it, you're missing out.
After two successful attempts of filling a pie pumpkin from Market Street with bacon-herby-cheesy rice I was officially addicted, elated and, well… stumped. Why on earth (especially during the past 10 years when our society has been hyper-pumpkin) do we not stuff and bake pumpkins more often?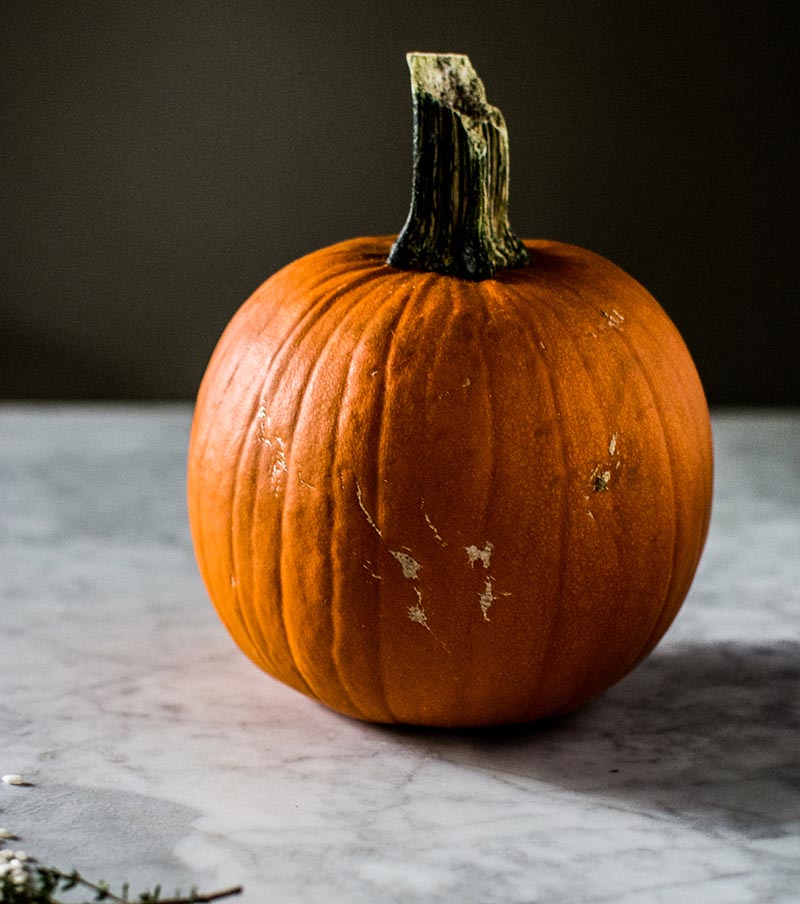 First off, the pumpkin is a perfect cooking vessel. It's a giant insulated bowl that can hold anything from savory rice (like I do here) to a spicy chili.
Second, filling a pumpkin with food is FUN! When I stuck it in the oven I was struck by its beauty. When I removed the pumpkin from the oven I had a hard time not thinking "what a piece of art!" It's unique, amusing and an interesting point of conversation.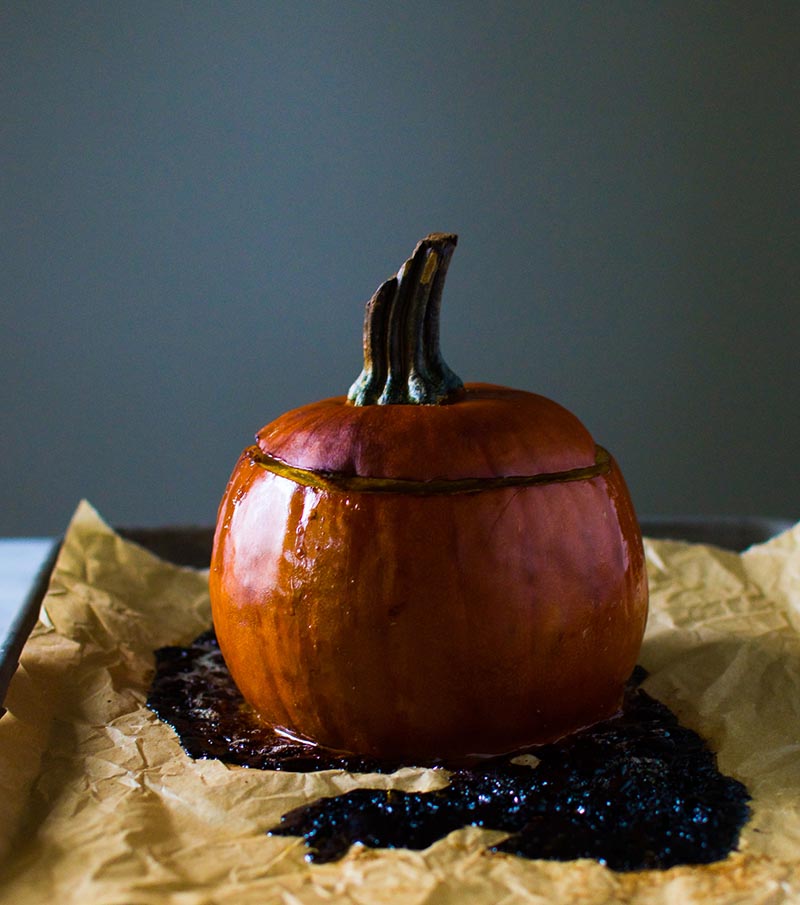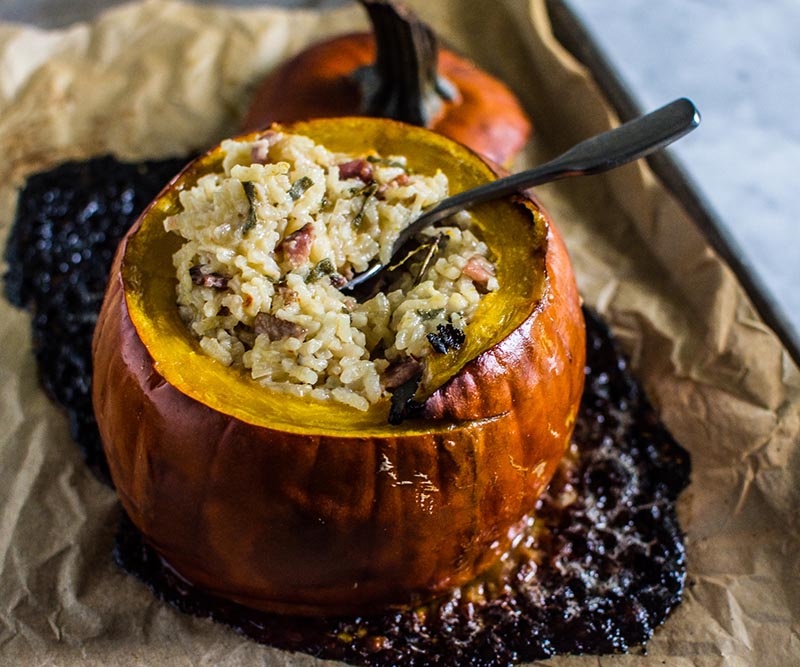 The more I make this baked pumpkin and tell others about it, (because it's such an all-around pleasant recipe) the more I hear of food memories that include a baked pumpkin. There seems to be small pockets of individuals who yearly stuff pumpkins with an assortment of tasty ingredients and serve it on Halloween night or Thanksgiving. What a fun tradition!
Having enjoyed developing this recipe, I also want this pumpkin bake to become my fall tradition. Maybe not on Halloween or Thanksgiving– but perhaps the first cold evening of fall? Or the night our family decorates for Halloween? There are so many options to make this meal a family ritual. But…first things first. The pumpkin. I need to start with the pumpkin.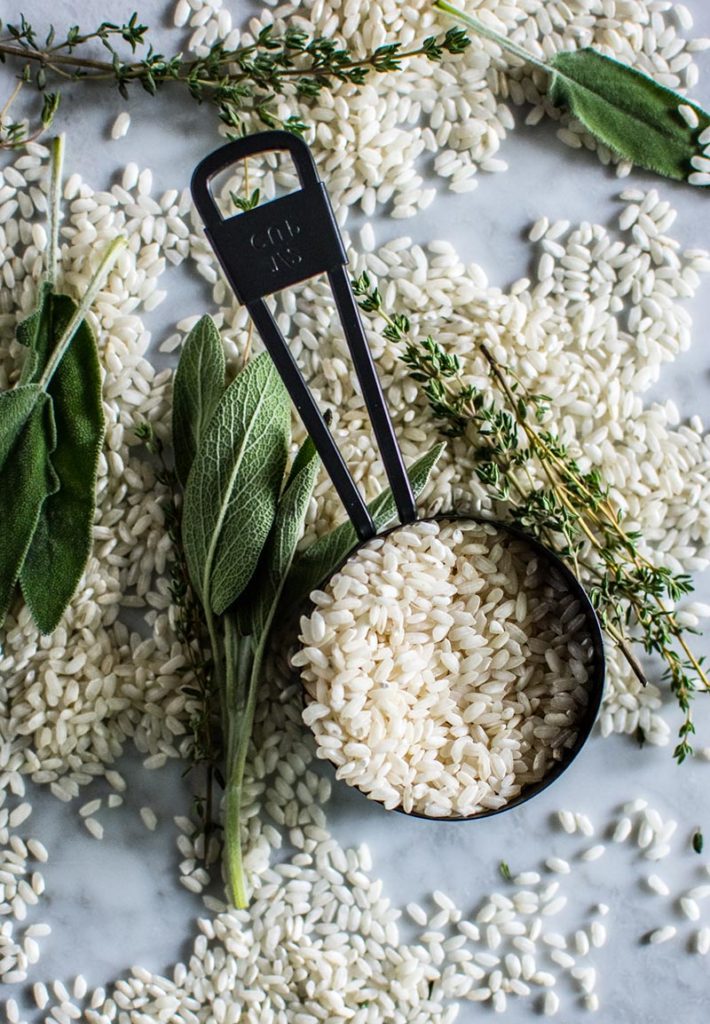 That decision is easy. Market Street has such a beautiful variety of pumpkins that I know it will be difficult to decide on the pumpkin. Cinderella! Fairy Tale! Wolf! Jack-O-Lantern! It is easy to get side-tracked.
When I bake a pumpkin, I prefer a 3 pound pumpkin instead of anything larger. The pie pumpkin is perfect for stuffing. It easily serves a group of 4 to 5. If you need to serve 8 to 10, grab two pumpkins. They are small and not to heavy– which means handling the pumpkin is a lot easier. Plus the pulp and seeds inside the small pumpkin are minimal.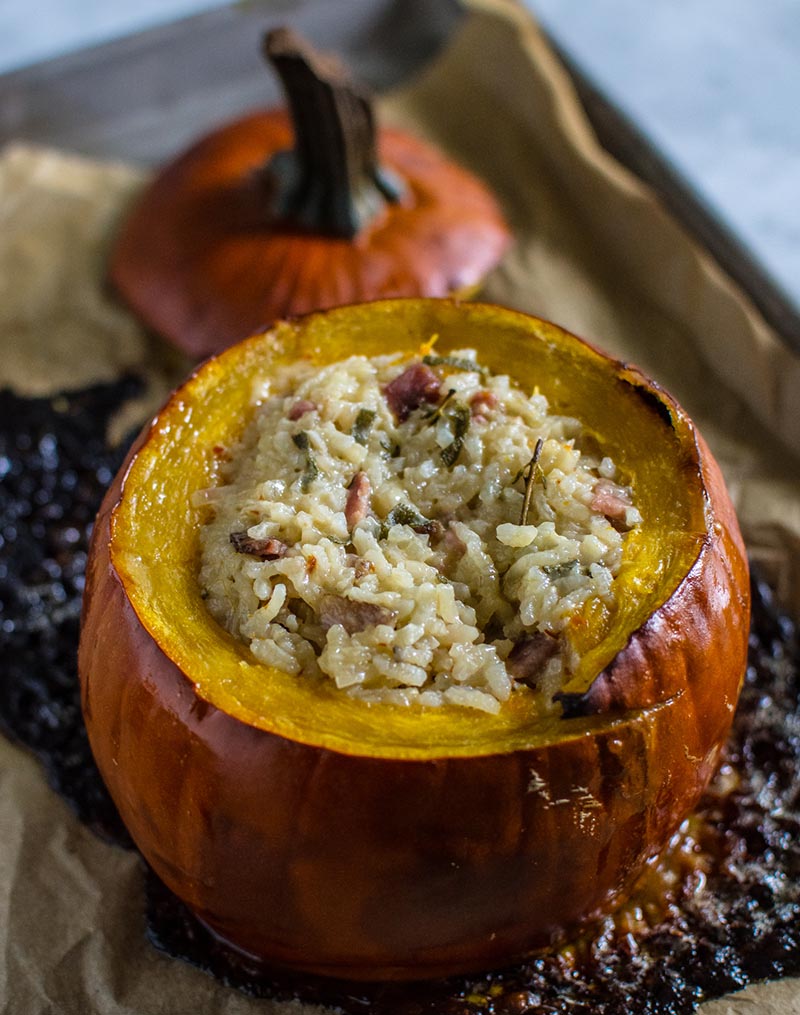 Once the pumpkin is selected everything else is basic. Rice, bacon, cheese, cream, fresh herbs and shallots. It's easy as (pumpkin) pie!
The fall beckons for traditions– new or old, antiquated or modern. Get aboard the tradition train and start having more food fun! I hope this recipe will be a part of your holiday ritual that loved ones will tell of one day and continue to pass on.
Baked Savory Rice Stuffed Pumpkin
Ingredients
1 3

pound

pie pumpkin

1

tablespoon

olive oil

2

teaspoons

kosher salt

pinch

of nutmeg

2

tablespoons

unsalted butter

1

cup

bacon

,

cut into 1 inch pieces

1

shallot

,

diced

5

sprigs fresh thyme

1/2

teaspoon

red pepper flakes

1

cup

arborio rice

1

cup

unsalted chicken stock

1/4

cup

cream

1/4

cup

water

1

cup

gruyere
Instructions
Heat the oven to 400 degrees.

Slice the top off of the pumpkin. Remove the seeds and any excess pulp.

Rub the interior of the pumpkin with 1 tablespoon of extra-virgin olive oil, 1 teaspoon kosher salt and a pinch or two of nutmeg. Set aside.

Place 1 tablespoon butter, bacon, shallot, thyme and red pepper flakes into a medium sized skillet. Sauté over medium heat for about 7 minutes, or until the bacon is cooked and the shallots softened.

Add the arborio rice and cook for 2-3 minutes. Stir frequently to prevent burning.

Increase the heat to medium-high. Add the chicken stock and simmer until the liquid is almost absorbed.

Remove from the heat. Pour the mixture into the pumpkin. Add the cream, water and gruyere. Stir well. Top with 1 tablespoon butter.

Place the pumpkin on a parchment lined rimmed baking sheet. Cook for 1 1/2 to 2 hours or until the rice is cooked all the way through.

Remove from the oven and spoon out the rice with the pumpkin.
Notes
The liquid from the pumpkin will ooze out of the bottom of the pumpkin. Parchment paper will keep this mess from sticking to the bottom of the sheet pan. Omit the red pepper flakes if a bit of heat is not desired.