There's nothing like a bowl of chili to make the day right.
However, when I am craving chili the most, it's normally one of those busy days (which is probably WHY I'm craving comfort food) which tends to keep me from making the giant bowl of comfort… I mean chili.
<sigh>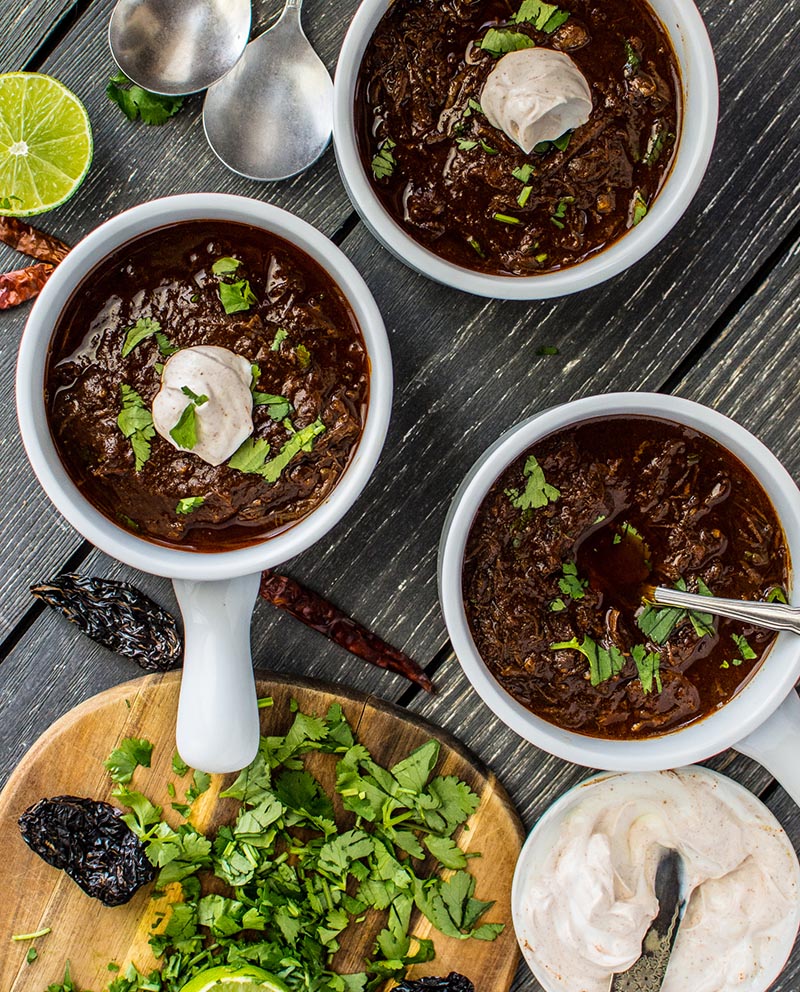 That's not the case now though, thanks to the Instant Pot (electric pressure cooker) and Market Street's STREETside. Even on my busiest days I can still easily get groceries AND cook a flavorful, comforting chili (that seems like it has been simmering all day).
Here are the deets on the Instant Pot Short Rib Chili.
10 minutes of cook time (using the fantastic sauté feature on the Instant Pot)
30 minutes of pressure cook time
10 minutes pressure release time
10 minutes rest time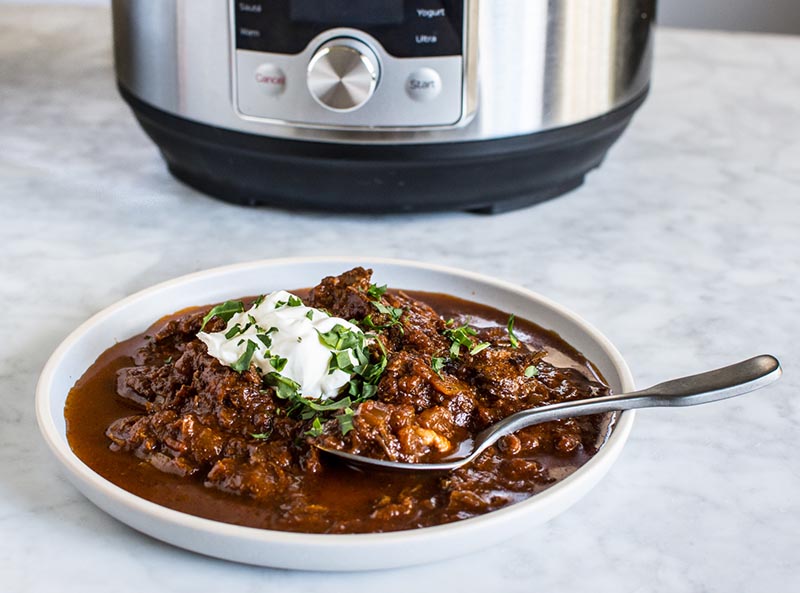 While this recipe does need one hour of "cook" time, all you're really doing is chopping an onion and searing some short ribs. That my friends is a glorious weeknight meal. If you're anything like me, you'll be sipping on a glass of prosecco (because prosecco + chili = great pairing) while waiting for dinner to be ready.
Another helpful aspect of this weeknight meal plan is that when you're super busy (raise your hand if you're super busy— yep, just what I thought…EVERYONE) all it takes is a quick online grocery trip to Market Street's STREETside to grab all the required ingredients. This super easy shopping experience will make your weeknight chili dreams come true.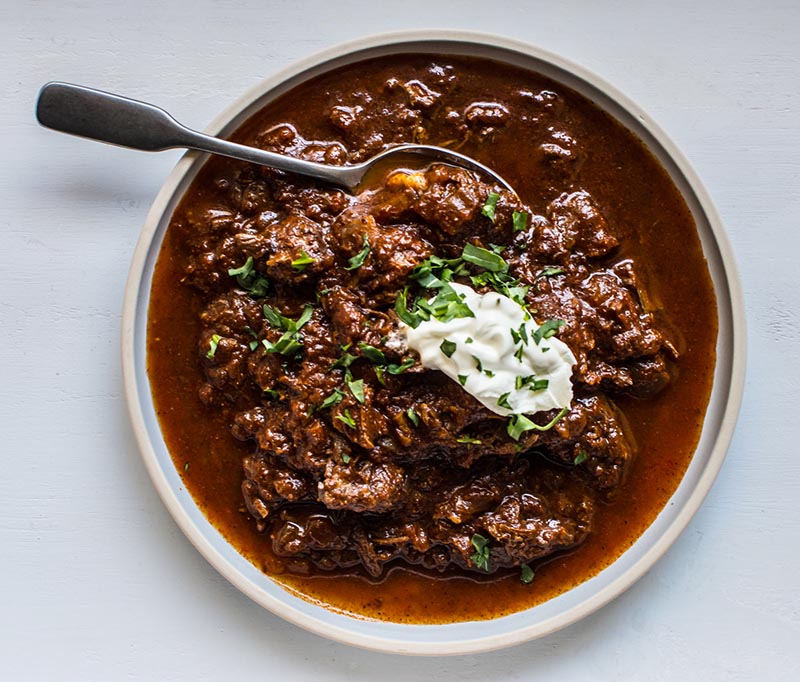 Market Street is on our dinner team; so much so that they want to not only provide delicious ingredients for your kitchen, but they also want to GIVE you an Instant Pot.
Yep. You heard me, correctly. There is an Instant Pot giveaway starting today (February 25, 2019) on the Market Street Facebook page. Intrigued, right?
To enter, follow A Pleasant Little Kitchen on Facebook (click here for link). Once you've done that head to the Market Street Facebook page (click here for link) follow their further instructions. One hungry, lucky winner will be selected on Saturday, March 2nd. How fun is that?!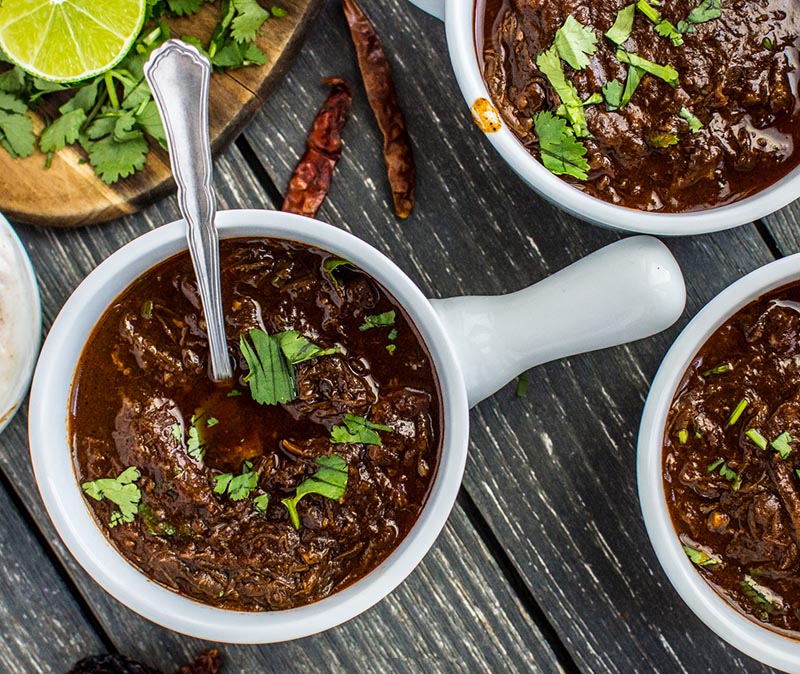 Plus, Market Street will be showing you all week long how to love your Instant Pot by showcasing new Instant Pot recipes developed by yours truly.
So seriously– all your weeknight chili dreams are coming true this week thanks to Market Street, A Pleasant Little Kitchen AND the Instant Pot.
Happy cooking and good luck!
Instant Pot Short Rib Chili
Ingredients
3

pounds

boneless short ribs

2

teaspoons

kosher salt

1

tablespoon

canola oil

1

onion

,

diced

1

tablespoon

tomato paste

1

cup

lager beer

1 28

ounce

can crushed tomatoes

2

cups

beef stock

1/2

teaspoon

granulated garlic

1/2

teaspoon

ground cloves

1

teaspoon

dried oregano

1 1/2

tablespoon

cumin

3

tablespoon

chili powder

1

teaspoon

red wine vinegar

cilantro

,

for topping

sour cream

,

for topping
Instructions
30 minutes before cook time, evenly distribute 1 teaspoon of salt on the short ribs. Set aside.

Add the canola oil into the Instant Pot. Using the sauté feature on the Instant Pot, set the sauté timer for 25 minutes. After two minutes of heat-up time, place 1 pound of the short ribs into the Instant Pot. Brown for 1 1/2 minutes per side, for a total of three minutes. Set aside. Continue this process until all the short ribs have been browned. If any browning occurs add a few splashes of beer to deglaze the pan.

Add the onions and tomato paste stir well to combine. Brown for 1 1/2 minutes. Stir frequently to prevent burning.

Deglaze the pan with the beer. Be sure to scrape up all of the brown bits on the bottom of the pan.

Add the crushed tomatoes, beef stock, 1 teaspoon salt, granulated garlic, oregano, ground cloves, cumin and chili powder. Stir well.

Add the short ribs and any remaining juices from the short ribs into the chili mixture.

Place the lid on the Instant Pot and cook on the chili feature for 30 minutes. After 30 minutes, use the natural pressure release method for 10 minutes. After 10 minutes, release any remaining pressure.

Remove the short ribs from the Instant Pot and place on a rimmed cutting board. Cover the meat with foil and let rest for 10 minutes.

Meanwhile, bring the chili to a boil using the sauté feature. Simmer for 10 minutes while the short ribs are resting.

After 10 minutes, shred the short ribs and add the vinegar and shredded short ribs to the chili. Stir well to combine. Serve warm with cilantro and sour cream.
Notes
This authentic Texas style chili is full of flavor, heat and meat. Browned short ribs, tomato paste and a lager beer make this chili rich and hearty. When using the sauté feature, I like to set the timer for more than the amount of time it should take to cook the ingredients. This will ensure that the Instant Pot stays in sauté mode the entire time.