It's easy to get into particular food habits in the winter months– the comfort habit.
You know what I'm talking about, it's the warm, delicious but oh- so-heavy soup. It's glorious, isn't it? Truth be told I enjoy a bowl of comfort really any time of the year, however it's especially tempting (and satisfying) during these colder months. But I will confess, there are times I want a comforting warm soup that isn't packed full of protein and other heavy ingredients.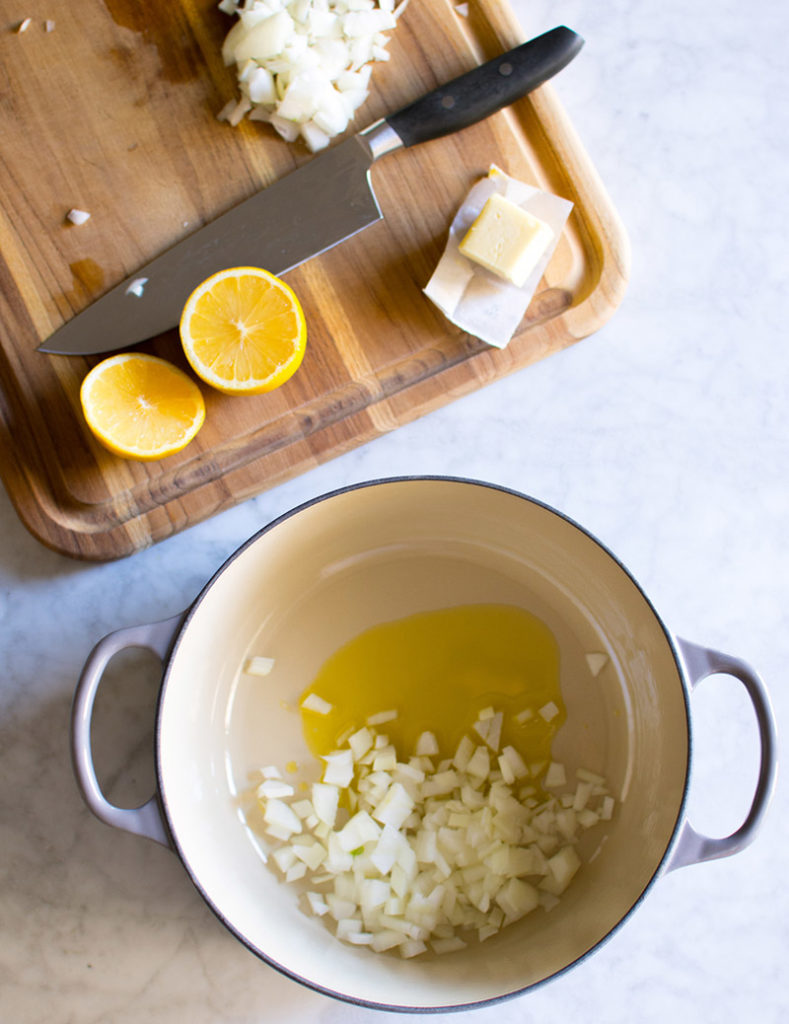 I want the best of both worlds. I assume you do too.
Lemon Arborio Rice Soup has become this hybrid of sorts. It's comfort soup combined with light bright citrus notes. All the while the soup is hearty and satisfying (and one that I want to get seconds of– because isn't that a mark of a good soup?).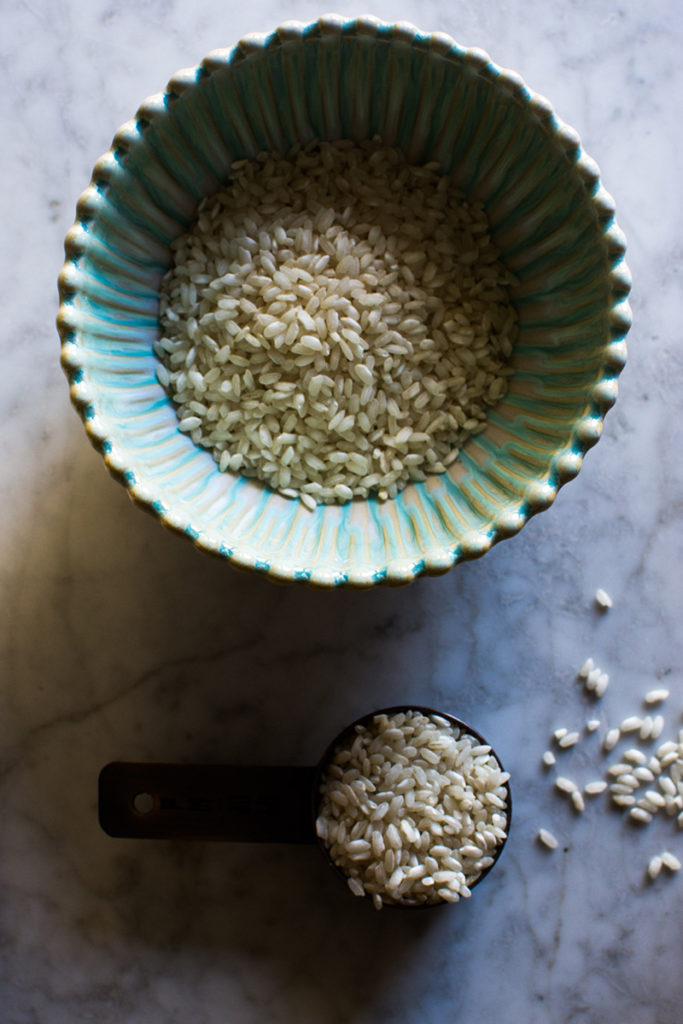 To achieve this soup hybrid, citrus is needed. Not just any citrus though. Lemon. The soup requires lemon zest and lemon juice.
Lets just take a moment and pause to think about the lemon. This bright and beautiful fruit is one of the most critical components of my kitchen– and I hope it is to yours too.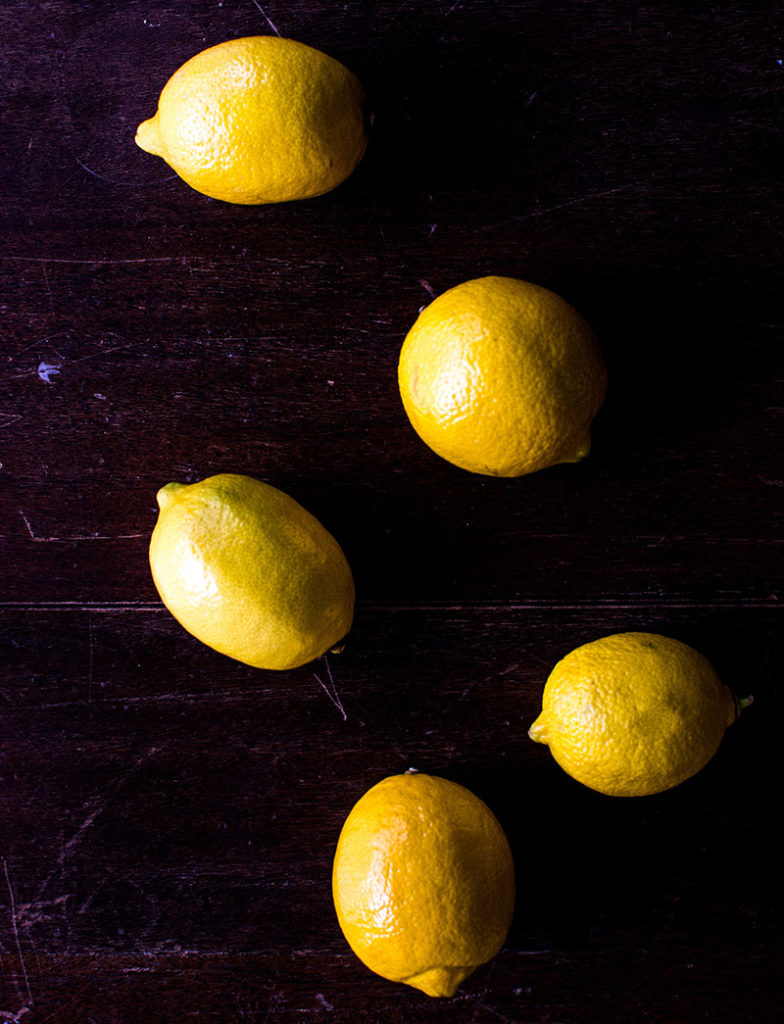 Its zest adds sweetness without the acid. Its juice provides acid to add depths of flavor to most any recipe. The juice also brings out flavors of other ingredients. Plus, lemons are just lovely to look at. They are perfect pops of color to decorate the kitchen table or countertops with.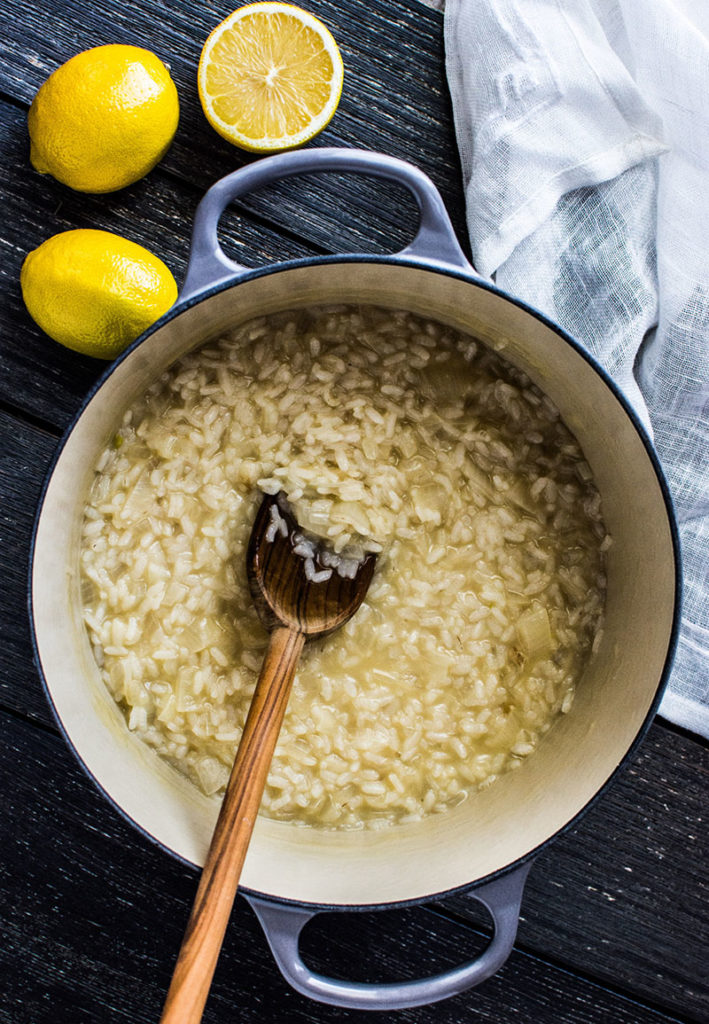 With all this lemon love, let me encourage you…actually implore you to always reach for fresh lemons and lemon juice when cooking. There may be ease with the bottled lemon juice, but its flavor is nothing compared to a fresh lemon.
Since lemons are so fantastic, I'm constantly grabbing a few every time I go to Market Street. It so happens it is currently citrus season so the produce season is bursting with all things bright and beautifully citrus-y. From lemons to oranges to grapefruits and pommellos, Market Street has a mighty fine citrus game going on right now… which is perfect for Lemon Arborio Rice Soup.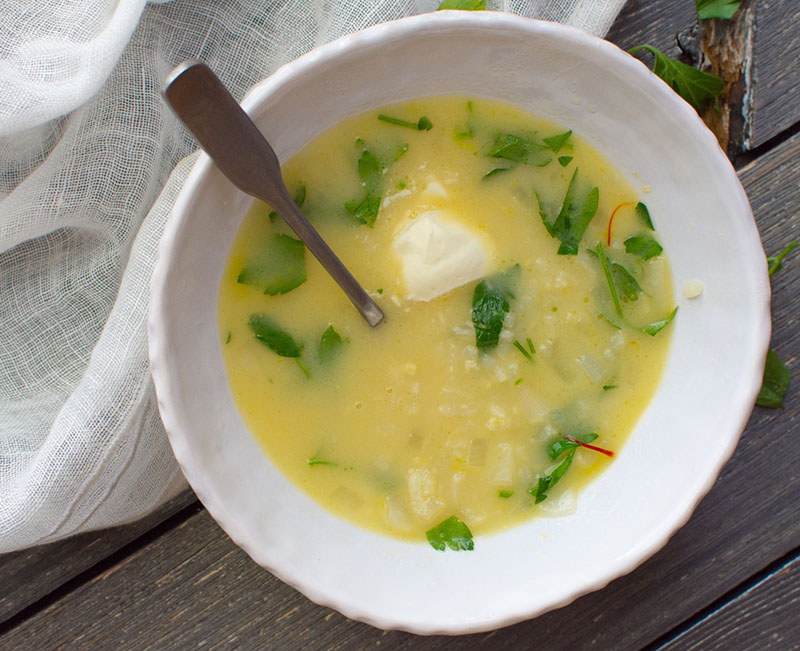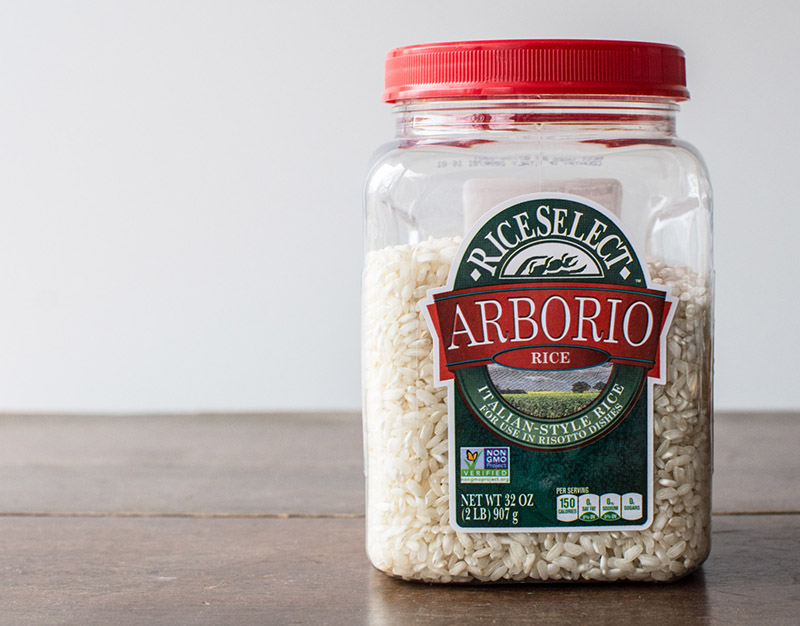 This beautiful soup has Arborio rice cooked in the style of risotto. That means it's been toasted with onion infused olive oil, then cooked slowly with warm chicken stock. (Side note: if you're looking for quality NON GMO verified Arborio rice, check out Rice Select at Market Street. It's my go-to rice because of the quality AND because I like the container.) Once the rice is cooked, additional chicken stock is added, along with saffron butter, parmesan, mascarpone and…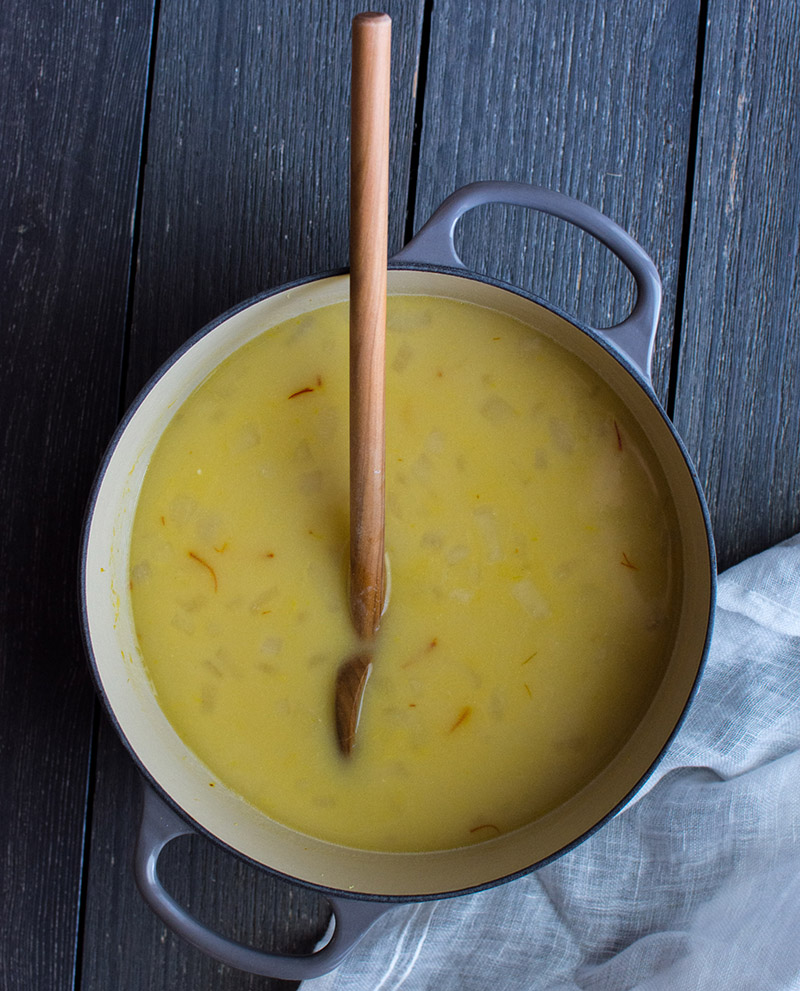 LEMON!
Finish the soup off with chopped leafy greens of one bunch of Italian parsley (Gasp! Yes, one bunch of parsley! It is more than just a garnish– in fact it's one of my other all-time favorite ingredients). Stir and serve warm.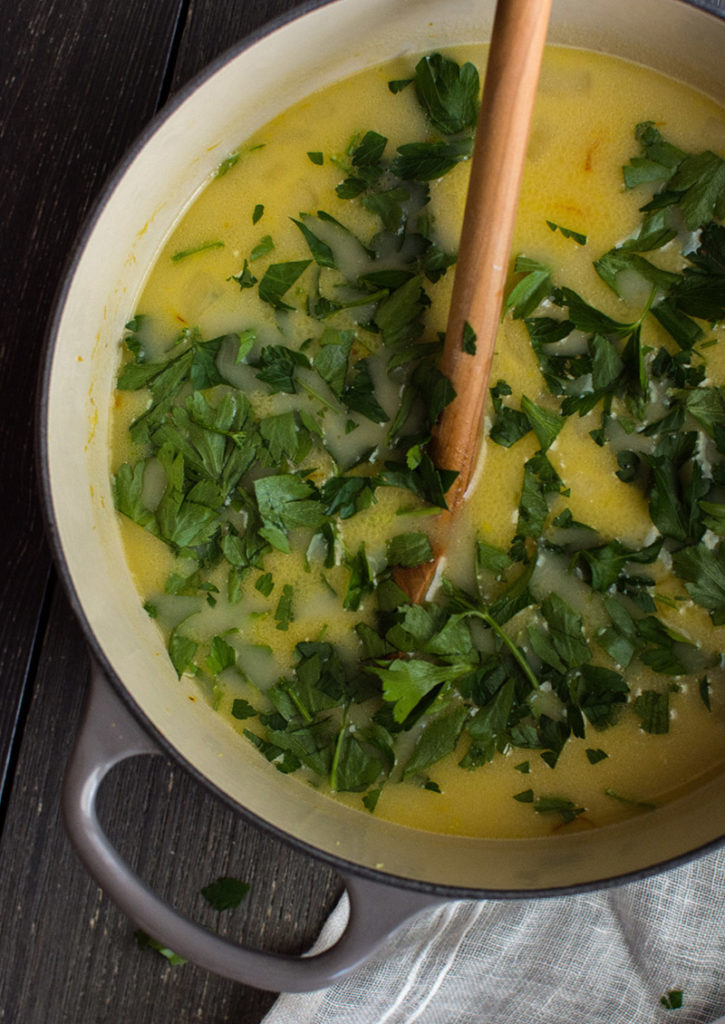 This soup is bright because of the lemons, hearty because of the rice and comforting because of the mascarpone and parmesan. The parsley, well… it adds a bit of crunch and earthiness that balances out all of the flavors in this perfectly delicious, citrus-y soup.
Lemon Arborio Rice Soup
Ingredients
2

tablespoons

extra-virgin olive oil

3/4

cup

Arborio rice

1/2

cup

onion

,

diced

1/2

cup

pinot grigio wine

6

cups

low sodium chicken stock

,

warmed

2

tablespoons

unsalted butter

1/8

teaspoon

saffron

2

teaspoons

kosher salt

1/4

cup

plus 3 tablespoons fresh lemon juice

zest of 2 lemons

3/4

cup

parmesan cheese

2

tablespoons

mascarpone cheese

,

plus more for topping

1

bunch of parsley

,

leafy greens chopped
Instructions
Place the oil and onion into a large pan. Cook on medium heat for 5 minutes, stir occasionally. Add the rice to the pan and stir to coat the rice with the oil. Toast for 1-2 minutes.

Pour the wine into the pan. Scrape up any brown bits. Bring the wine to a boil and cook for 2 minutes. Increase the heat to medium-high.

Pour 3 cups of chicken stock into a measuring cup or bowl. Add a few ladlefuls of the stock into the pan. Stir the rice very frequently to prevent the rice from sticking to the pan. Once the chicken stock has been absorbed by the rice, add another few ladlefuls of stock, stirring very frequently. Continue this process until 3 cups of the chicken stock is used and the rice is cooked.

Pour the remaining three cups of chicken stock into the pan once the rice is cooked. Reduce the heat to low and warm through for five minutes. Stir in the butter, saffron, salt, lemon juice and lemon zest. Stir well.

Once the butter is completely melted and mixed into the soup add the parmesan and mascarpone cheese. Continue to stir until both are melted and incorporated into the soup. Remove from the heat. Add the parsley (reserving a 1/2 cup to top individual bowls of soup) and stir.

Place the soup into individual bowls. Top with a dollop of mascarpone and chopped parsley. Serve immediately.
Disclosure: This is a sponsored post on behalf of Market Street. All opinions are my own.