Want to treat someone this Halloween? Give a gift of homemade marshmallows.
Homemade marshmallows have a unique power. They are light as air and sugary sweet. As the creator of the marshmallows you can color them anyway you want, cut them into any desired shapes AND give them away to whomever you want (because one family cannot consume an entire batch of marshmallows).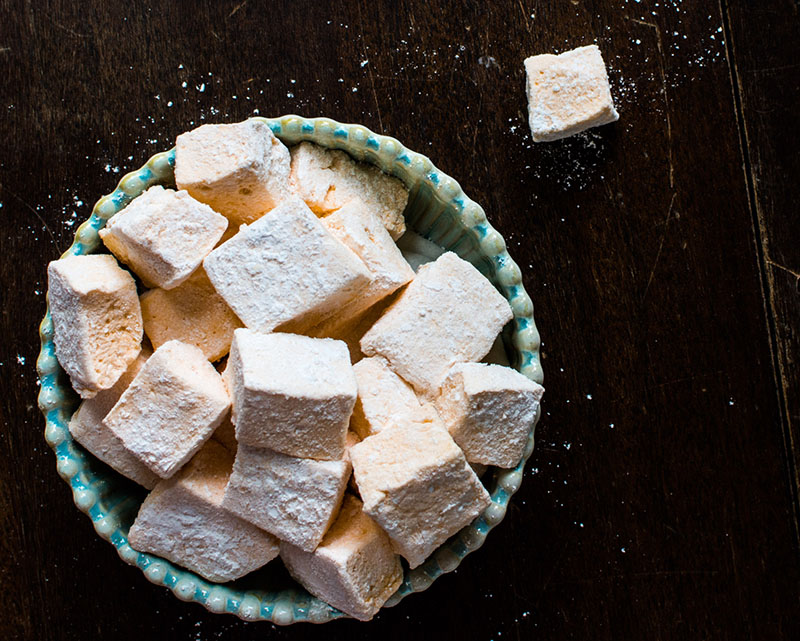 This has made me a bit of a marshmallow lady lately and I love it.
Let me explain. Batch after batch of tested Orange Cream Marshmallows I bagged up and dropped off to friends, teachers and family members.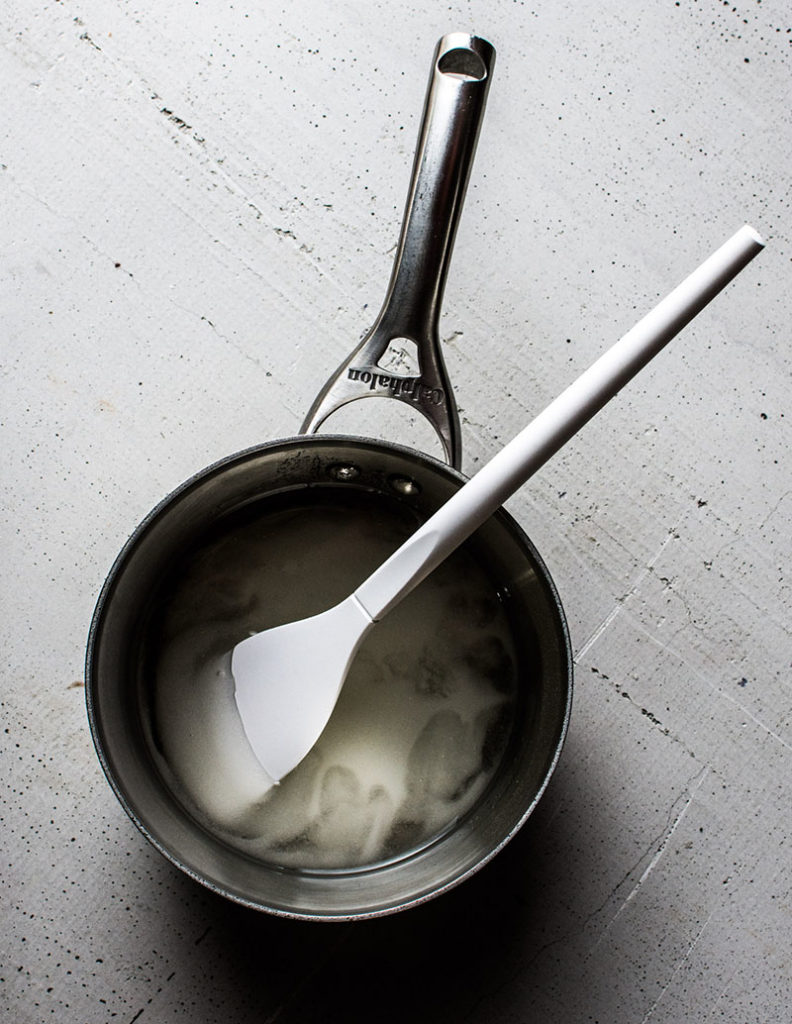 Smile after smile people graciously accepted the gift of marshmallows and were surprised.
"You can make marshmallows at home?"
Absolutely!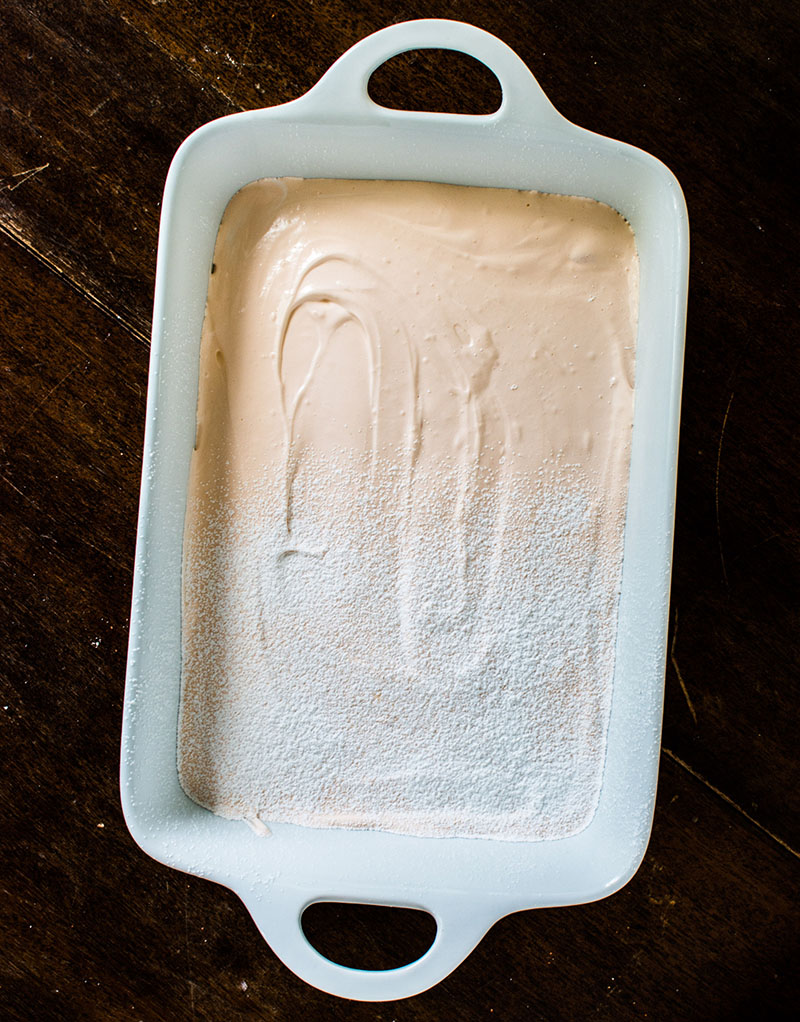 In fact, marshmallows can easily be made at home– and once you venture down this culinary path you'll never want to go back to a store bought marshmallow again. Plus, it adds a bit of cooking empowerment to your repertoire.
I CAN make marshmallows!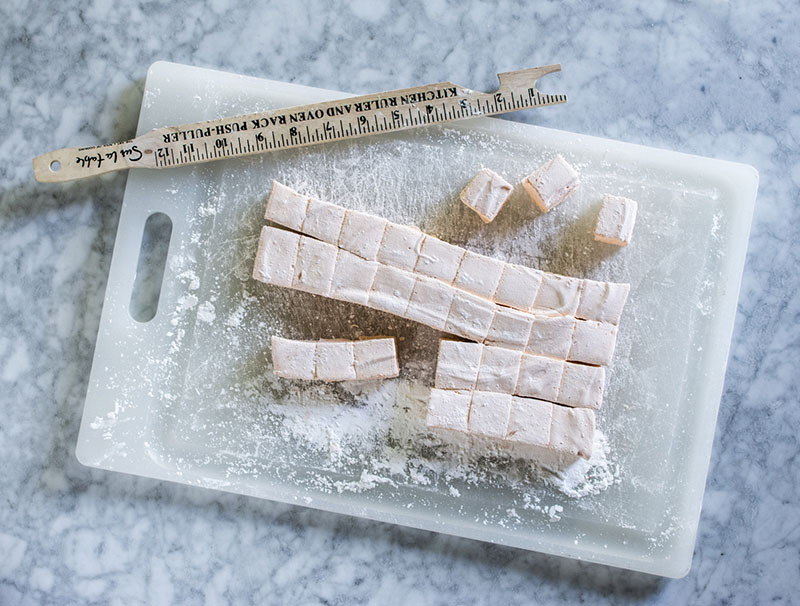 Keep in mind, the process is a bit sticky and sugary, but the results area a sweet bite that is light as air.
The only equipment needed to make marshmallows is a candy thermometer and a mixer. A kitchen ruler and a pizza cutter also come in handy when it's time to cut the marshmallows.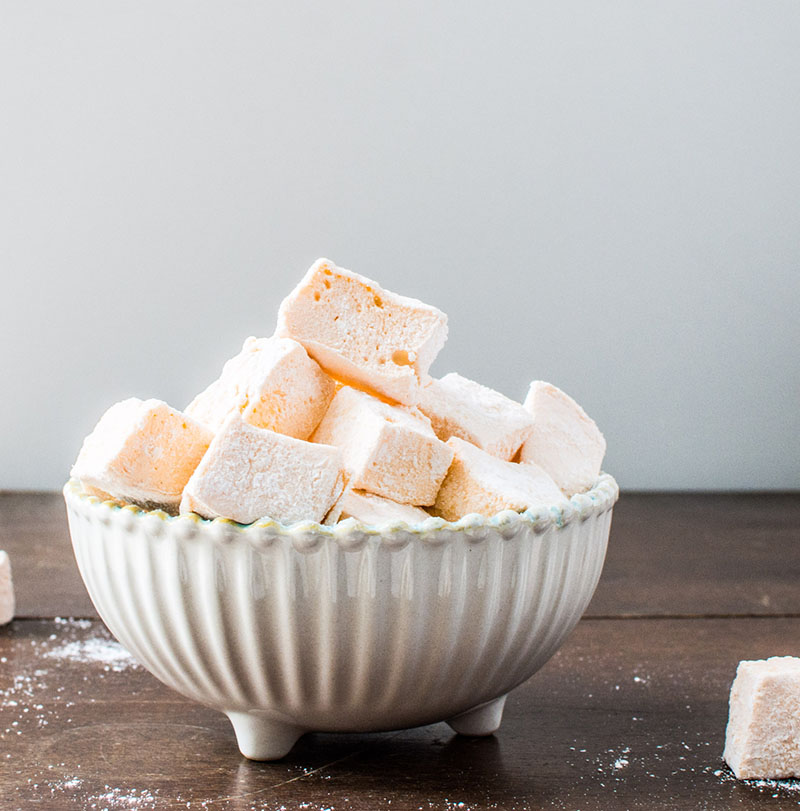 Treat your loved ones this Halloween with Orange Cream marshmallows. You too can become a marshmallow lady. It's the perfect Halloween costume.
Orange Cream Marshmallows
Ingredients
3/4

cup

corn syrup

1 1/2

cups

sugar

pinch

of kosher salt

1

cup

and 2 tablespoons of ice cold water

3

packages plain gelatin

1/2

teaspoon

orange extract

1 1/2

teaspoons

vanilla extract

5-7

drops of orange food coloring

1/4

cup

powdered sugar

3

tablespoons

corn starch

cooking spray

,

canola or vegetable oil
Instructions
In a large mixing bowl add 1/2 cup water. Sprinkle the gelatin evenly over the water. Add the remaining 2 tablespoons of water to any dry spots of gelatin. Dissolve the gelatin for 10 minutes.

Add the corn syrup, sugar, salt and 1/2 cup of water into a small saucepan. Attach the thermometer to the side of the pan. Cook the mixture over high heat until it reaches 250 degrees F.

Turn the mixer on to slow speed. Slowly pour the corn syrup mixture down the side of the bowl while the mixer is running. Once the entire mixture is poured into the bowl whisk on high speed for 12 minutes.

With one minute remaining add in the orange extract, vanilla extract and food coloring. Whisk until the color is fully incorporated.

Meanwhile, combine the powdered sugar and corn starch into a medium sized bowl, stir well. Set aside.

Spray the inside of a 13×9 baking pan with canola oil. With a sifter, then add an even layer of powdered sugar inside of the pan.

Evenly pour the marshmallow mixture into the pan. Smooth out the top of the marshmallows with a lightly oiled spatula.

Spray the top of the marshmallows with canola oil and add another even layer of sifted powdered sugar mixture. Keep the remaining powdered sugar mixture for later use.

Let the marshmallows set for 5-8 hours.
To cut the marshmallows:
Spray a spatula with canola spray. Move the spatula around the edges and bottom of the marshmallow to loosen it from the pan.

Place the marshmallow onto a cutting board lightly covered with powdered sugar.

Using a lightly oiled pizza cutter or knife, cut the marshmallows into 1 inch squares.

Once the marshmallows are cut, place a few batches of marshmallows at a time into the powdered sugar mixture. Coat the marshmallows on every side. Store in an airtight container.
Notes
Store the marshmallows in an air tight container for up to three weeks. A candy thermometer is required for this recipe. Also, a hand held mixer would work for this recipe, however a stand mixer makes it easier.