Date-night "in" is hallowed ground in our home. It's intentional time spent with my most-loved one where our evening is slow and filled with ridiculously good food, refreshing conversation, boisterous laughter and quality wine.
An important ingredient to a successful evening "in" is the kitchen. It is not just about the cooking in this room it's also about the ambiance. A bottle of quality wine and good music make this room warm and inviting. My husband and I have been cooking together since our early twenties and find unparalleled joy in this time spent together. We have found that delicious food, excellent drinks and enjoyable music create a slow and thoughtful dinner at home.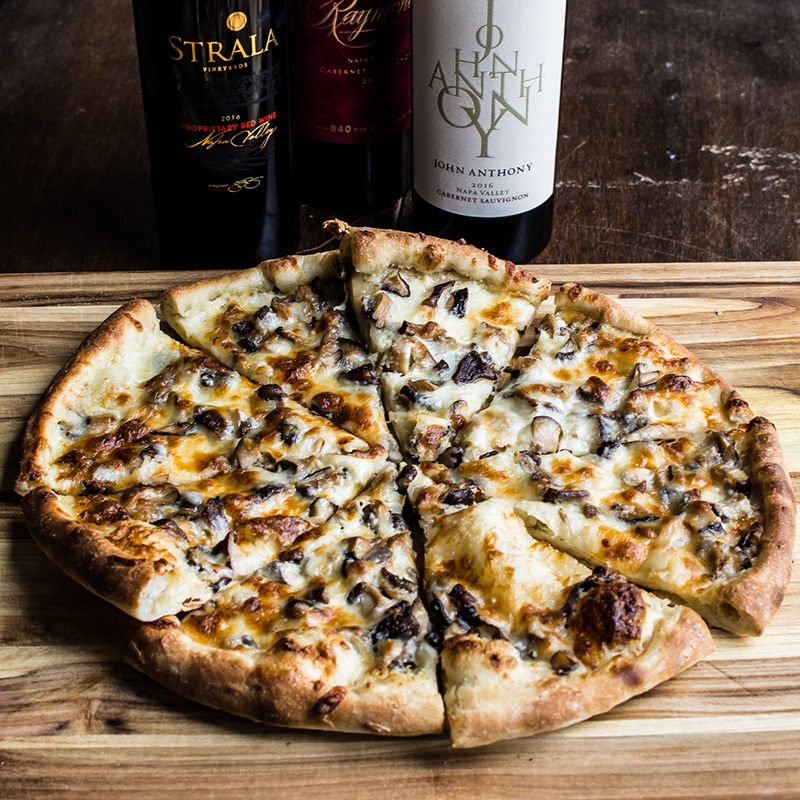 One detail that "makes" these evenings are that my husband and I share similar tastes, especially an affection for full-bodied red wine—in particular, Napa Valley Cabernet. The depth of flavors found in each sip of a Napa Valley Cabernet is unmatched. We have also found that big Cabs pairs beautifully with the ingredients we like to cook with and eat.
We have been fine-tuning date-night "in" for 15 years but for the past 8 ½ there has been another element involved: children. Logistics have become another important element to pull-off a successful date-night.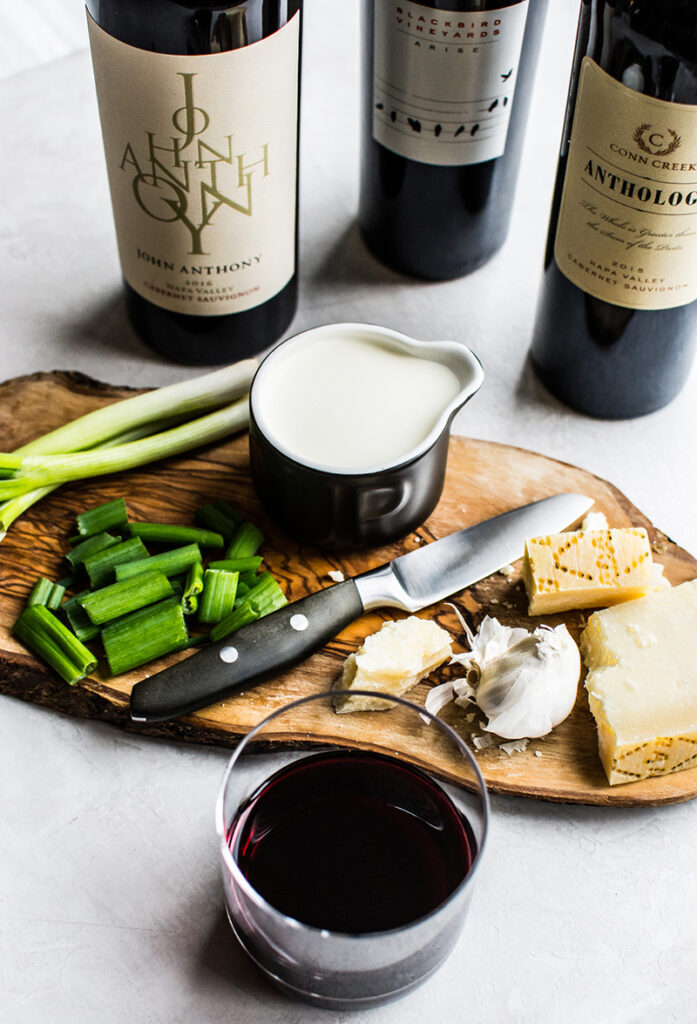 The logistical problem is always bedtime, but after 8 ½ years our tactical strategy has resulted in great success. First, exhaust the children during the day. I'm talking early wake-time, multiple activities (it's always a plus if a soccer game occurs on this day), no tv and a good bike ride at the end of the day to wrap up everything nicely.
One hour before "date-night" begins the bottle of wine is opened. We take this hour to get our exhausted children asleep. While we wait for sleep to take hold my husband and I slowly sip on a glass of Napa Valley wine. Since its winter and Cab season (which is our favorite season) we either sit outdoors warmed by the heat of grill or indoors by the fire in the fireplace.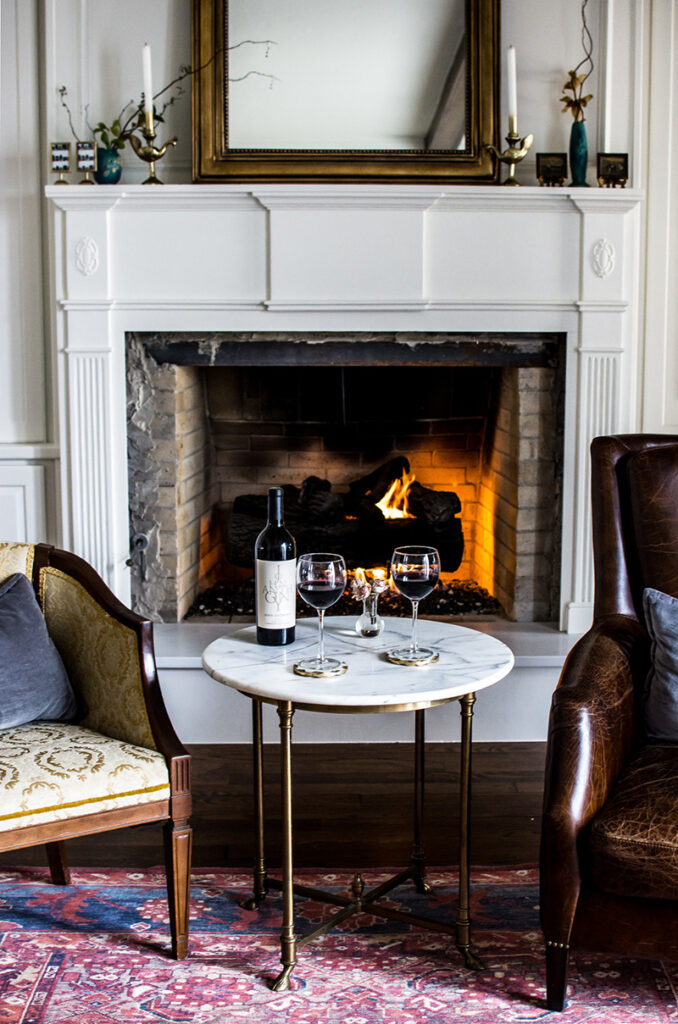 The big tannic Cab warms us and our conversation. The tone is now set for the evening.
Once the children's sleep is confirmed we turn on the music in the kitchen and dinner begins.
Pizza is one of our go-to date-night "in" meals. Cooking responsibilities are easily split—one manages the toppings, the other handles the dough and sauce. This cooking strategy works great with this Wild Mushroom White Pizza.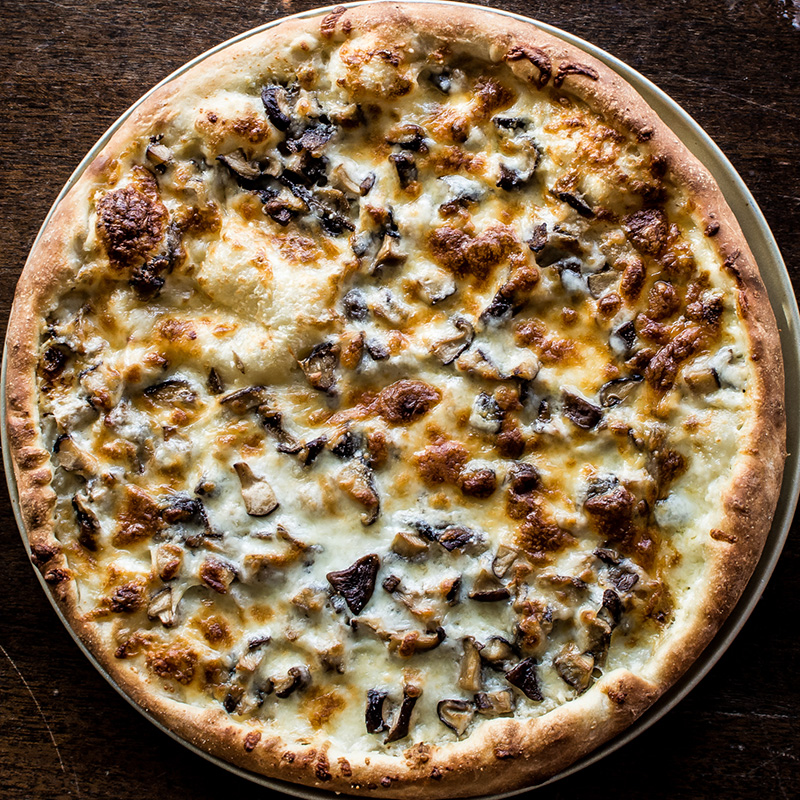 Wild Mushroom White Pizza
Ingredients
3

tablespoons

unsalted butter

6

cups

shitake mushrooms

,

chopped

2

garlic cloves

,

crushed

1 1-

inch

pieces fresh ginger

,

peeled

1/2

teaspoon

kosher salt

1/2

cup

white wine

1

cup

cream

1/2

teaspoon

sherry vinegar

1/4

cup

shallot

,

rough chopped

1/4

teaspoon

salt

red pepper flakes

,

pinch

1/2

cup

parmesan

,

grated

1

cup

mozzarella

,

shredded
Instructions
Heat the oven to 550 degrees.

Melt 2 tablespoons of butter in a medium-sized skillet. Add the garlic cloves and ginger pieces to the pan once the butter is melted.

Place half of the mushrooms into the skillet. Sauté for 5 minutes over medium heat. Push the softened mushrooms to the perimeter of the skillet. Melt the remaining 1 tablespoon of butter in the center of the skillet.

Add the remaining 3 cups of mushrooms. Cook for an additional 5-7 minutes, or until the mushrooms are soft, slightly browned and sticking to the bottom of the pan. Stir occasionally.

Deglaze the pan with the wine. Increase the heat to medium-high and simmer for 3-5 minutes or until the liquid is absorbed. Remove from the heat. Remove the ginger and garlic.

Roll out the dough on a floured surface and place on your preferred baking equipment.

In a food processor, puree cream, vinegar, shallots and red pepper flakes until the cream is thickened and slightly fluffy.

Top the dough with the white sauce and sautéed mushrooms, parmesan, mozzarella. Bake for 10-12 minutes or until the dough and cheese are golden brown. Remove from the heat and let cool 5 minutes. Cut and serve immediately.
Disclosure: This is a sponsored post on behalf of Napa Valley Vintners. All opinions are my own.