The fall brings with it roasting season. One that I love to embrace and apply to my weekly meals. Market Street's produce department helps me in this seasonal amusement.
As I pass the parcels of fresh vegetables during my weekly shopping at Market Street, from squash to potatoes, from cabbage to broccolini—the fall and winter produce beg to be roasted in a hot, dry oven.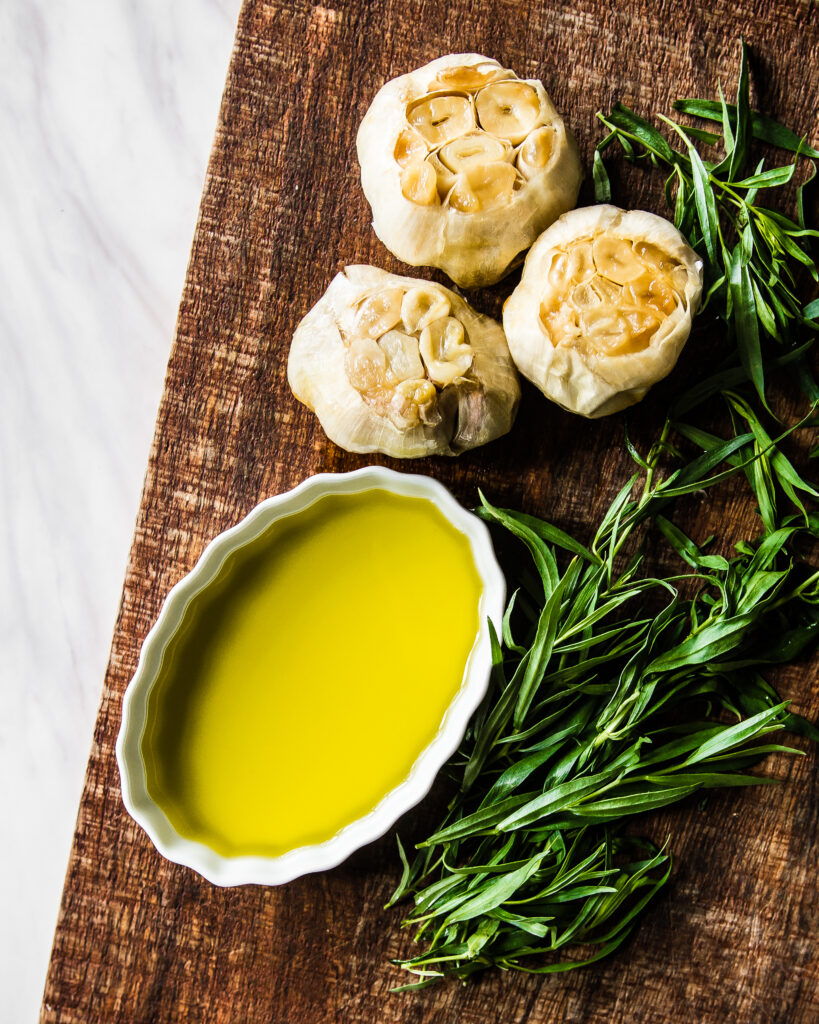 This season I find myself reaching for small acorn squashes. The green exterior, orange interior and scalloped edges are visually stunning. Its taste while not overwhelmingly sweet, is lightly sweet and subtly earthy. Acorn squash are a delight.
I've been roasting this veggie with the most basic of ingredients; olive oil, salt and pepper—I then pair this vegetable with a roasted garlic tarragon sauce. When making this dish I was reminded that the ease of roasting vegetables leads to great reward. The immediate incentive is easy preparation and minimal clean-up while the long-term is a plate of simple, delicious food.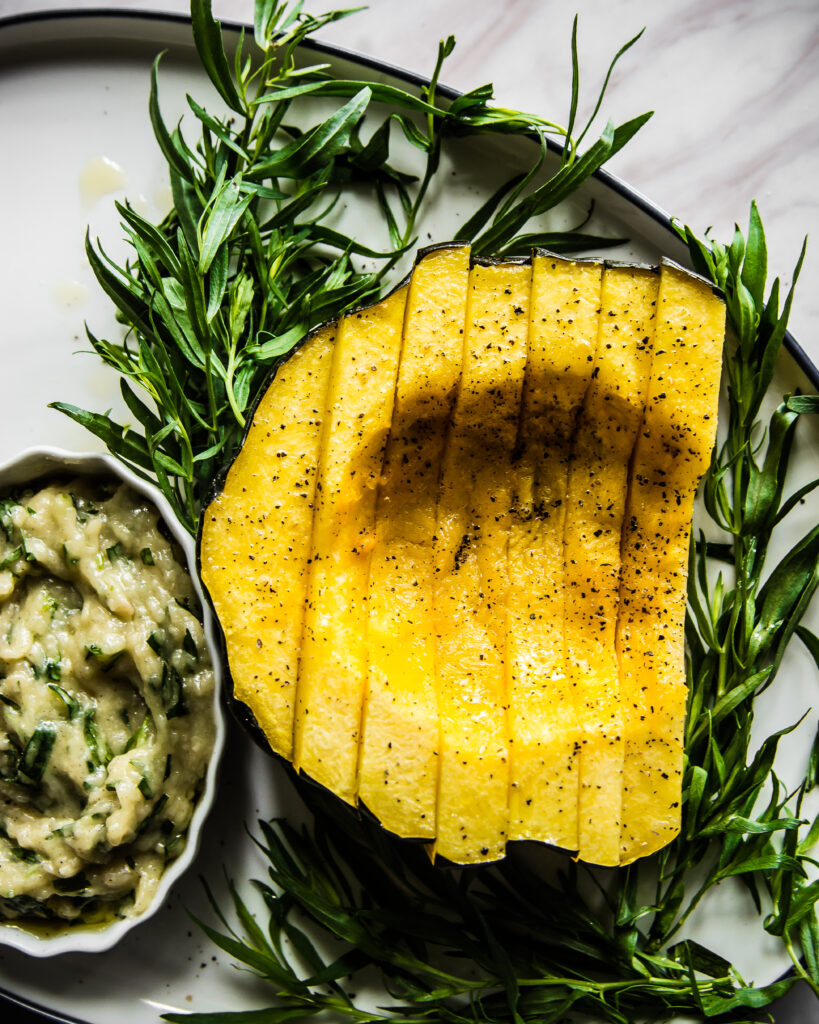 The bold, sweet flavor of both the roasted garlic and fresh thyme become the perfect partner to this recipe. Ideal to feed your family during the week, and also at your Thanksgiving table, this recipe is unique and greatly satisfying.
While shopping for the ingredients to Roasted Acorn Squash with Roasted Garlic Tarragon Spread, I stumbled across a wine sampling from local Texas winery, Reddy Vineyards. The moment I sampled their TX-BDX I instantly knew what wine I would be serving with this gorgeous recipe. The wine was layered and bold, perfect to sip on during a cold evening accompanied by a warm, cozy meal.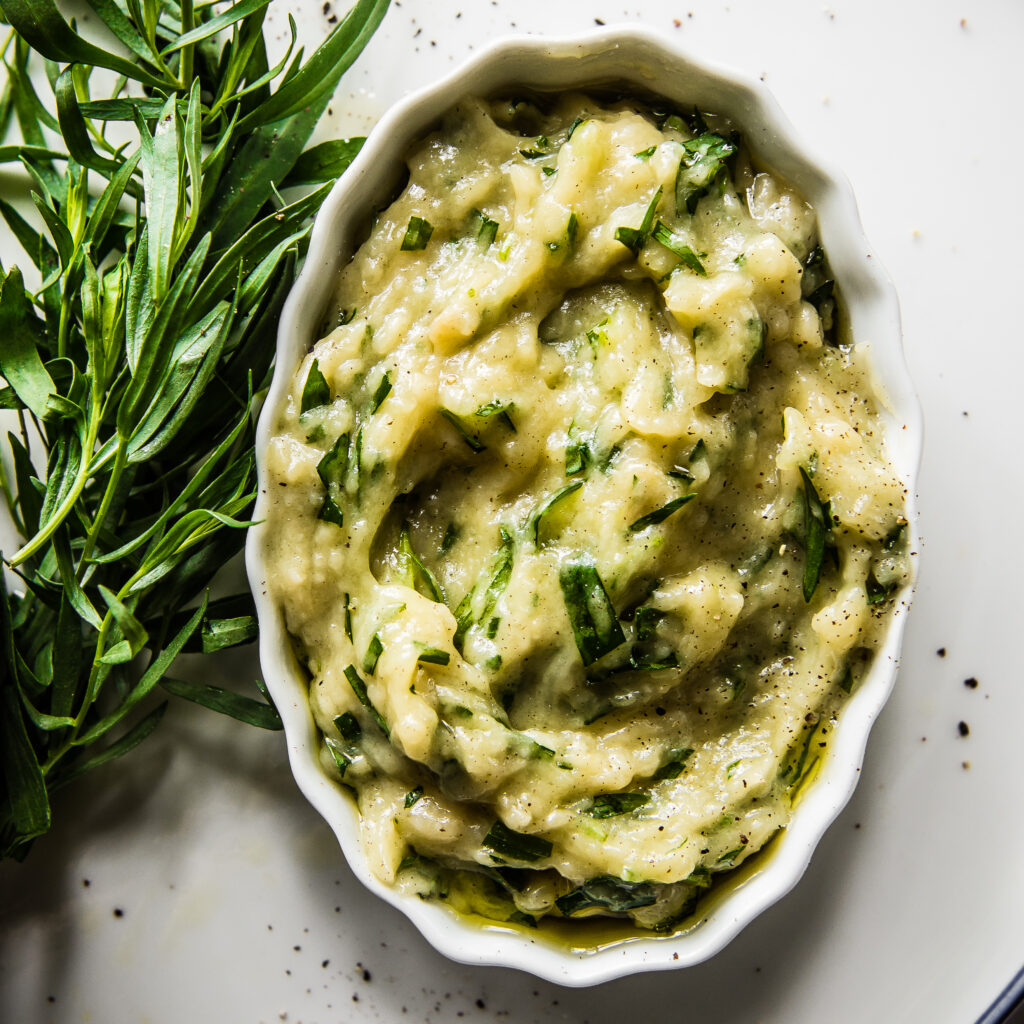 Let Market Street's produce and wine departments usher in the fall season with the best items to help you make a dinner table memorable and delicious.
This post is sponsored by Market Street. All opinions are my own.
Roasted Acorn Squash with Roasted Garlic Tarragon Spread
Ingredients
2

1 1/2 lb

acorn squash

4

heads of garlic

,

tops sliced off

5

tbsp

olive oil

,

divided (plus more for topping the garlic)

3/4

tsp

kosher salt

,

divided

fresh ground pepper

2 to 3

tbsp

fresh tarragon

,

finely chopped

1/4

tsp

sugar

1/4

tsp

red wine vinegar
Instructions
Adjust the racks in the oven to cook with two racks. Heat the oven to 425 degrees F.

Make four large foil squares. Place a head of garlic in each square. Top the heads of garlic with a generous splash or two of olive oil. Create a foil packet around each garlic head and seal well. Place the garlic onto a small sheet pan and place into the oven and cook for 1 hour.

While the garlic is roasting, slice the squash in half through the middle (equator). Scoop out the seeds. Place each squash half, flat side down and cut into 1 ½ to 2-inch slices.

Place the squash onto a large foil lined rimmed sheet pan. Evenly distribute 2 tablespoons of olive oil on the tops of the squash (if this does not cover all the squash, add a bit more to lightly top each squash slice). Evenly distribute the 1/2 teaspoon kosher salt and pepper (to taste) onto the squash. Place into the oven and roast for 25 to 30 minutes.

Turn off the oven and remove the garlic packets but keep the squash in the oven to keep warm.

Meanwhile, remove the garlic from the foil packs and cool for 5 to 10 minutes. Squeeze out the roasted garlic (think toothpaste tube!) into a small mixing bowl. Add the tarragon, 3 tablespoons of olive oil, sugar, red wine vinegar and 1/4 teaspoon salt (optional). Stir and smash the garlic to combine and set aside.

Remove the squash from the oven and serve warm with the roasted garlic tarragon spread. Salt to taste.