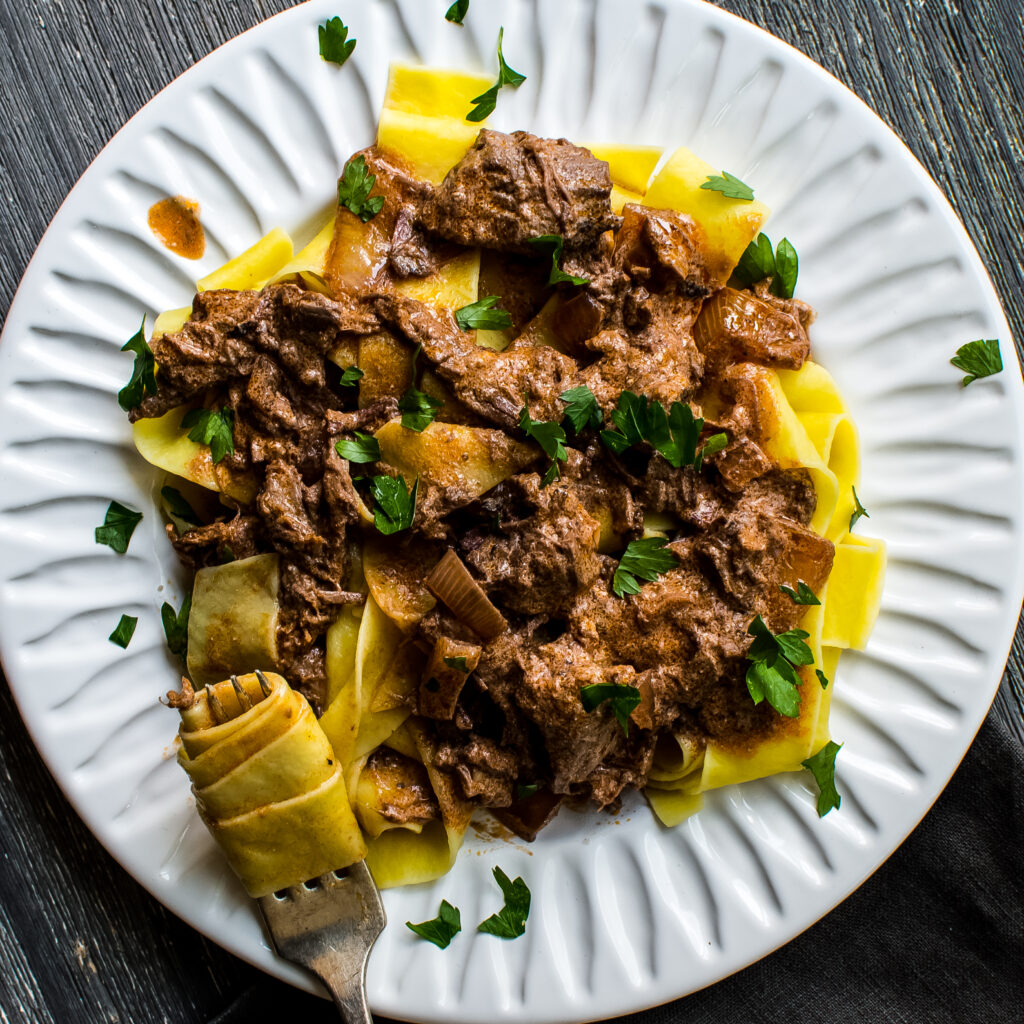 Part of the beauty of smoking a brisket is the amount of leftovers available to use in following meals– and I'm not just talking about leftovers for a few chopped brisket sandwiches. There is a world of recipes to make from this one smoked cut of beef and they're all tantalizing. Off the top of my head these meals come to mind: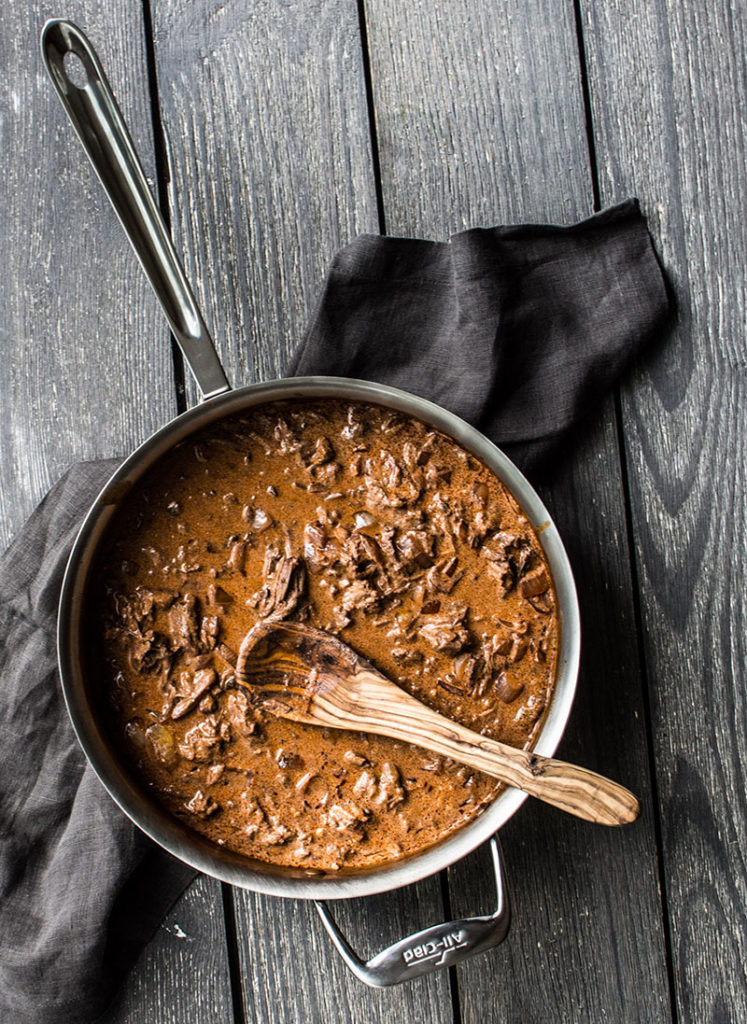 Chopped Brisket Omelets, Brisket Arugula Salad with BBQ drizzle, Brisket Tacos, Brisket Enchiladas,
Brisket Mac and Cheese, Brisket Nachos,
Open Faced Brisket Sandwich with a Runny Egg, Brisket Migas, Burnt End Cheese Fries
Better than a sandwich, am I right? The list seems endless. Recently, however, there is one brisket recipe I find myself making every time Randy, A Pleasant Little Kitchen's master griller, fires up the smoker.
Brisket Stroganoff.
It is play off the traditional Russian comfort food, beef stroganoff and, in my mind, is a perfect way to use leftovers. It utilizes about 2 1/2 cups of smoked brisket and the remaining ingredients are always stocked in my pantry.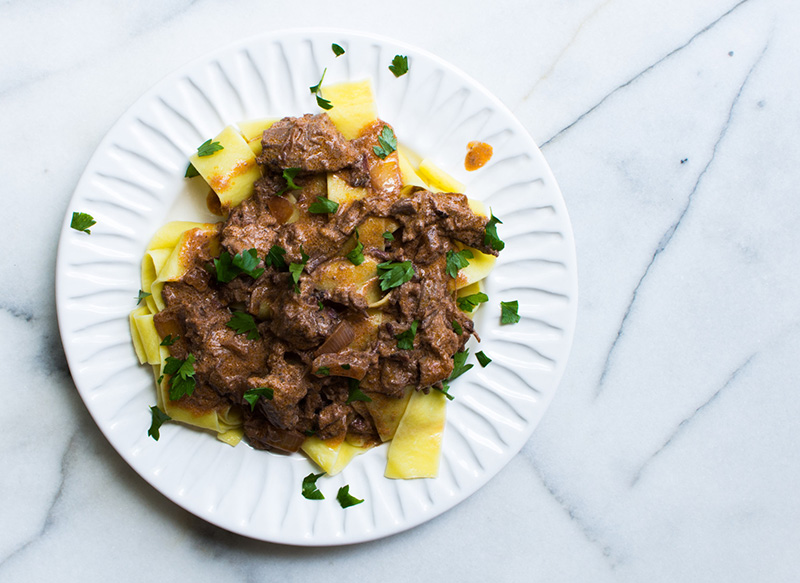 Did I mention it's a quick fix? Onions and garlic sautéed in butter. Tomato paste browned and then deglazed with chianti and organic chicken stock. Sour cream and chopped brisket. Stir and serve over egg noodles (or your favorite pasta).
Four steps and about 30 minutes later a delicious flavor packed meal is ready to be devoured… and loved. It's perfect for a weeknight meal following a fun-filled weekend of grilling.
To make brisket stroganoff, smoked brisket (click here for a smoked brisket recipe) is needed. While it's easy to pop into your favorite smoke house and pick up some chopped smoked brisket, wouldn't it be more fun to make it at home?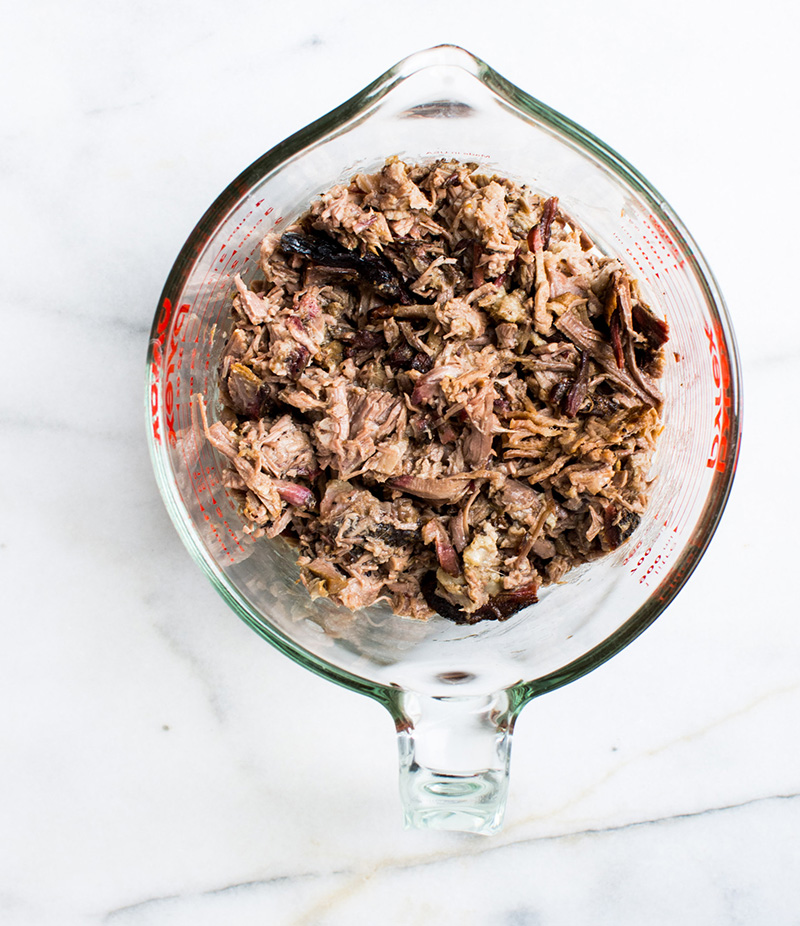 If this makes you hesitate, let me reassure you. Smoking meat is doable. Abandon the fear of backyard smoking. Embrace slow cooking over low flames and approach this Memorial Day weekend with smoking confidence. Here's a breakdown of getting prepped and educated in smoking:
If you prefer more crust on brisket, use your favorite grill rub to coat the brisket before smoking.
A meat thermometer will help guarantee the brisket does not get over cooked.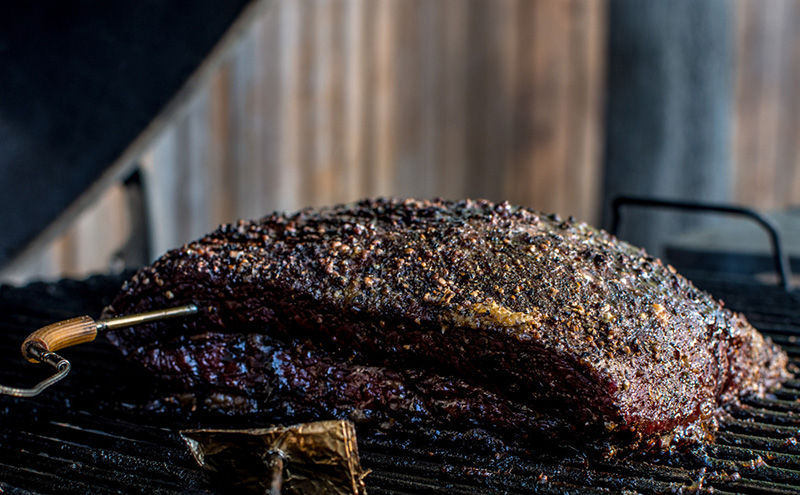 Remember, quality meat makes a difference in the outcome of a smoked brisket.
Once the brisket reaches 195 degrees, use a wooden skewer to check for doneness. The skewer should slide in and out of the meat with ease.
I prefer to use oak as the smoking wood.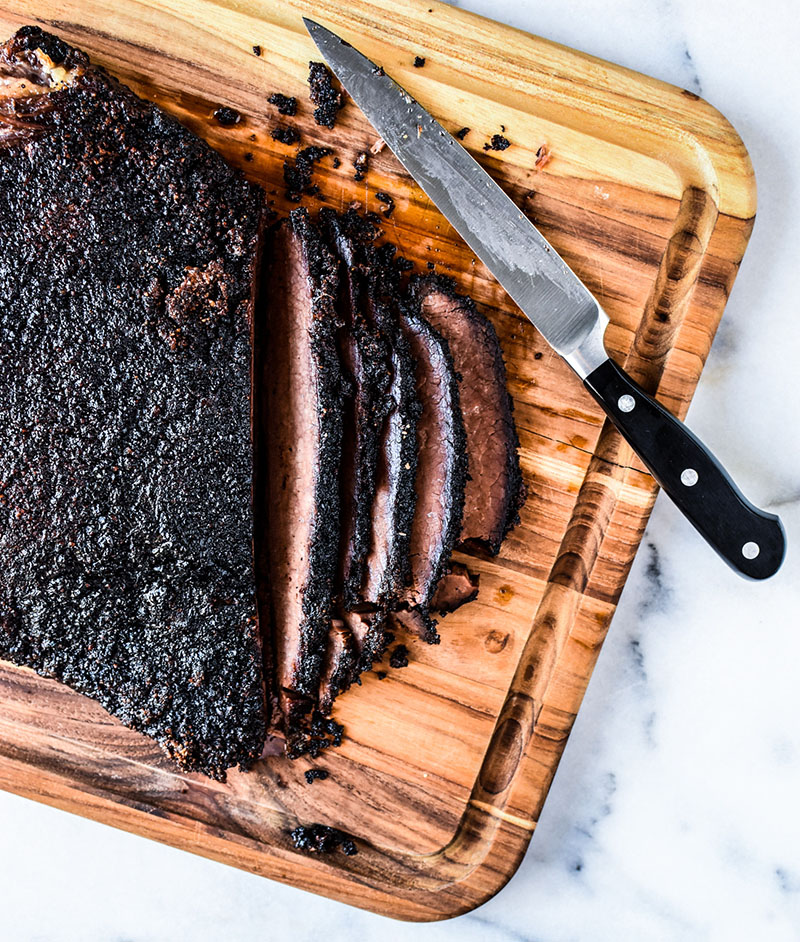 It is good to periodically check the smoker to make sure it maintains heat properly. There are fancy gadgets that will allow you to monitor the meat temperature via smart phone.
When you remove the brisket from the heat, you can wrap it in foil and store in a cooler for up to 3 hours before serving.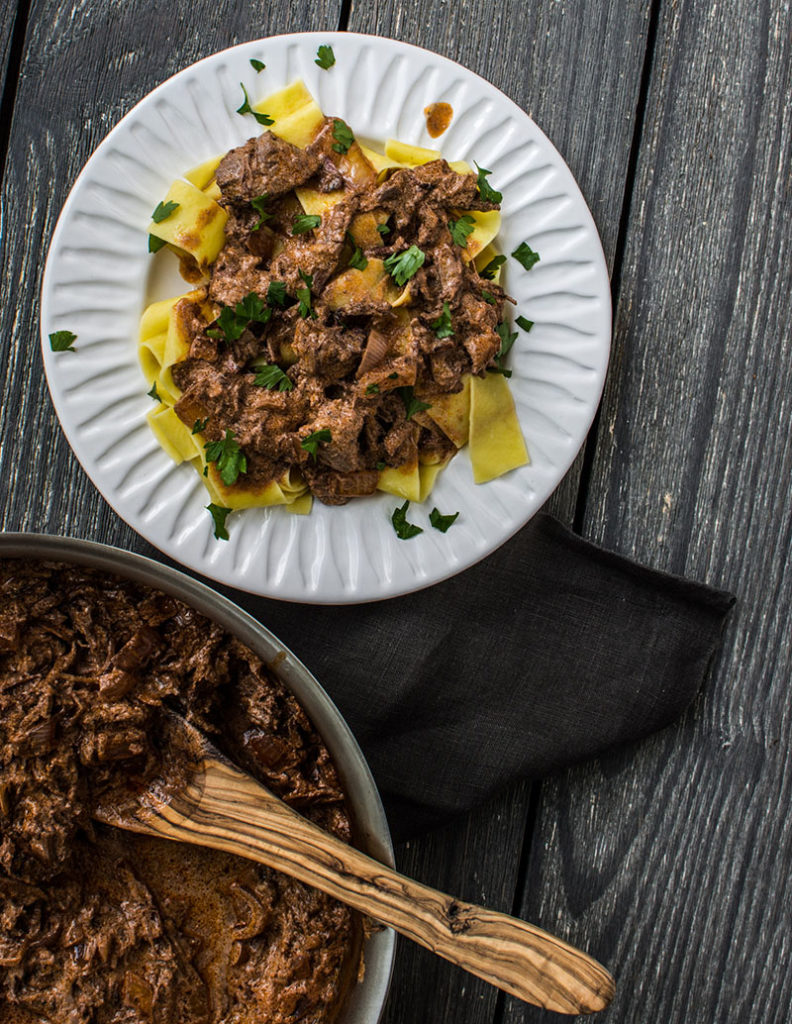 Blow up the kiddie pool this weekend, grab some chilled beverages and pick up a brisket. In the days following you will be reminded of the perfect outdoor grilling weekend with all leftovers available to use. Get creative, but start with brisket stroganoff to get the leftover smoked brisket ball rolling.
Brisket Stroganoff
Ingredients
2

tablespoons

unsalted butter

1

cup

onion

,

diced

2

garlic cloves

,

chopped

1 1/4

teaspoon

kosher salt

2

tablespoons

tomato paste

2

tablespoons

worcestershire sauce

1 1/2

cups

Chianti

2 1/2

cups

chopped smoked brisket

,

see below for the recipe link

3/4

cup

sour cream

,

room temperature

cooked egg noodles

,

or your favorite pasta

fresh parsley

,

chopped (for topping)
Instructions
In a large pan, melt the butter over medium heat. Add the onions and garlic. Cook over medium heat, until softened, about 4 minutes. Add the tomato paste and brown (about 2-3 minutes). Stir frequently.

Add Chianti and worcestershire sauce to the pan and deglaze. Scrape up any bits stuck to the pan. Increase the heat and bring to a boil, then reduce the heat to low. Simmer for 8 minutes.

Add the brisket and sour cream to the sauce. Stir to combine. Continue to cook on low for heat for five minutes. Pour the sauce over cooked egg noodles and top with chopped parsley. Serve warm.
Notes
Before cooking, set out the sour cream to bring to room temperature. This helps to keep the sour cream from curdling once it hits the warm sauce. Whether you use home smoked brisket or your favorite take-out, this dinner is comforting, fast and delicious. For a smoked brisket recipe, click here. The sauce is freezer friendly.