It's fall and the hustle is here. Often life gets in the way and dinner seems to be an afterthought. Not to mention the sides that go along with the "main" meal.
The struggle doesn't always just rest with the main dish—the conflict can also arise with making an agreeable side dish for all parties involved. When there is an audience of 2+ there's bound to be opinions.
Let me help with a recipe that is easy to assemble, make ahead friendly and versatile: Smashed Potatoes with Chimichurri.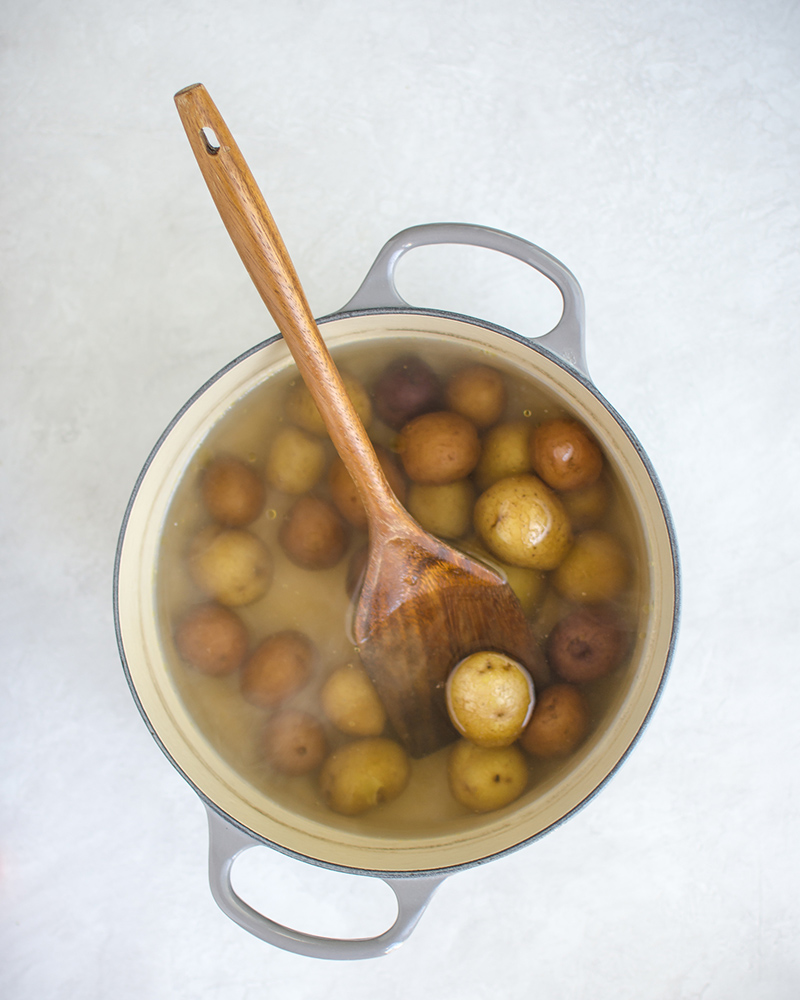 A quick boil of those cute little round potatoes from Market Street, and a 15 minute roast in the oven yields a crunchy, salty and creamy side dish.
Here's why this side dish is make-ahead friendly and versatile.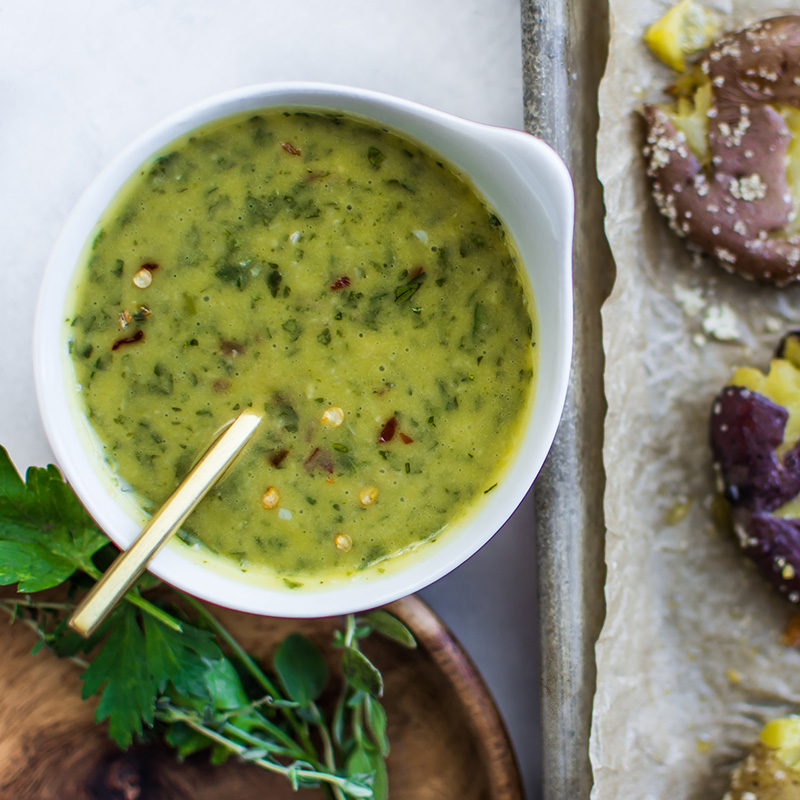 Make-Ahead: Chimichurri is an Argentinian wonder sauce, a condiment that can accompany meats, eggs, vegetables and salads. It is liquid gold. However, chimichurri needs time to marinate in order to allow the herbs, oil and vinegar to create flavor. This is the make-ahead element to this dish.
The night before throw all those glorious ORGANIC herbs, olive oil and vinegar that you picked up from Market Street's STREETSide (because lets face it, it's fall and the hustle is REAL and someone doing the grocery shopping for you is necessary) into a food processor and blitz. The chimichurri will sit in the fridge developing flavors that you can put on just about anything (double the recipe if you want extras!).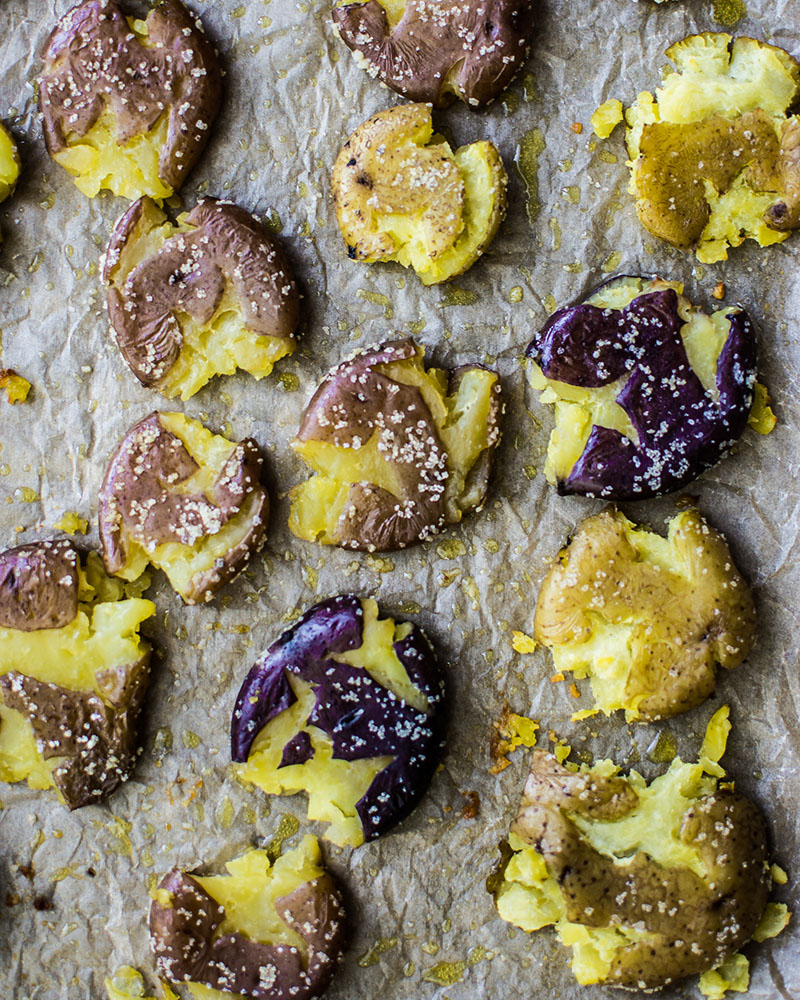 Versatility: Some people at the table will try to turn their nose up at the Chimichurri for some reason or another. Perhaps because of all the green (I have one like that) or because the sauce is not ketchup (no shame!). That's okay. You still have a potato for them that's crispy and salty on the outside and creamy on the inside; sell it as a round French Fry and it will be gobbled up.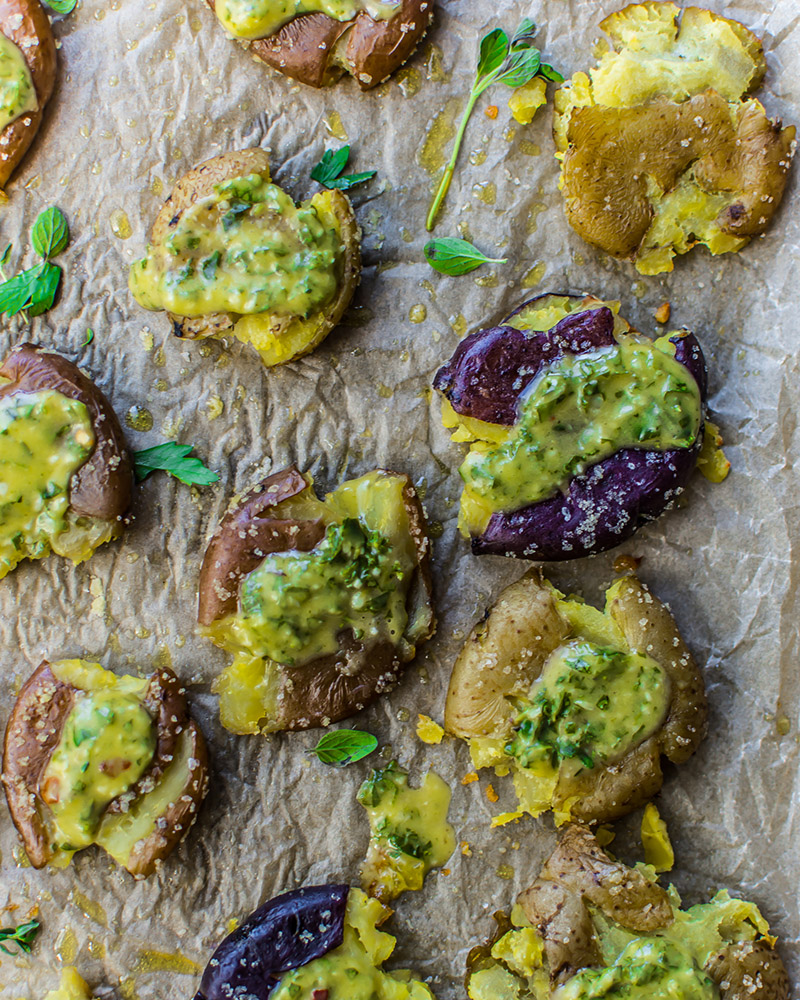 But for YOU dear one, and any other adventurous eater at your table, there is chimichurri. It is a wonder sauce to amp up recipes that makes you feel as if dinner can, in fact, feel like an Argentinian vacation.
This side dish is for you and if you're looking for a quick "main" protein to pair with the potatoes, make a runny egg for you and some scrambled ones for your kids— this combo is perfect for any weeknight hustle.
Chimichurri Smashed Potatoes
Ingredients
chimichurri

,

see recipe below

3

tablespoons

extra-virgin olive oil

2

teaspoons

kosher salt

28

ounces

or 2 pounds Potatoes
for the chimichurri
3/4

cup

fresh parsley

,

lightly packed (leaves and thin stems only)

2

tablespoons

fresh oregano

,

lightly packed

1

tablespoon

fresh thyme

5

garlic cloves

,

quartered

1

teaspoon

kosher salt

1/2

cup

extra-virgin olive oil

1/3

cup

red wine vinegar

1

teaspoon

dry red pepper flakes
Instructions
Heat the oven to 400 degrees.

Place the potatoes in a large saucepan and fill with enough water to cover the potatoes. Place on the stovetop. Bring the potatoes to a boil and cook until the potatoes are easily pierced with a fork, about 20-25 minutes.

Meanwhile, in a large bowl, combine the olive oil and salt. Set aside.

Strain the cooked potatoes from the water. Place the potatoes in the olive oil mixture mixture. Toss and stir to coat the potatoes.

With a slotted spoon, place the potatoes on a rimmed baking sheet (for easy clean-up line the baking sheet with foil).

With the back of a spatula, or a large spoon, press down on the center of the potatoes until they are "smashed." Continue to do this with every potato.

Drizzle the any leftover oil and salt mixture on top of the potatoes.

Place in the oven and roast for 15-20 minutes, or until the tops are slightly crispy. Drizzle the chimichurri onto the potatoes. Serve immediately.
for the chimichurri
Place all ingredients into a food processor, except for the red pepper flakes. Puree until herbs and garlic is chopped and the ingredients are well incorporated.

Pour into a glass container and stir in the red pepper flakes. Cover and store in fridge for at least 1 hour.
Disclosure: This is a sponsored post on behalf of Market Street. All opinions are my own.