This post was made in partnership with Ribera y Rueda and The Feedfeed.
It may be early for some, but summer has officially arrived in Texas.
The days are longer. We seem to rise and set with the sun—the constant sunshine pulls us outdoors to play and just linger. The season of relaxing has arrived.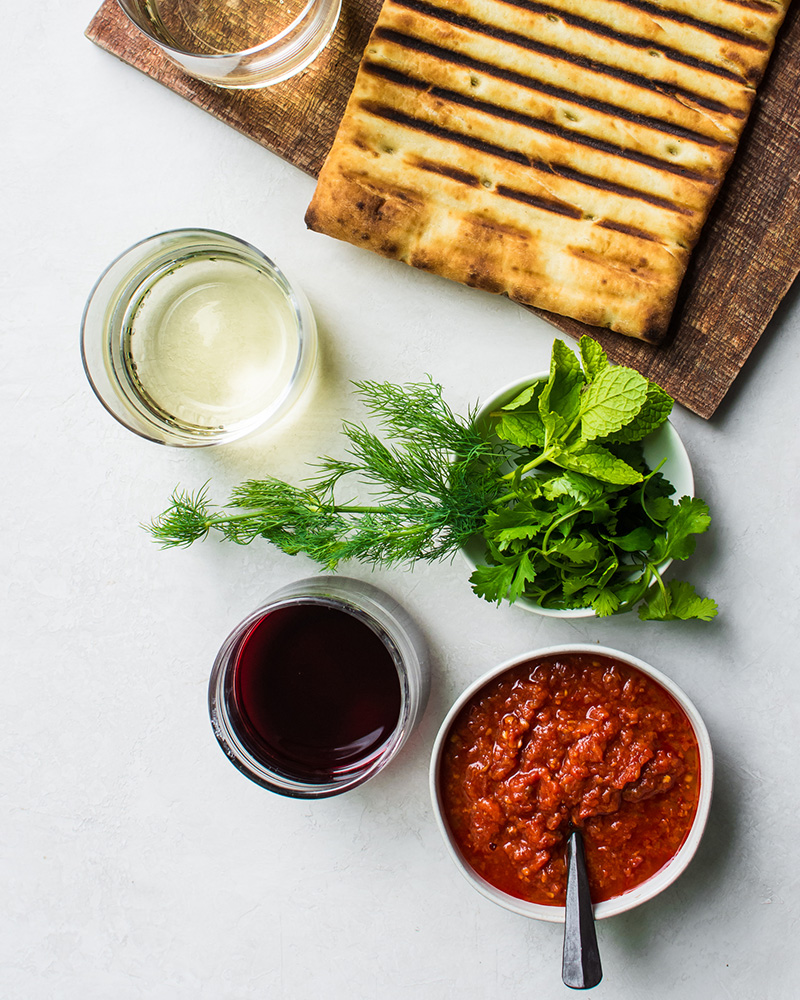 What better way to enjoy long days, the outdoors and relaxation than with al fresco dining? Lighting up the grill and opening up a bottle of a crisp, refreshing wine is the final touch to this already blissful scene.
When grilling outdoors in the summer I like to experience it from start to finish—a bottle (or two!) of wine, loved ones and time are necessities. Summer dining experiences like this make me feel like I'm no longer in Texas, but that I'm on vacation.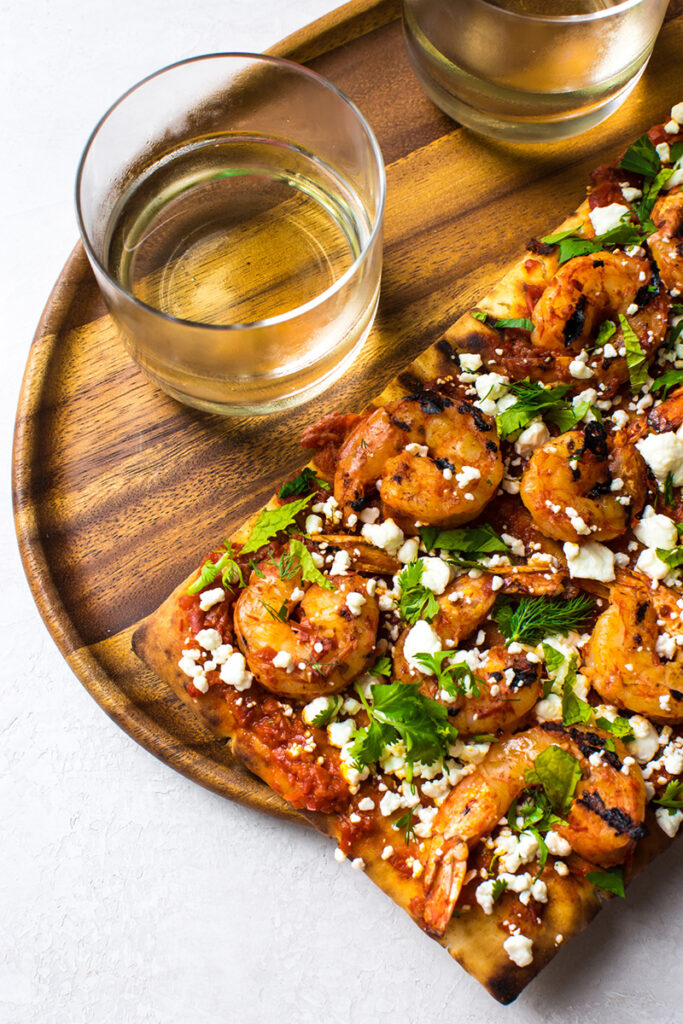 This summer, I've been craving quick and simple finger foods that with each bite bring a memorable, delicious spark of flavor, herbs and spice. Grilled Harissa Shrimp Flatbread has become that bit of grilling excitement I've been craving.
Shrimp marinated in spicy harissa is grilled to perfection and then placed on top of grilled flatbread (I went with store-bought flatbread for efficiency) that has been grilled and lightly coated with a layer of harissa. Add goat cheese and place back on the grill to melt the cheese. Remove and top with a generous amount of chopped fresh herbs (mint, dill, parsley and cilantro), slice and serve.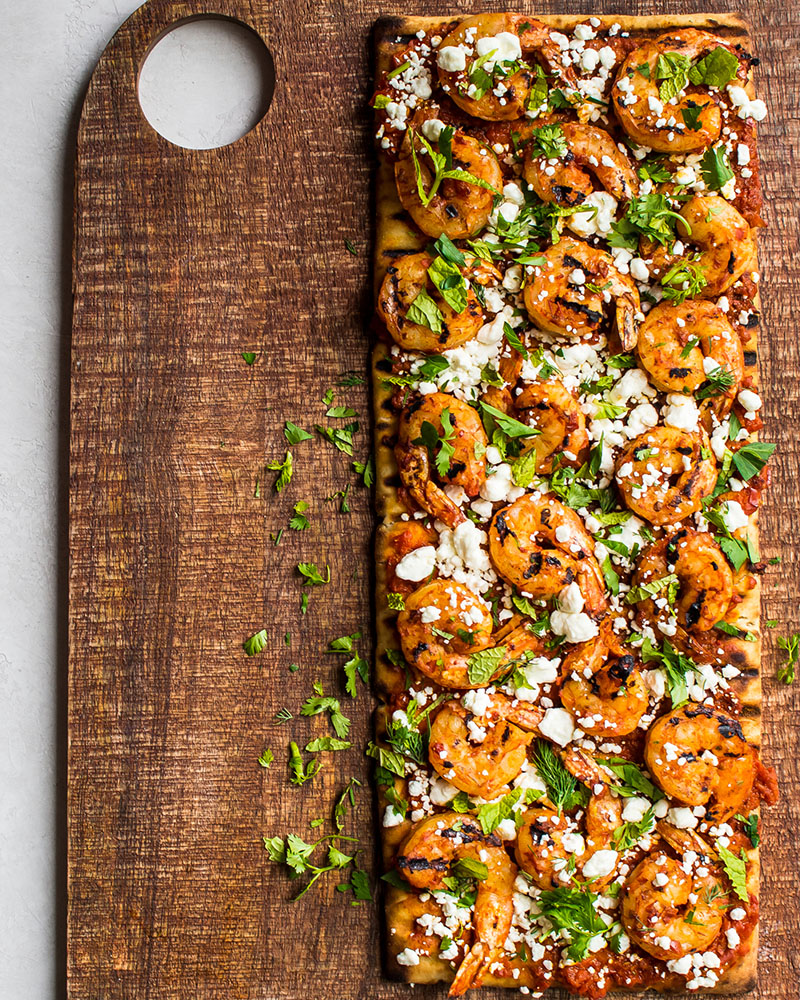 This dynamic recipe needs one more thing—the finishing touch really. Wine from the Spanish regions of Ribera del Duero and Rueda. For this recipe in particular, I've chosen a Rueda white to complement the seafood and goat cheese.
Ribera del Duero and Rueda are two regions in Northern Spain. Complex reds made from Tempranillo grapes come from the Ribera del Duero region, while whites made with Verdejo grapes come from Rueda. Both of these classic and beloved wines pair easily and beautifully with a variety of flavors.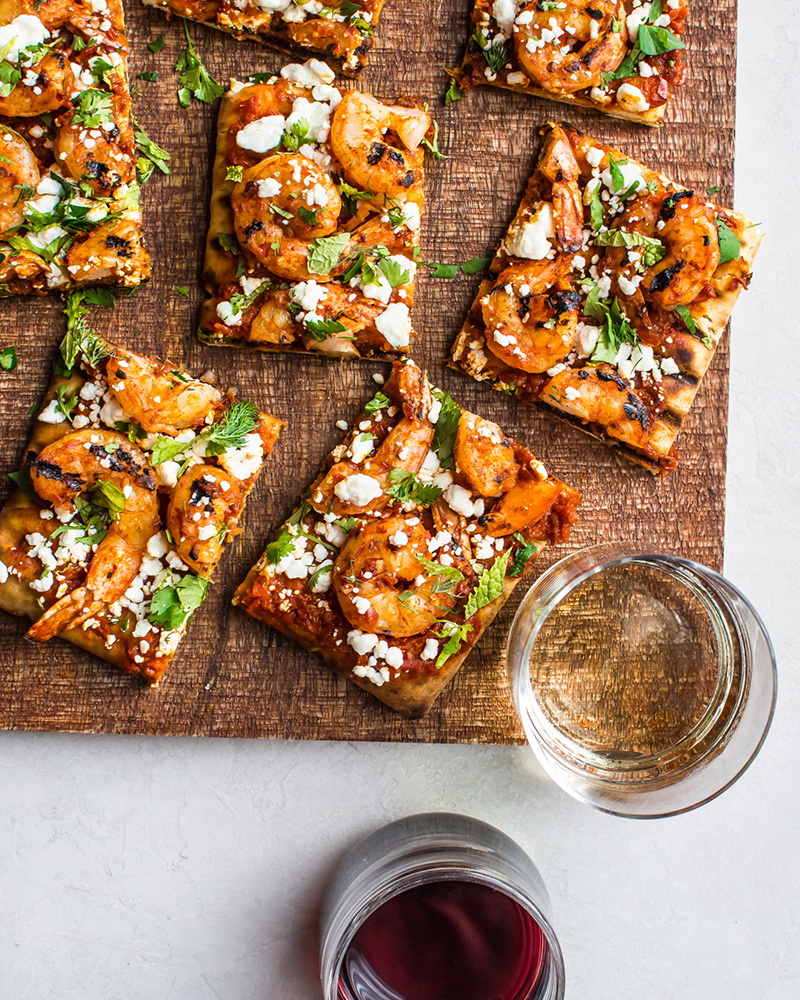 With grilled meats for the summer or this Harissa Shrimp Flatbread—Ribera y Rueda wines are the perfect summer pairings. With each sip, you will feel transported to Spain, far from the backyard where you're gathering. The smoky, dark fruit in Ribera del Duero makes it a perfect pairing for grilling season. Guests that only drink red, younger Riberas can even drink well with a slight chill for the summer season.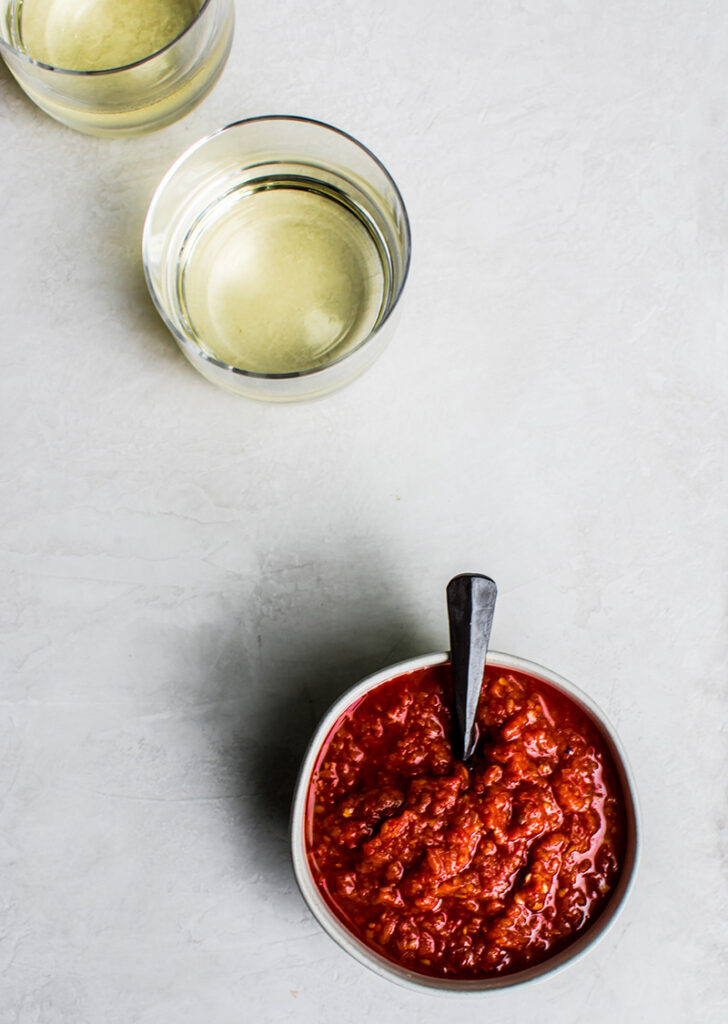 When it came to this particular recipe, I knew a crisp white Verdejo would pair beautifully. The herbal notes in Rueda Verdejo go great with greens on the flatbread and balance the heat of the harissa. This combination makes the outdoors feel like a Spanish oasis. With music playing and friends lingering over wine and food—it feels like we have begun summer like a Spaniard.
Grilled Harissa Shrimp Flatbread
Ingredients
1/4

teaspoon

kosher salt

,

plus more for taste

1 10-

ounce

jar of harissa

1 1/2

pounds

shrimp

,

peeled and deveined

premade flatbread

extra-virgin olive oil

1/4

teaspoon

smoked paprika

crumbled goat cheese

cilantro

,

chopped

dill

,

chopped

mint

,

chopped

parsley

,

chopped
Instructions
Heat the grill to 350 degrees.

In a large bowl combine 5 ounces (half of the harissa) with the shrimp and salt. Stir well to combine. Set aside for 30 minutes. After the shrimp has marinated for 30 minutes, remove from the marinade and place onto grilling skewers.

Combine the remaining 5 ounces of harissa and paprika, stir well. Take a small handful of each of the herbs and place into a bowl. Stir well to combine.

Evenly drizzle a thin layer of olive oil over the flatbread. Place the flatbread onto the grill and cook until the bread is heated thru and grill marks are visible. Remove the flatbread and place onto a cutting board.

Grill the shrimp, 3 minutes per side, for a total of 6 minutes. Remove the shrimp from the skewers.

Add a thin layer of the harissa- smoked paprika mixture onto the grilled flatbread. Top with the shrimp and the goat cheese. Place the flatbread back onto the gill and warm until the cheese is slightly melted.

Remove the flatbread and place onto a large cutting board and top with the herb mixture. Slice the flatbread and serve warm. Salt to taste.
Notes
This recipe works best with a thicker flatbread. For efficiency I use premade flatbread. If you have a difficult time finding "flatbread," a premade pizza crust also works well. If you do not like goat cheese, feta also works well.