Sometimes, heat craves heat. Let me explain.
Come August, when the temperatures have been on their multiple 100-degree day streak and the swimming pools are no longer cooling anyone down—this is the time. It's now that I start longing for those cooler months, but at the same time have come to accept the end of the summer heat.
This is when the Hatch chiles arrive—and it's time. Time to roast them over an open flame with family and friends, outdoors with the heat. The work isn't over yet. These chiles still need to be peeled, seeded and put-up.
This is a week-long process at my home that is tradition. I order my case of Hatch chiles (mild and hot) from Market Street in July and pick them up in August once the green glories make their arrival. Sure, it's a labor of love—one that could easily be assisted by Market Street's roasters (because their roasting service is very nice!). But roasting Hatch chiles is a family tradition, and I can't deny myself that.
With my freezer fully stocked with bags of freshly roasted chiles (I put them in 2 cups increments in resealable plastic bags) I rest easy that the coming months will still have Hatch flavors when desired.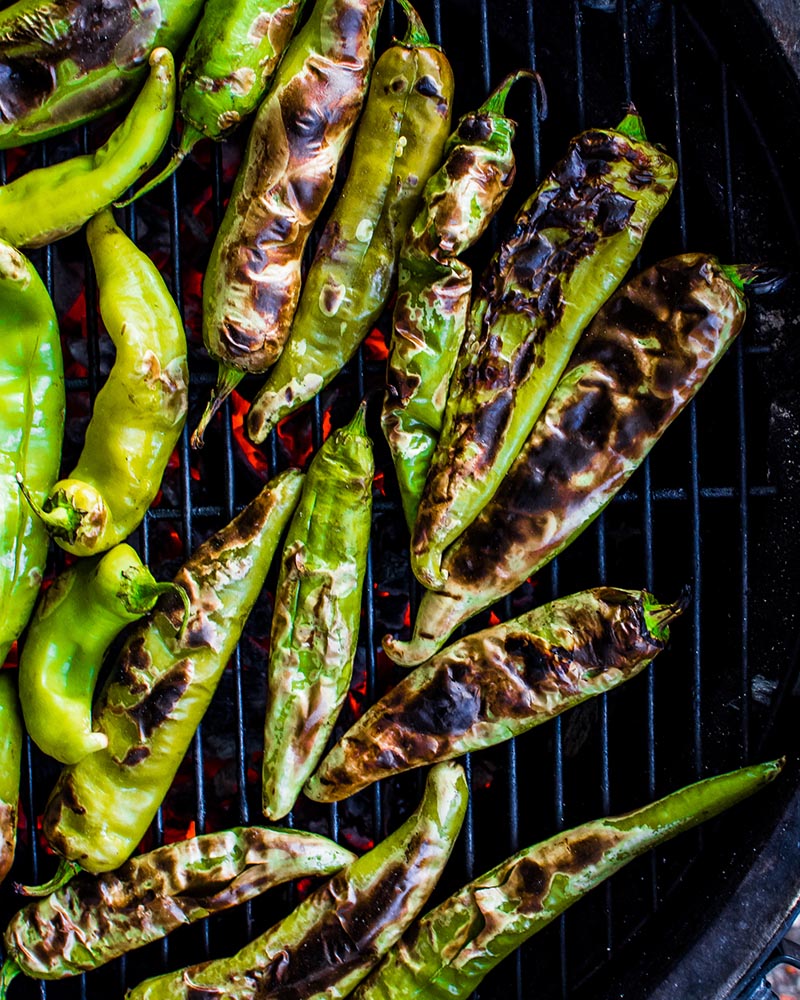 Not only do I prepare the chiles for the coming months, but I also cook with these chiles during the month of August.
Pork shoulder, beer and Hatch chiles is typically where my mind first goes when I grab my treasure of chiles from Market Street. Hatch carnitas is a staple in our kitchen (and I always try to have a batch on hand in the freezer), but this summer I wanted to simmer stew.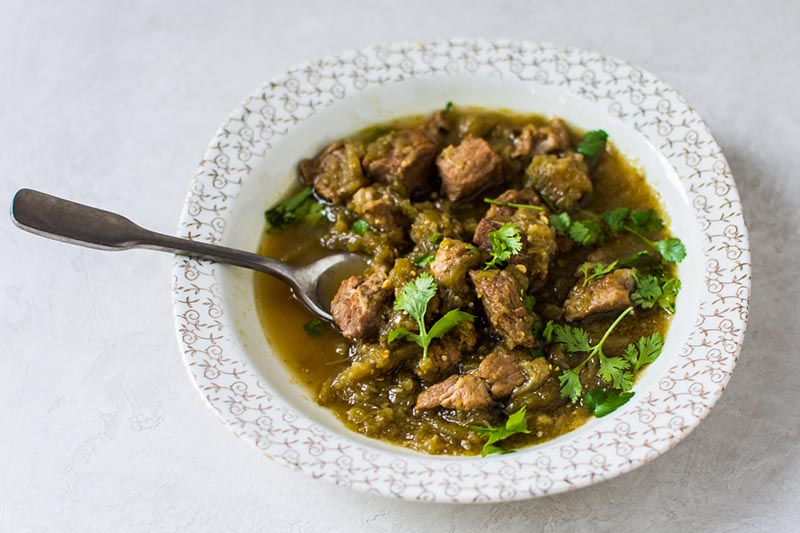 Hatch Pork Chile Stew. It's like a beacon to all the Hatch lovers out there. It's classic. It's flavorful. It's versatile.
This summer I simmered in August, on a day that my air conditioner may or may not have survived. It was 103 outside and the cooktop was cookin'. It was lovely and the house smelled of another successful green summer.
Hatch Pork Chili Stew
Ingredients
2

pounds

boneless pork shoulder

,

cut into 1-inch cubes

3

teaspoons

kosher salt

1/2

onion

,

diced

2

jalapenos

,

seeded

3

garlic cloves

,

crushed

3

cups

tomatillos

,

rough chopped

12

ounces

lager beer

8

cups

chicken stock

3

cups

roasted Hatch chiles

,

peeled and seeded, well chopped

2

teaspoons

cumin

1

teaspoon

red wine vinegar

cilantro

,

for topping

tortillas

cooked rice
Instructions
30 minutes before cooking, evenly distribute 1 1/2 teaspoons kosher salt onto the pork.

In a food processor, puree the onions jalapenos, garlic and tomatillos. Set aside.

Add canola oil to a large heavy bottom Dutch oven and bring to high heat. Brown the pork shoulder pieces in two to three batches, about 2-3 minutes per batch. Set aside.

Reduce the heat to medium. Remove the Dutch oven from the heat. Add the tomatillo mixture to the Dutch oven and stir. Place back onto the cooktop and let cook for 5 minutes, stirring often to prevent burning.

Degalze the pan with the beer. Add the Hatch chiles, cumin and 1 1/2 teaspoons salt to the pan. Stir well to combine. Bring to a simmer.

Once simmering, add the pork and its juices back into the pan. Add the chicken stock to the mixture. Let simmer for 45 minutes, or until the pork is easily pierced with a fork and the desired thickness is achieved. Stir in the vinegar and salt to taste. Serve with rice, fresh cilantro and tortillas.