Many of us have Depression era recipes in our collections. They may be connected to a grandmother or, perhaps, a great aunt. You'll be able to spot them by their minimal use of "specialty" items like butter, cocoa, sugar, cream or eggs. These are special recipes and ones that I treasure.
My grandmother had a sweet tooth. Hershey Kisses were nestled in candy bowls throughout her home. She hid giant chocolate bars in the top of her cabinets, to hide them from my grandfather. The cookie jar was always filled with an assortment of homemade baked goods and if it wasn't, then there was a chocolate sheet cake on the countertop.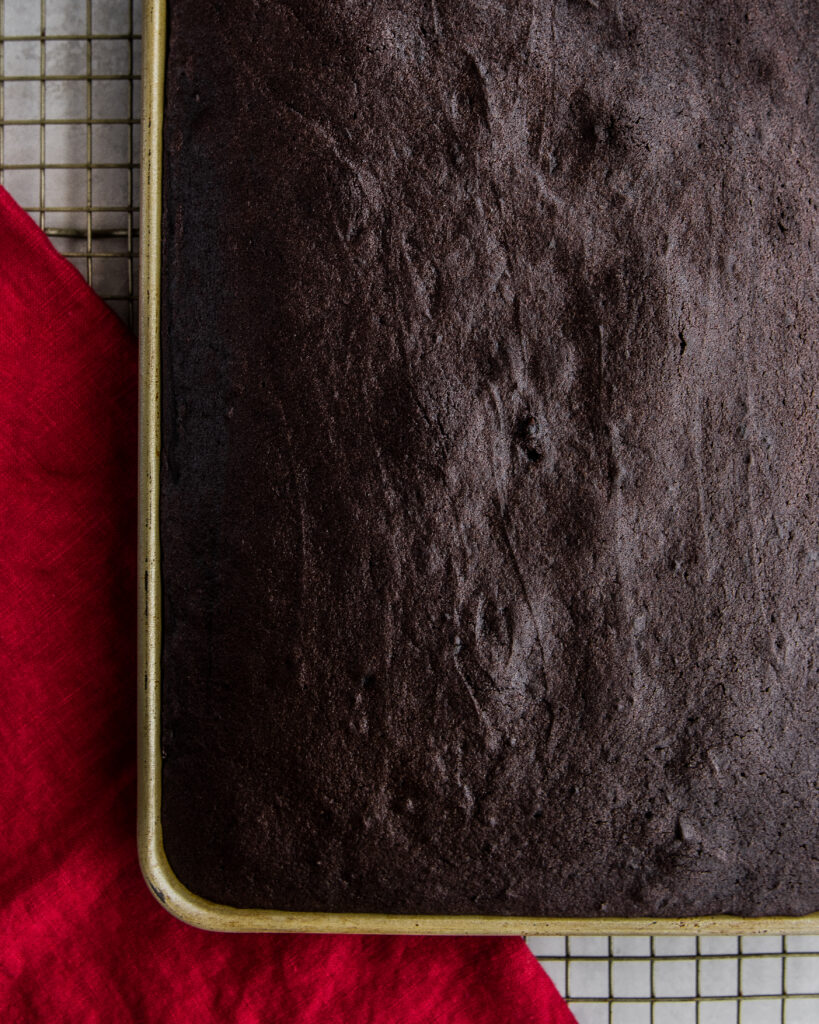 It was this baked good, the sheet cake, that lives in my memory as the pinnacle of all chocolate cakes. It wasn't until I was an adult that I learned this recipe was not my grandmother's but that it was her big sister's recipe, Lois. Learning this fact endeared this cake to me even more.
Craving a bite from my childhood, I was recently able to get a hold of the chocolate cake recipe. Once reviewing the recipe card, I noticed how few the measurements were for the ingredients that make cake decadent. This cake had many qualities of a recipe that was created from a kitchen that had minimal access to specialty items. Only 2 eggs and 2 tablespoons of cocoa powder! Granny and her sister lived through the Dust Bowl, the Depression and World War II. This recipe was filled with a kitchen rhythm that knew how to make few ingredients magical.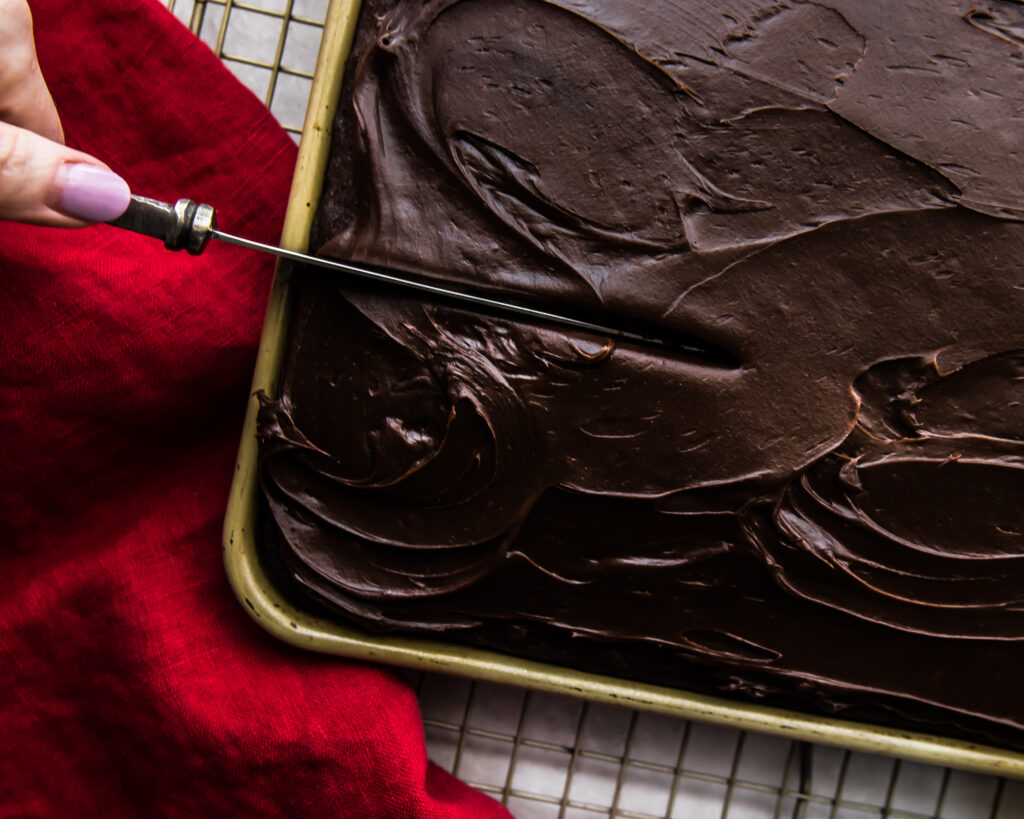 While I treasure the memory of Lois' cake, I decided to dress it up a bit with more eggs, sugar and cocoa powder. I also added a secret baking ingredient: butter flavored Crisco.
This ingredient is a shining star and one I rely on for other baked goods. Crisco, once creamed with sugar, yields a moist and fluffy result. The butter flavor added to the Crisco allows for the same taste as butter, but a better result.
Market Street is my go-to stop for all things baking. From essential ingredients to specialty cookware; I know that Market Street will have everything I need to make my craving a reality, including butter flavored Crisco!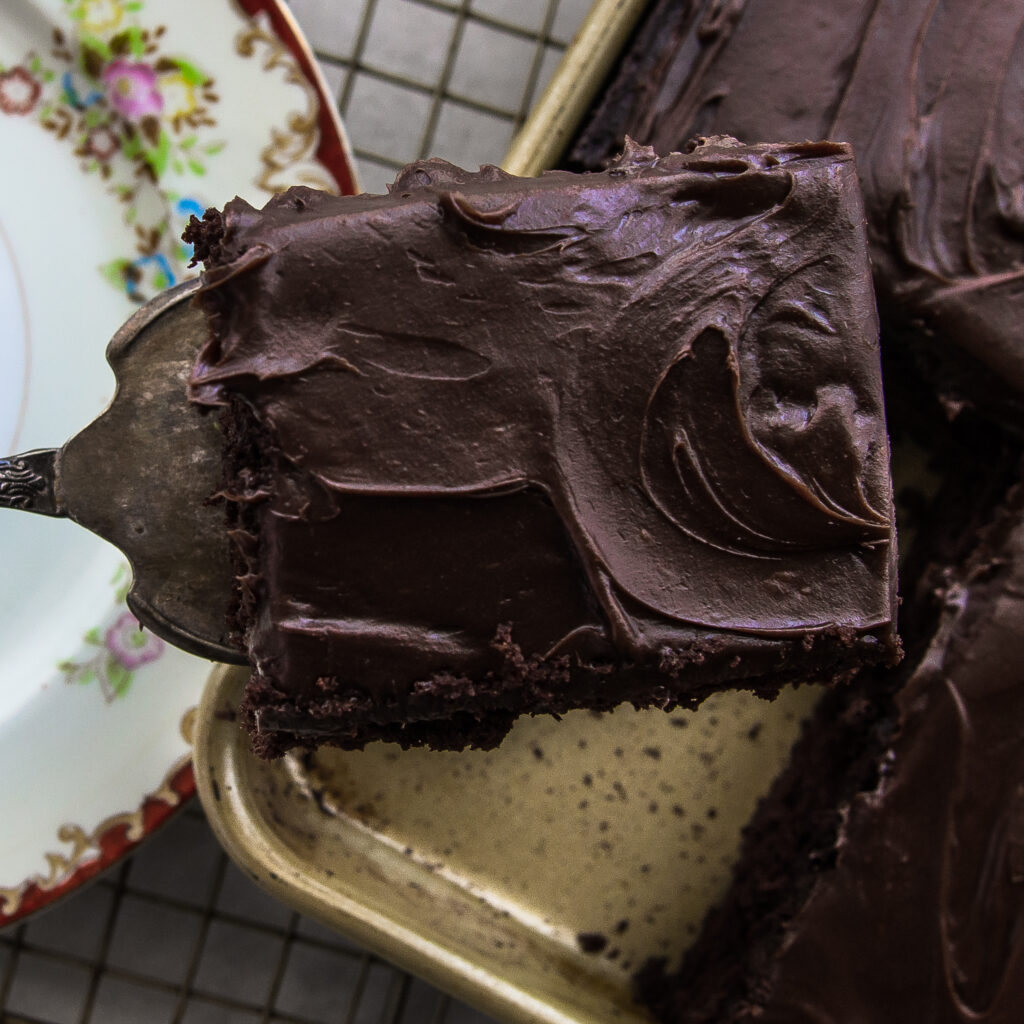 When reviewing Lois' recipe, I noticed the Crisco and instantly knew that my first item to get at Market Street was butter flavored Crisco. From there, it took a bit of time researching a few other cake recipes to make this cake more 21st century and less 20th century.
The changes made to this family recipe did the trick! It is decadent, moist, fluffy and addicting; all the qualities I look for in a dessert.
This post is sponsored by Market Street. All opinions are my own.
Chocolate Sheet Cake
The cook time will vary depending upon the size of the sheet pan used. Butter flavored Crisco is the magic ingredient to this cake. You can substitute with regular Crisco, but the cake will be missing that buttery flavor, which makes it feel even more decadent.
Ingredients
1 1/4

cup

all-purpose flour

1/2

tsp

baking soda

3/4

cup

cocoa powder

2/3

cup

butter flavored Crisco

1 1/2

cup

sugar

1/2

tsp

kosher salt

4

eggs

1

tsp

vanilla extract

2

tbsp

strong coffee or espresso

1

cup

buttermilk

chocolate icing
Instructions
Heat an oven to 325 degrees F. Sift the flour and baking soda into a medium-sized bowl. Whisk in the cocoa powder. Set aside.

Using an electric mixer fitted with a paddle attachment, cream together the Crisco, sugar and salt for 2 minutes, or until the Crisco is light and fluffy. Add the eggs, one at a time. Once the eggs are incorporated, Add the vanilla, coffee and buttermilk.

Remove the paddle attachment and add a whisk attachment. Slowly add the dry ingredients, 1/4 cup at a time, into the wet ingredients, whisking at a low speed. Pour into a half-sized sheet pan. Using a spatula, evenly distribute and smooth out the batter. Pound the sheet pan onto the countertop to remove any air bubbles.

Place the cake into the oven. Bake at 325 degrees F for 35 to 45 minutes, turning halfway through the baking process.