Growing up my grandparents would take us to pick peaches every summer. The memories of walking through the orchard and searching tree after tree for the most perfect pick still fills my heart with joy.
After foraging through the orchard, boxes of peaches would be divvied up among our family and taken back home—then devoured.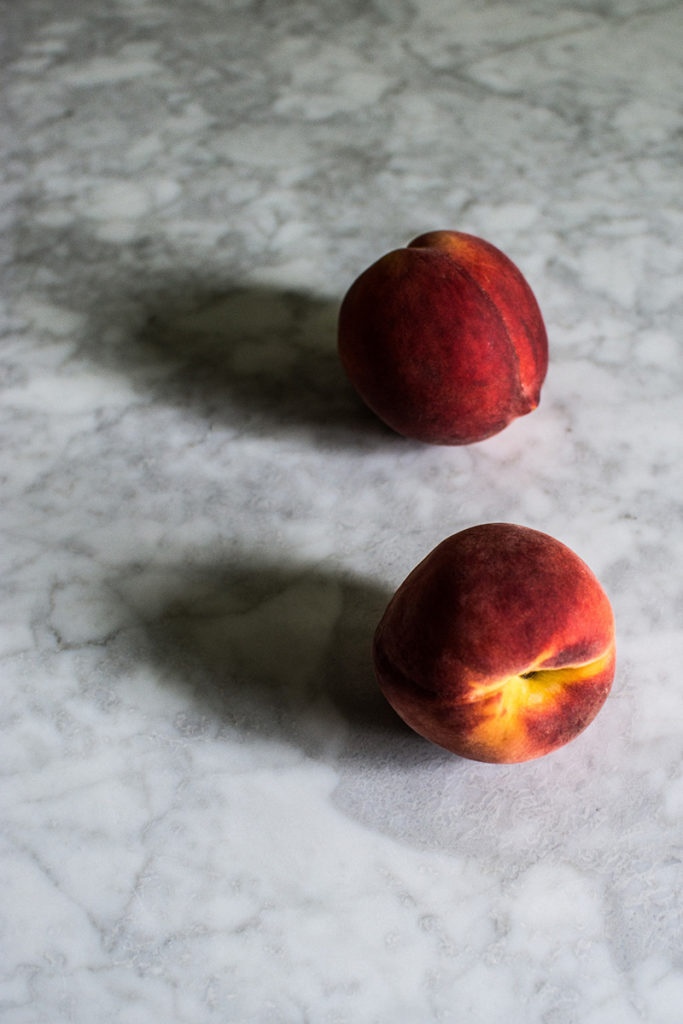 That's when I learned that a summer ripened peach has no comparison and must be eaten quickly.
Minimal effort was taken in preparing the peaches. All that was needed was a quick slice and then, if desired, a sprinkling of sugar. It was served by itself or on pound cake with whipped cream.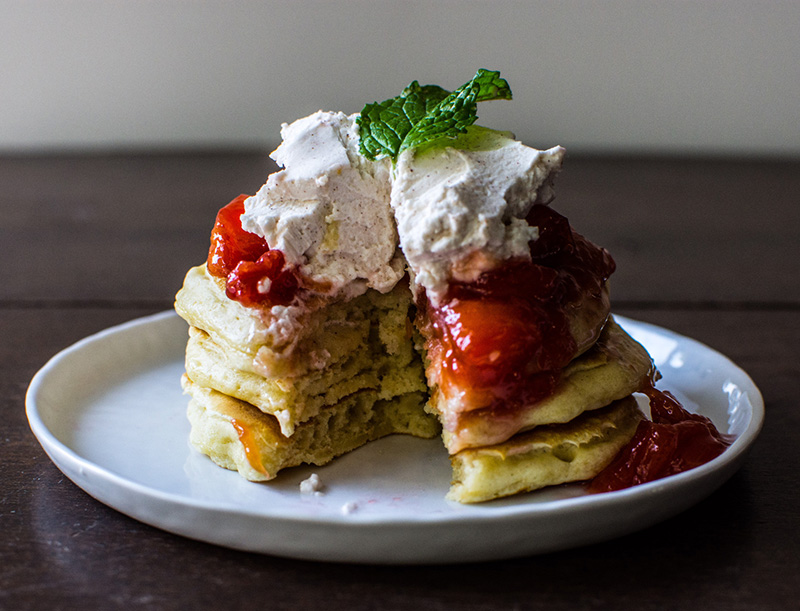 Everything about a peach, especially the scent, transports me back to that orchard with my family. It's been several years since I've walked among peach trees searching for the perfect fruit, but I'm reminded of this memory yearly with the arrival of peach season.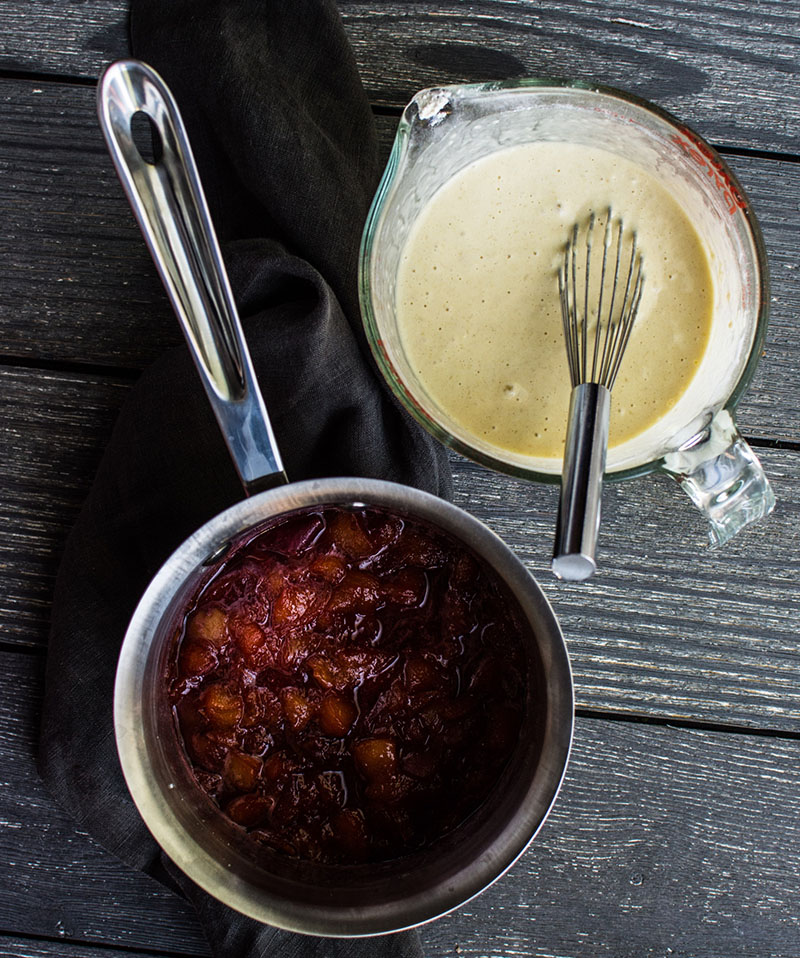 Thankfully, there's Market Street just around the corner to alleviate my heart's longing for freshly picked summer fruit. Without fail, Market Street provides me with the perfect peach year after year.
In June, the wooden crates are rolled out and variety after variety of peaches begin to appear. As it gets deeper into summer, the peaches become more fragrant and tantalizing.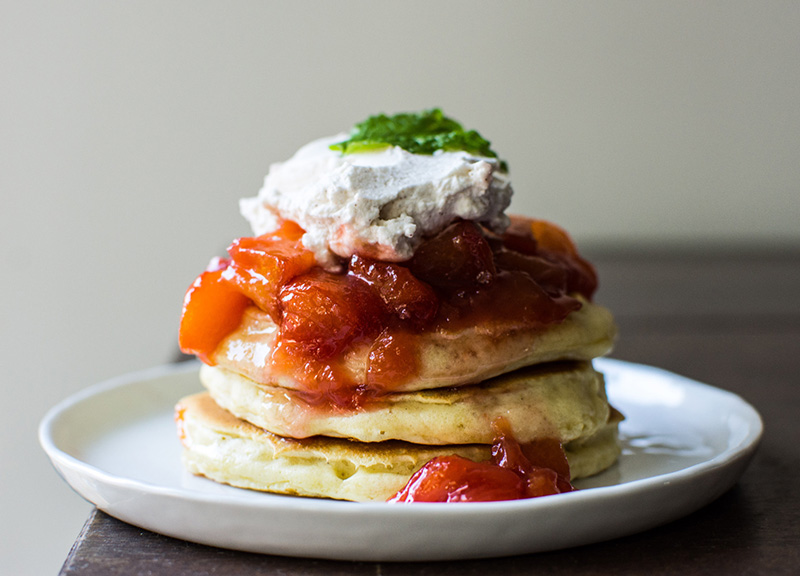 With every visit to Market Street I can't resist grabbing a brown bag to fill with an assortment of peaches— from Sugar Tree Peaches to Peach Pie (yes, they taste like peach pie!) peaches.
Like the summer peaches of my past, these are also devoured quickly, yet I choose to do a little bit more with my treasures. I skip the pound cake and make pancakes with simmered peaches and whipped cinnamon crème fraiche.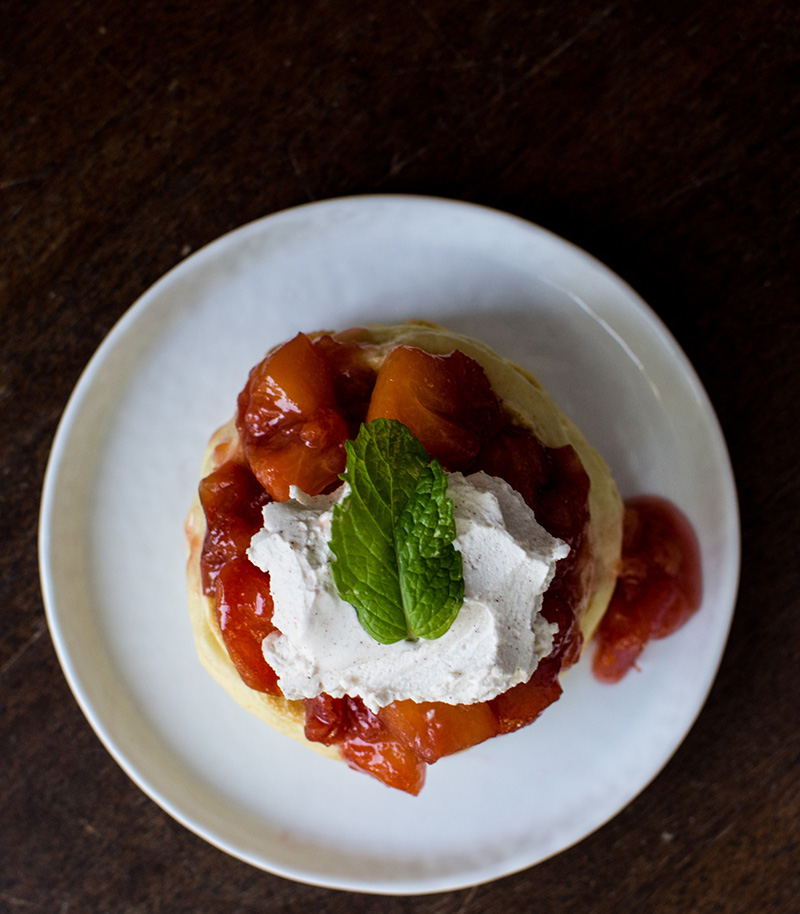 Pancakes with Simmered Peaches and Whipped Cinnamon Crème Fraîche
Ingredients
4

peaches

,

diced

1/3

cup

plus 3 tablespoons sugar

pinch

salt

8

ounces

crème fraîche

3

tablespoons

whipping cream

1/4

teaspoon

cinnamon

1/2

teaspoon

vanilla extract

cooked pancakes

mint leaves

,

for topping
Instructions
Place peaches, 1/3 cup sugar and salt in a medium saucepan and cover. Cook on low heat for 20 minutes, stirring occasionally.

Uncover the pan and increase the heat to medium and cook for 20 minutes, or until the peaches are soft and the juices are reduced and thickened.

Remove from the stovetop and set aside.

Combine the crème fraiche, whipping cream, 3 tablespoons of sugar, cinnamon and vanilla extract into a bowl and using an electric mixer, whip on high until stiff peaks form. Place in a container and store in the fridge before serving.

Place the peach topping on top of the pancakes and top with whipped cinnamon cream fraiche and mint leaves
Notes
This recipe is easily doubled or tripled, however adjust the sugar according to how sweet the peaches are. If you're doubling, less sugar is advised—taste as you cook and adjust. Make sure the crème fraiche and whipped cream is very cold right before whipping.
Disclosure: This is a sponsored post on behalf of Market Street. All opinions are my own and I appreciate your support of the brands and companies I love.