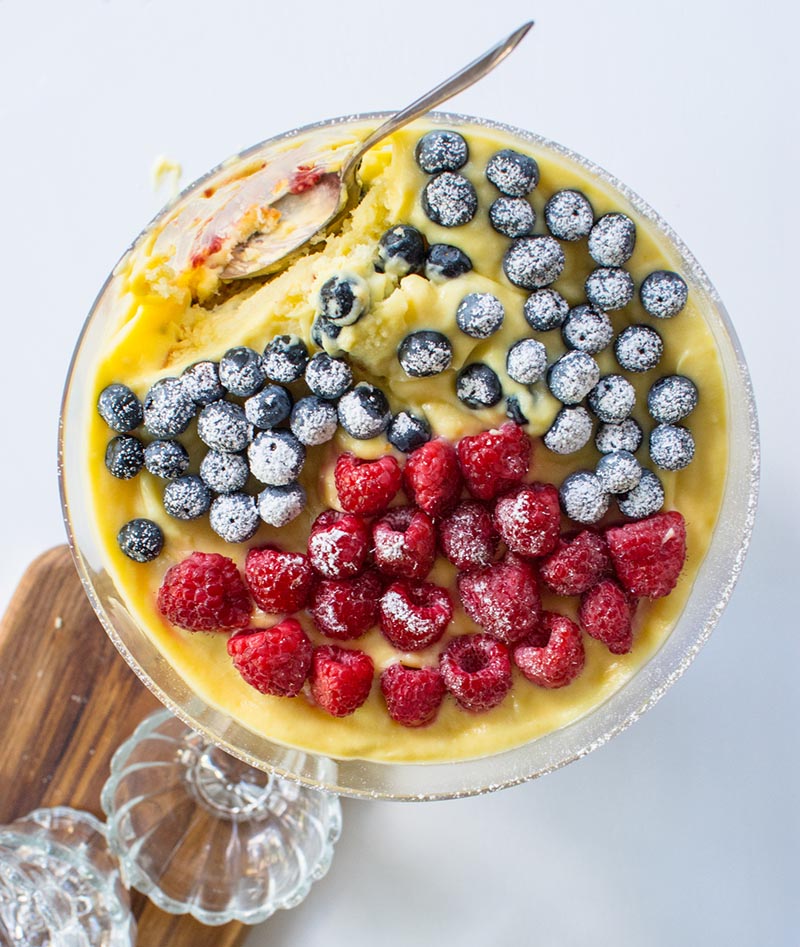 Patriotic Trifle
Ingredients
2

pound

cakes

,

cut into thick slices to fit the interior of the serving bowl (I do this as I'm building the trifle)

1

jar raspberry jam

2

pints

blueberries

Grand Marnier Pudding

,

recipe below

fresh raspberries

,

chilled for topping

fresh blueberries

,

chilled for topping

powdered sugar

,

for topping
for the Grand Marnier Pudding
1

cup

cream

3

cups

whole milk

1/4

teaspoon

kosher salt

1

teaspoon

vanilla extract

2

tablespoons

Grand Marnier

,

or favorite orange liqueur

1/4

cup

unsalted butter

10

egg yolks

1

cup

sugar

1/4

cup

cornstarch
Instructions
In a large glass trifle bowl or serving bowl add a layer of pound cake. Cover the cake with an even layer of raspberry jam. Top the jam with an even layer of blueberries. Cover the blueberries with a generous layer of pudding.

Repeat step one. Finish with a final layer of pound cake slices.

At this point, cover the trifle and place in the fridge to chill for at least 3 hours. Place the pudding and berries in the fridge to chill as well.

Right before service, remove the trifle from the fridge. Add a final layer of pudding and top with berries. Lightly dust the berries with sifted powdered sugar. Serve immediately.
for the Grand Marnier Pudding
In a large saucepan combine the cream, milk, salt, vanilla extract, Grand Marnier and butter. Cook over medium-low heat until the butter is melted, about 10-15 minutes. Stir occasionally.

Whisk the egg yolks and sugar in a large mixing bowl until combined.

Whisk the cornstarch into the yolk and sugar mixture. Do this in small batches, until there are no lumps of cornstarch.

Remove the liquid from the stovetop and temper the sugar egg mixture. To temper, whisk the egg mixture quickly while slowly adding the warm liquid (about 1/4 cup at a time) until all the liquid is combined. Now you have created a custard.

Pour the custard back into the saucepan. Cook over medium-high heat. Whisk constantly until the custard is thick and almost boils, about 6 minutes.

Strain the pudding into a large bowl. Cool. Store in an airtight container in the fridge.
Notes
The laborious task to this dessert is retrieving 10 egg yolks. Give yourself a little bit of grace, I typically go through about 12 eggs before I get my 10 egg yolks. A way to prevent food waste in this situation is to remove your egg whites and egg yolks by using three separate bowls. One bowl is used collect the egg white during the initial separation from the yolk. Place the white into a second bowl (where all the unused whites will be collected and saved for further use) and place the yolk in a third bowl. Using separate bowls when first cracking the eggs helps keep the majority of the whites and yolks free from shells and broken yolks. The egg whites can be easily turned into several things—meringue to top pies (click here for recipe), meringue cookies (click here for recipe), egg drop soup (click here for recipe), egg white omelettes. There are many options.