Craving pie for an entrée this holiday season? Yeah you are! But the pie I'm about to tell you about probably isn't what you're expecting. Caramelized Onion and Mushroom Pie is a savory dish that will be a shining star on your Thanksgiving table this season.
Savory pies are so fun to create! There is an element of surprise when the sweet pie filling is exchanged for something salty. I love a good savory pie, and this caramelized onion and mushroom lovey is a favorite!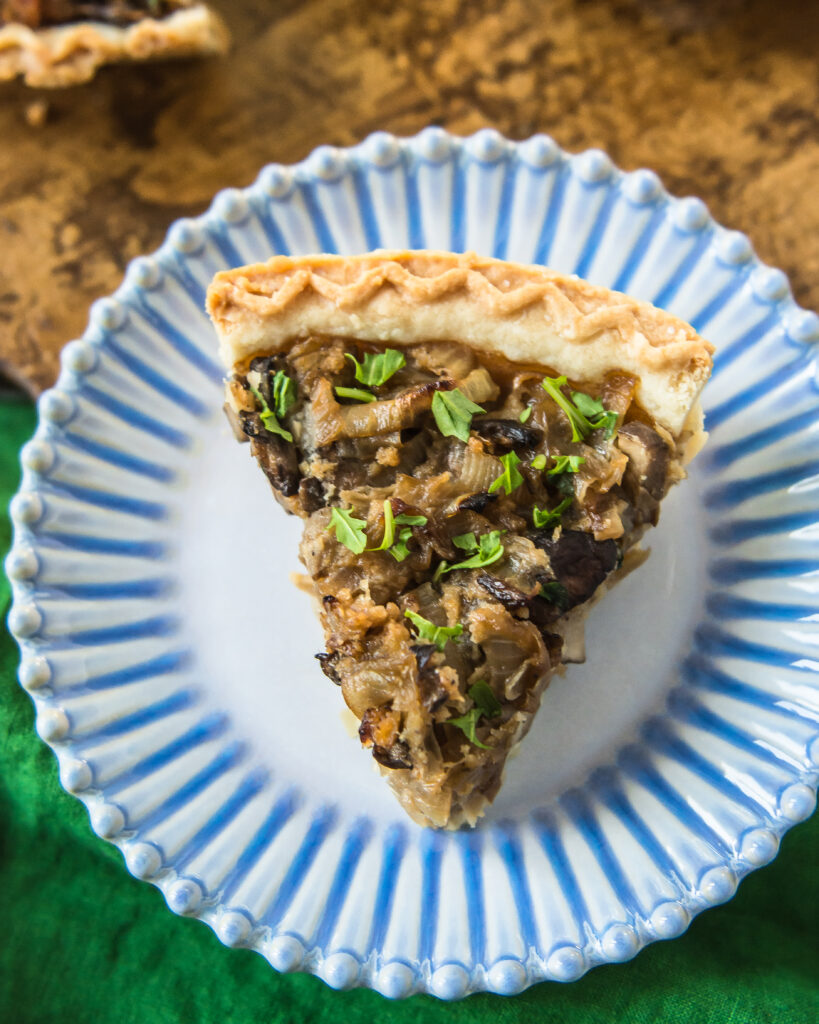 As you can very well relate, everyone's time is a bit stretched during the Thanksgiving season. That's why I grab a few premade pies every so often in the fall and winter during my weekly trip to Market Street. Having pie shells stocked in the freezer is handy during these months because the need to bake can easily sneak up on you; whether it's for a cozy pot pie dinner or a spur of the moment holiday party!
To make this savory pie, a few other essential items from Market Street are needed: mushrooms, fresh herbs, onions, breadcrumbs, and Gruyere cheese. One item you might need a little help finding is dry Marsala wine. This wine is a fortified wine that is used frequently in Italian cooking. There are two varieties: sweet and dry. Be sure to select a dry Marsala for this recipe! If the wine department seems daunting, don't fret! Ask a Market Street Beer and Wine Steward; they are happy to help you get the right bottle for this savory meal.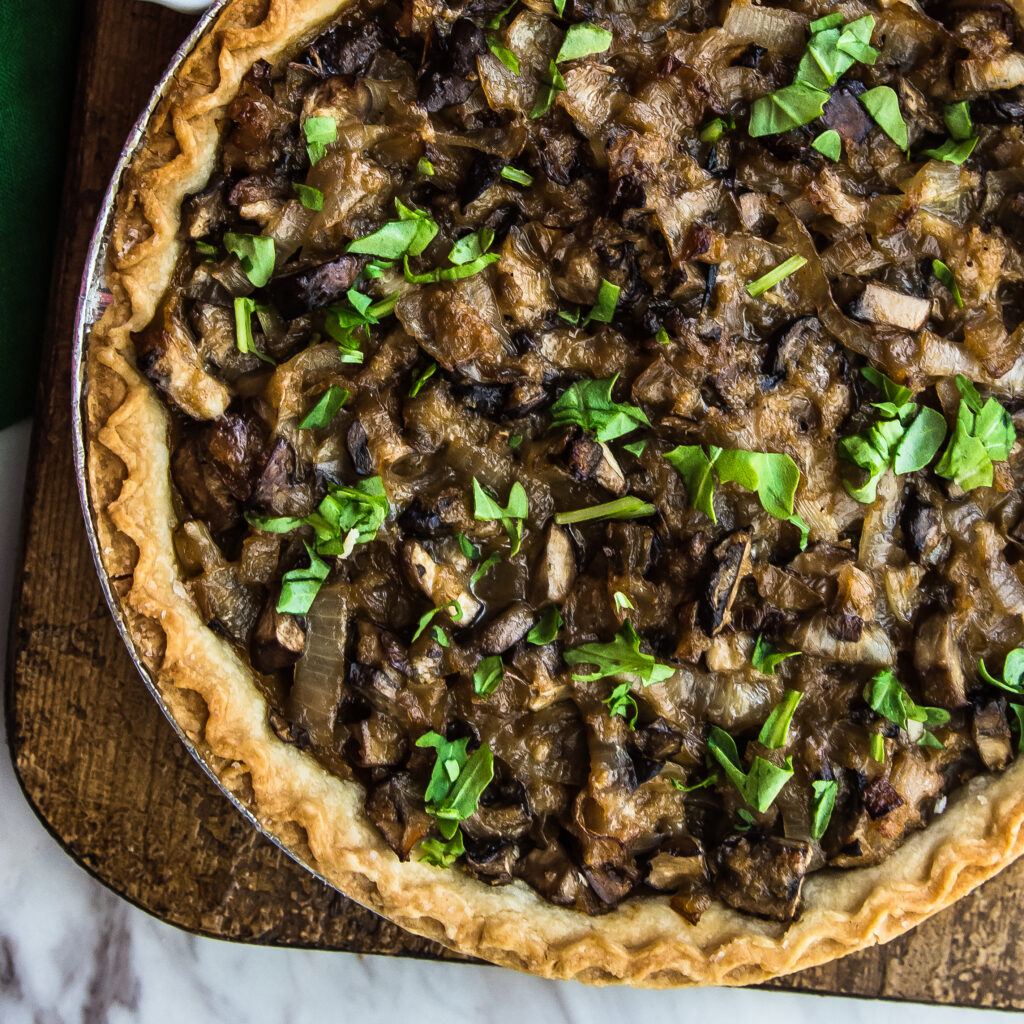 Besides it's umami rich components and ease of construction, there is another reason to love this pie: it's meatless. Providing a variety of dining options for all your guest at Thanksgiving is the sign of a thoughtful host. With this Caramelized Onion and Mushroom Pie, you will be offering a filling, meatless option for those who may be bypassing turkey this year.
Rely on Market Street to provide quality ingredients to create a Thanksgiving spread that reflects the bounty of our land! Surprise your guests with a meatless, comforting savory pie that will be the talk of the table. May your gatherings be festive and delicious! Happy Thanksgiving!
This is a sponsored post by Market Street. All opinions are my own.
Caramelized Onion and Mushroom Pie
Ingredients
3

tbsp

extra-virgin olive oil

,

divided

6

cups

onions

,

halved and sliced to desire thickness

1 1/4

tsp

kosher salt

,

divided

black pepper

,

to taste

2

tbsp

unsalted butter

1

rosemary sprig and 1 sage sprig

,

tied together

4

cups

diced mushrooms

1/2

cup

dry marsala

2

tsp

red wine vinegar

1/4

cup

panko breadcrumbs

1

cup

grated gruyere cheese

1

uncooked pie crust

chopped arugula

,

for topping
Instructions
In a large skillet, add 1 tablespoon of olive oil, 2 cups of onions and 1/4 tsp kosher salt. Repeat this step two more times until all oil and onions are used. Top the final layer of onions with black pepper, to taste. Turn the heat to medium-low and cook the onions for 20 minutes. Do not stir the onions during this time.

After 20 minutes, stir the onions and add the herb bundle. Cook for 10 minutes, stirring occasionally.

Heat the oven to 375 degrees F. Add the butter, mushrooms and remaining 1/2 tsp of kosher salt to the onions. Stir well. Cook for 10 minutes, or until the onions are caramelized and the mushrooms browned. Stir occasionally.

Deglaze the pan with the marsala wine. Stir and cook until the wine is reduced by half, about 30 seconds to 1 minute. Remove the pan from the heat. Remove the bundle of herbs. Stir in the vinegar, breadcrumbs and cheese. Taste and adjust seasoning.

Pour the onions and mushrooms into the pie crust. Place into the oven and cook for 20 to 23 minutes, or until the dough is golden brown and the cheese melted. Remove from the oven and cool for 15 minutes. Top with chopped arugula and serve warm.