Every week my grandmother would make pot roast and the family would gather for dinner. The day of the week varied though. It could be a Sunday or a Wednesday, it didn't matter; we all knew what awaited us: pot roast, mashed potatoes and a ranch iceberg salad.
As an adult I rarely make pot roast. With such a treasured memory, why would I? Honestly, it isn't for a lack of trying; it's simply because every time try to make Pot Roast a la Granny, the result has been unreliable– until recently.
I have a friend, who, on special occasions, cooks a braised roast; and every time the outcome is perfect. After confiding in her my pot roast woes, she shared her recipe. After looking over and cooking her recipe, I realized that my oven temperature has not been right. The roast I crave needs low and slow, not high and fast.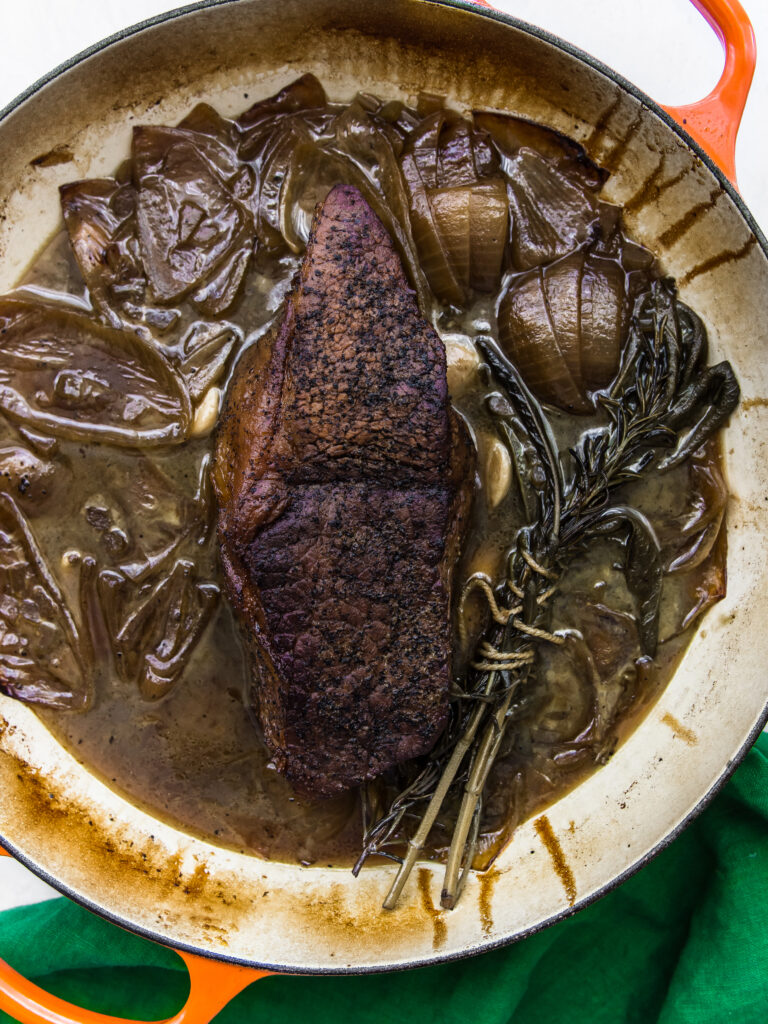 Alas, I needed another "roast" conversation though. I had the time and temp needed, but what about the cut of beef?
The Market Street Butcher was a great help! Hed advised me to use a chuck roast because it's not too big, and there is enough marbling (fat) to provide flavor and tenderness. But there's not too much fat, like in short ribs. I'm thankful to have reliable and approachable assistance at my local Market Street when I am at a cooking crossroads!
This recipe's prep is ideal and easy. It requires two ingredients to chop (onions and celery!) and a quick sear on the cooktop. Once all the ingredients are in the oven you can forget about dinner and get on with the day, especially if you plan to serve Market Street's homemade mashed potatoes alongside this braised beef!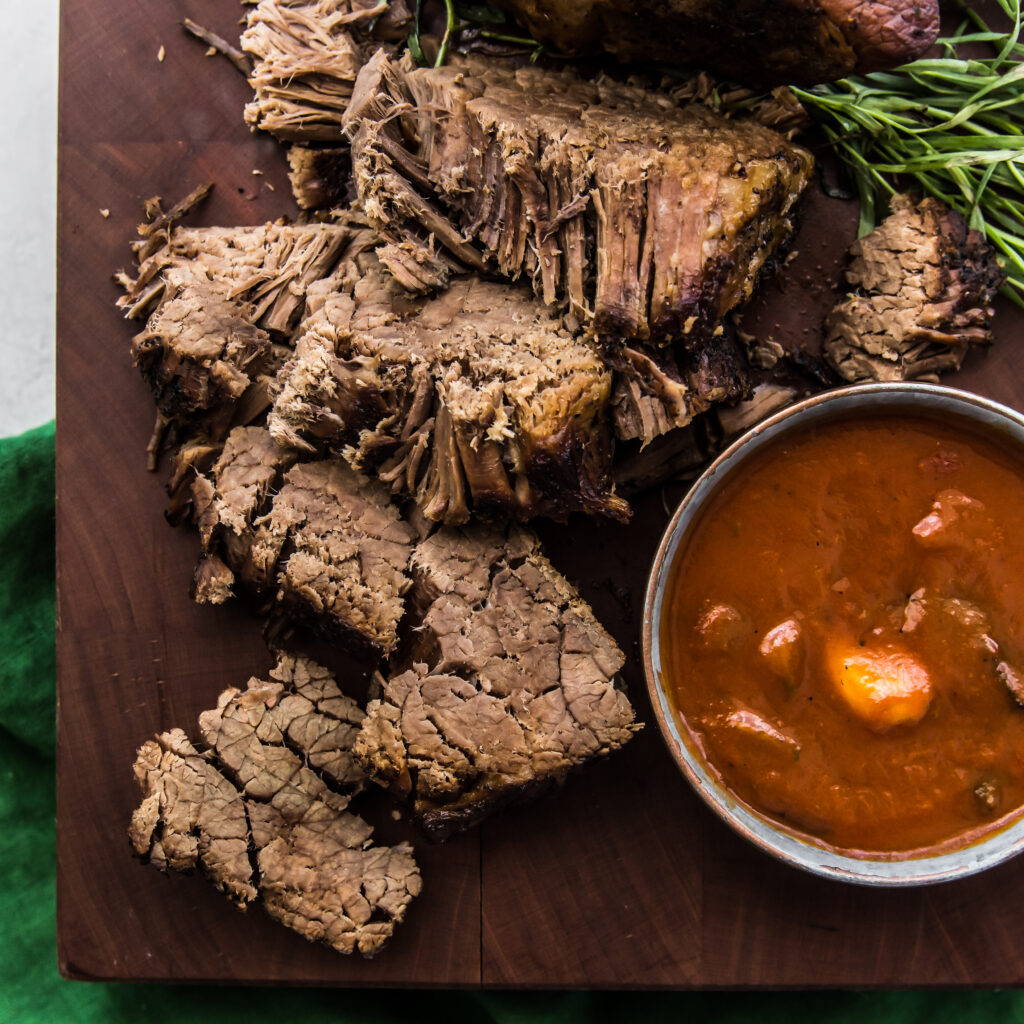 Oh, one more thing! The gravy. What "roast" is complete without a sauce; this one is a tad bit unconventional. Instead of adding only flour to the pan drippings, this gravy is made up of canned tomatoes, butter, Worcestershire and flour. It's a delicious topping to an already delicious dinner! Especially when Market Street's mashed potatoes are involved!
White Wine Braised Beef is a slow meal and one that will remind you of your grandmother's pot roast; if your grandmother didn't make a weekly pot roast, you are welcome to join me in my memory. The more the merrier!
This post is sponsored by Market Street. All opinions are my own.
White Wine Braised Pot Roast
When selecting the rump roast, be sure to choose a cut of beef with a sufficient amount of marbling. This fat will provide flavor and tenderness. Be sure the size of the braising pan is correct. Too large of a pan might require more braising liquid. This will not affect the outcome of the roast, but it will take more time to reduce and thicken the gravy.
Ingredients
2 1/2 to 3

lb

chuck roast

2

tbsp

extra-virgin olive oil

2

tsp

kosher salt

2

tsp

black pepper

1/3

cup

celery

,

finely diced

1

onion

,

quartered

2 1/2

cups

dry white wine

,

like Chardonnay

1 to 2

cups

water

8

garlic cloves

,

peeled and crushed

1

beef bouillon cubes

thyme

,

rosemary, sage sprigs and tied together
Instructions
Heat oven to 225 degrees F. Coat the roast with salt and pepper. Massage the seasoning into the beef.

In a braising pan, warm the olive oil on high heat. Once the oil is hot, about 2 minutes, add the beef and sear 2 minutes a side. Be sure to sear all sides. Reduce the heat to low and add the celery and onion. Stir and cook about 4 to 6 minutes.

Deglaze the pan with wine and water, scrapping up the brown pieces stuck to the bottom of the pan. Add additional water or wine to make sure the roast is covered three-fourths of the way. Add the garlic, bouillon and herb bundle. Increase the heat to medium-high and bring to boil. Cover the pan and place into the oven. Cook for 4 to 5 hours, or until the beef is tender. 

Remove the pan from the oven. Remove the roast from the pan and place on a cutting board. Cover with foil. Make the Tomato Gravy (recipe below). Slice or chop the roast and top with the Tomato Gravy. Serve warm.
For the Tomato Gravy
Place1 28-ounce can peeled tomatoes, 1 cup warm braising liquid, half of the roasted onions and garlic, 2 teaspoons Worcestershire, 2 teaspoons vinegar, 2tablespoons butter and 2 tablespoons flour into a blender. Blitz until combined and pureed. Pour the mixture in the braising pan and simmer for 15 minutes, or until the gravy has thickened. Taste and salt to preference. Serve with the White Wine Braised Pot Roast.