Valentine's Day is about to be here and if you're like me and look to opt out of the restaurant frenzy, then look no further. I have a recipe for you that tastes like a fancy restaurant meal and requires little prep.
Bacon Wrapped Herbed Pork Tenderloin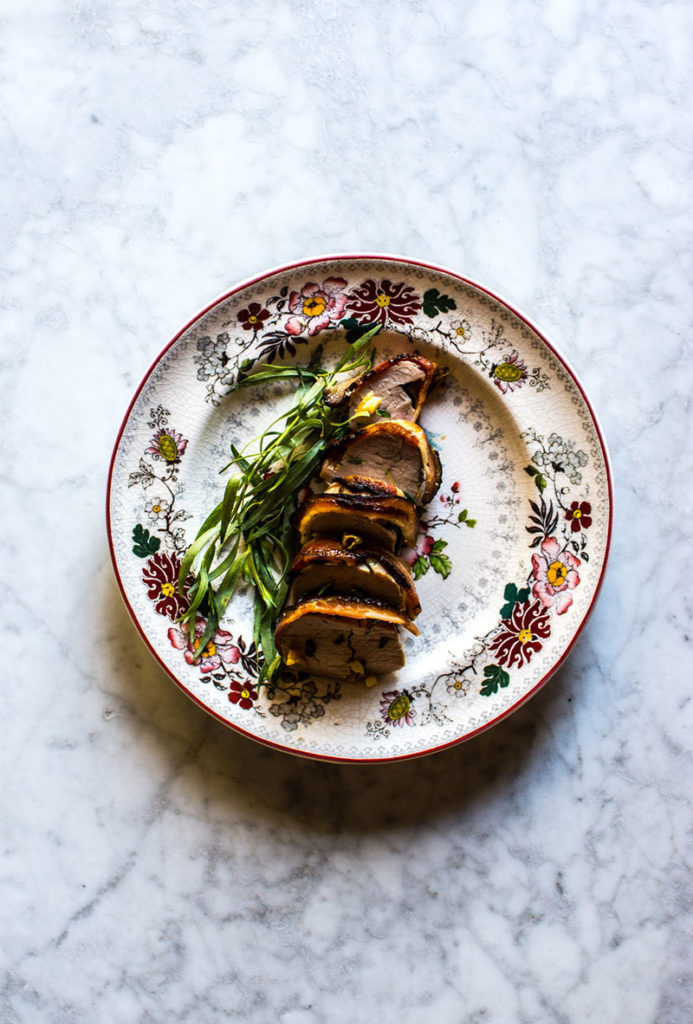 This has become one of my most favorite recipes that I've developed lately. A few reasons why:
The pork takes about 12 minutes to prep.
The pork can be prepped up to 24 hours before roasting.
Cooking time is about 25 minutes (and if you line the baking sheet with foil, clean-up is a cinch).
The two tenderloins can easily feed a family of four with enough leftovers for the next evening's dinner.
The leftovers make a killer sandwich when paired with dijon, manchego and a bit of arugula.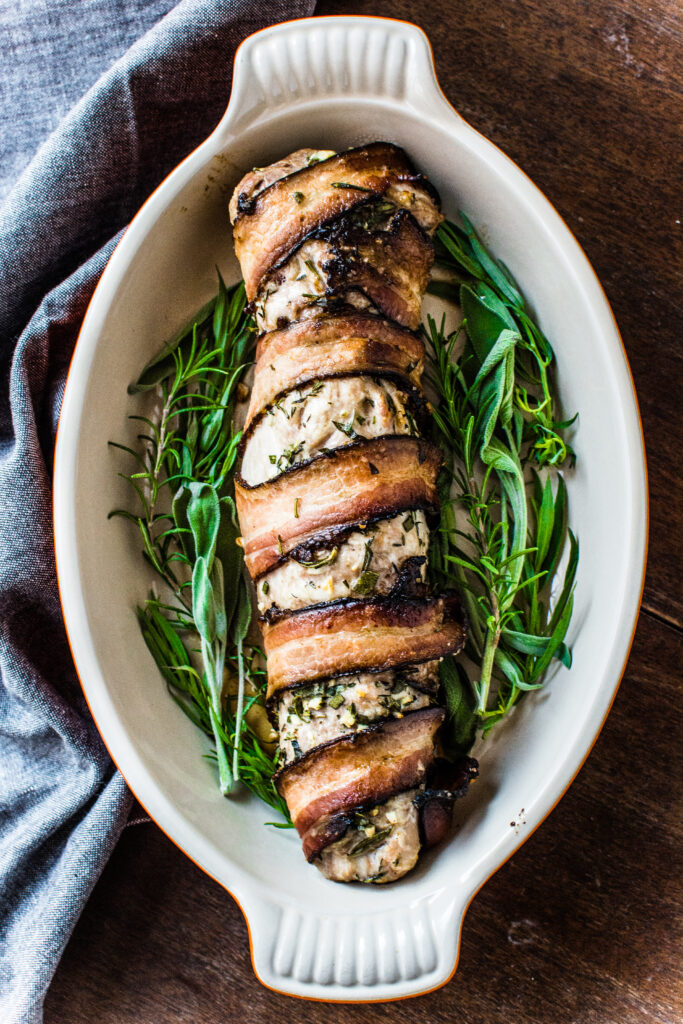 I could go on, but I feel like 5 points make my case.
So while this meal is highly appropriate for any weeknight, it can also be made special for a Valentine's Day family date-night-in too. How so?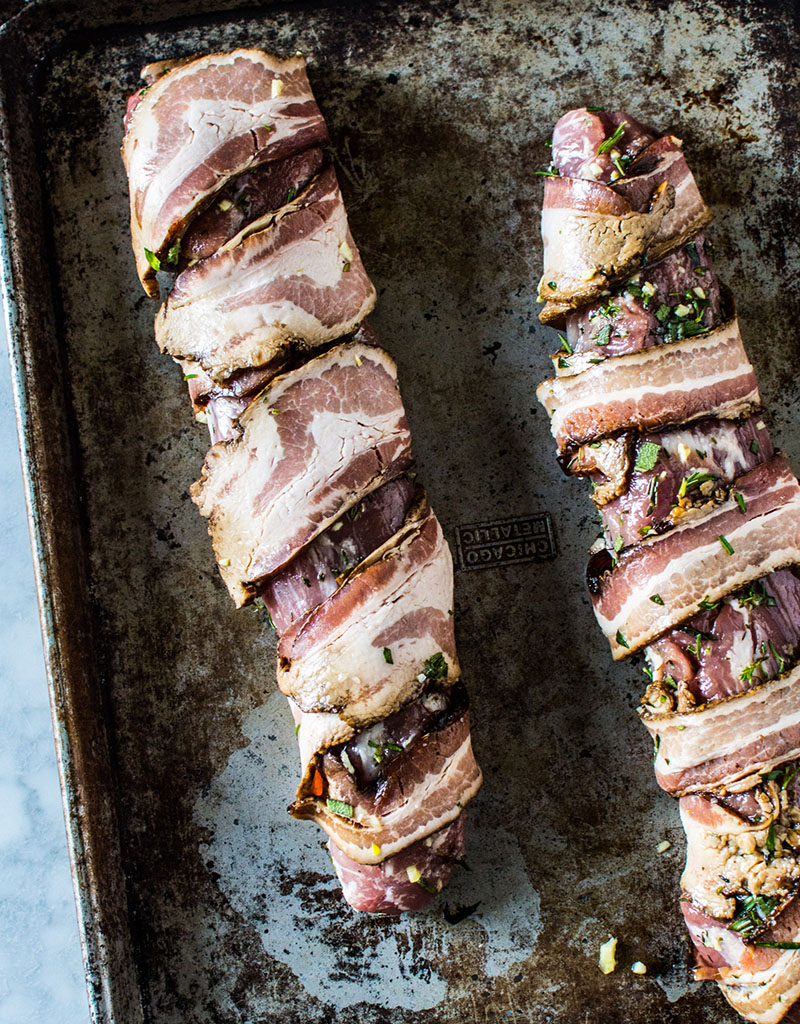 Grab a bundle of gorgeous flowers and some tiny little decorations from the floral department at Market Street when picking up the groceries for this special meal. Then do what I've been doing lately to make diner feel a bit more unique…
…put a table cloth on the table, add a flower arrangement and light a few candles.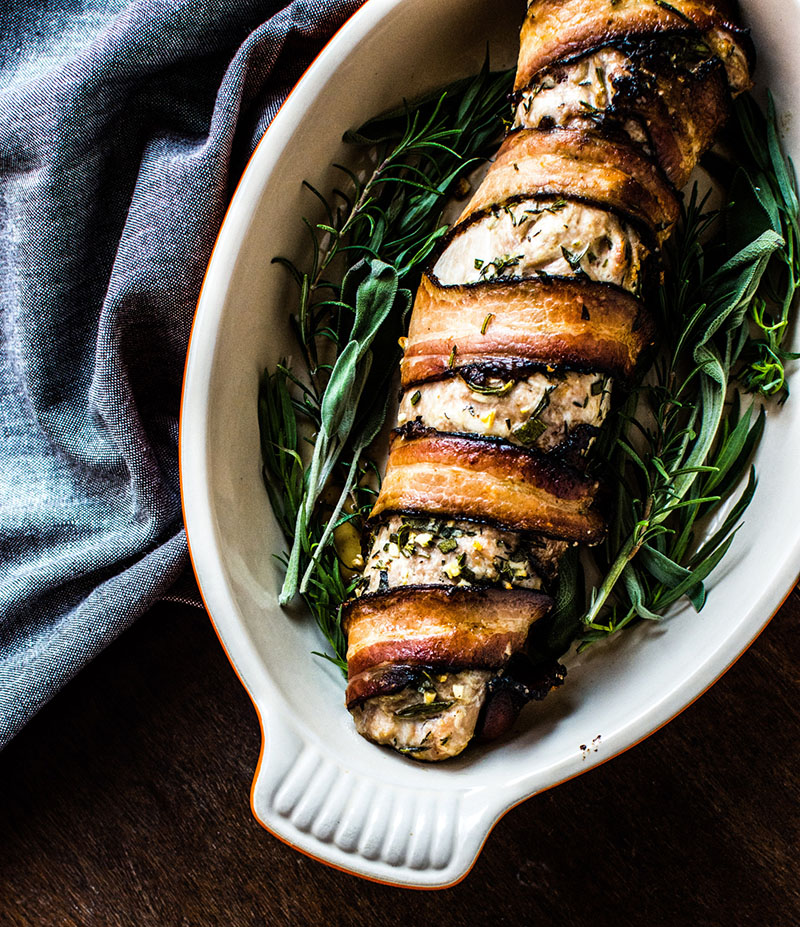 It does feel a bit Downton-ish, but I will say that it sets the dinner apart from the everyday meals served at the table. And BONUS, the kids show-off their manners because they insist that that's what one does when eating a "fancy" meal.
OR if you want to pamper yourself just a bit (since it is Valentine's Day) or if Valentine's Day has really snuck up on you (and juggling the grocery store is the last thing that you can do)— no problem! Order online with STREETside (click here to start shopping!) and your lovely friends at Market Street will even deliver it to your house. Talk about luxury!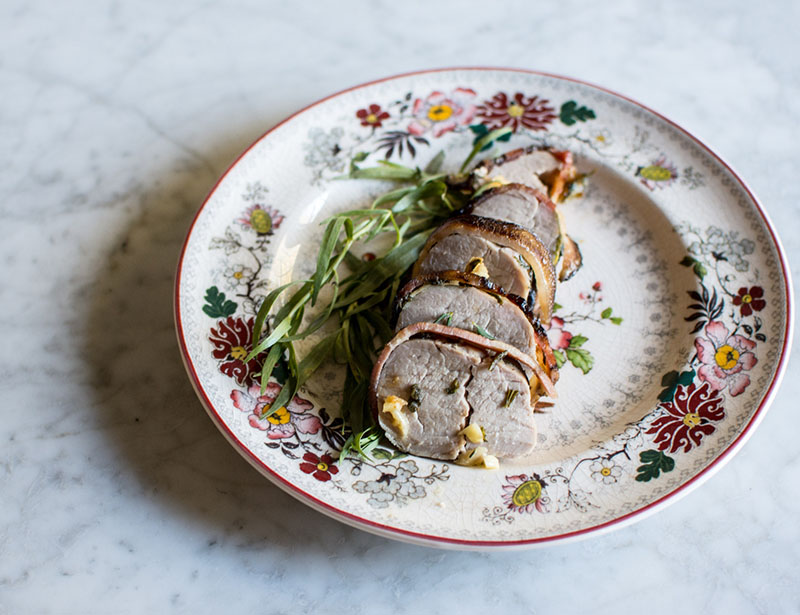 I hope this make-ahead bacon wrapped herbed pork tenderloin has urged you to stay at home this Valentine's Day with a "fancy" meal for the perfect family date-night-in celebration.
P.S. Oh, and if you're needing a few other make-ahead sides and dessert check out Browned Butter Asparagus and Strawberry S'mores Tart. You won't be disappointed.
Bacon Wrapped Herbed Pork Tenderloin
Ingredients
2

teaspoons

fresh rosemary

,

chopped

2

teaspoons

fresh sage

,

chopped

2

teaspoons

fresh tarragon

,

chopped

2

teaspoons

fresh thyme

,

chopped

5

garlic cloves

,

chopped

2 1/2

teaspoons

kosher salt

3

tablespoons

extra-virgin olive oil

2

boneless pound pork tenderloins

,

about 1 1/4 lb each

12

pieces

of bacon

,

about 1 package
Instructions
Heat oven to 425 degrees.

In a small bowl combine the salt, herbs, garlic and olive oil. Stir well to combine.

With a paper towel, pat the two pork tenderloins dry.

Evenly coat the tenderloins with the olive oil mixture. Place on a foil-lined baking sheet.

Wrap each tenderloin with 5-6 pieces of bacon, or until covered.

Place in the oven and cook for 25-30 minutes, or until the pork has reached 145 degrees.

Remove from the oven and cover with foil. Let the tenderloin rest for 10 minutes. Slice and serve.
Notes
If you use a pork tenderloin that is larger than 1 1/4 lbs increase the cook time.
Disclosure: This is a sponsored post on behalf of Market Street. All opinions are my own.