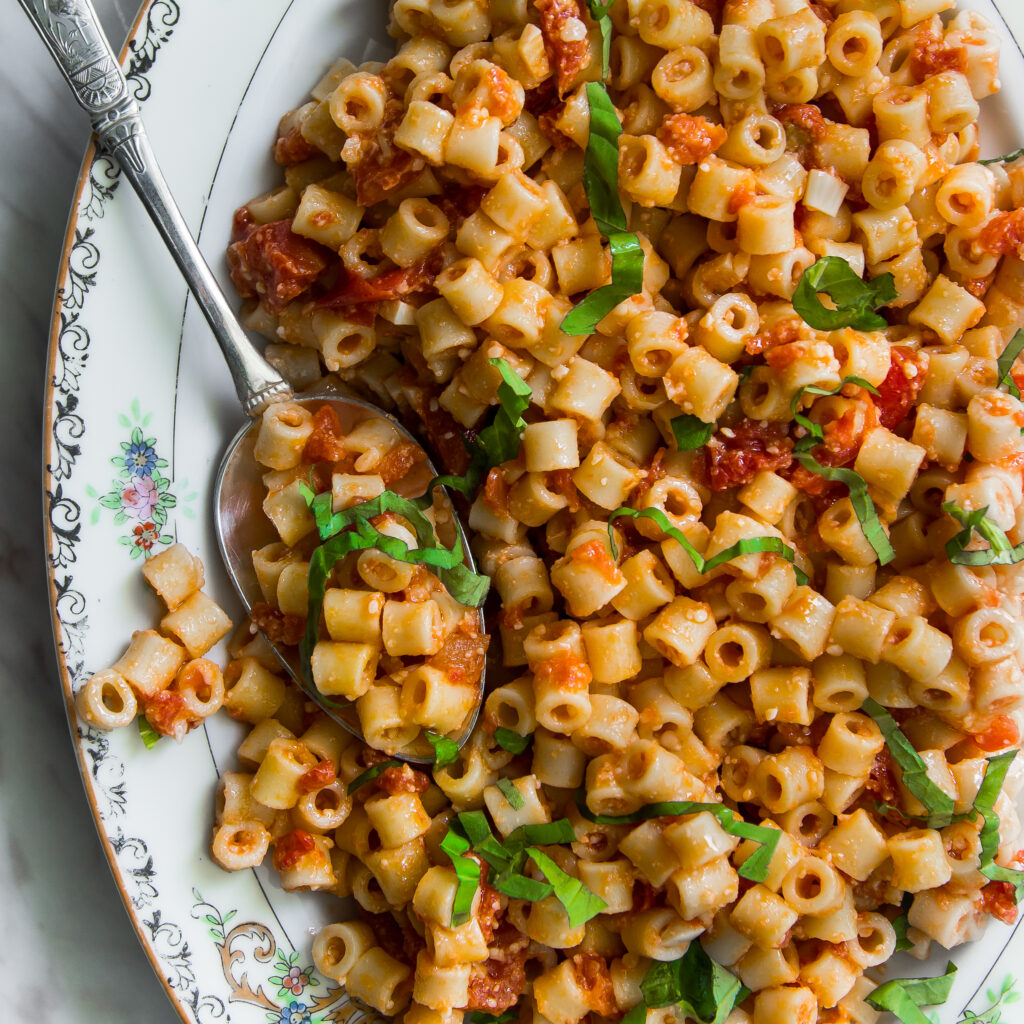 When I think of a summertime potluck, it's sometimes hard not to think of pasta salad. You probably know the one—the fusilli salad, cooked slightly passed al dente that's then tossed with Italian dressing and possibly olives and bell peppers?
This salad lives in my heart, but truthfully, it's not the pasta salad I'm craving this summer.
Chilled Pasta Pomodoro Salad has the flavors of summer; tomatoes and basil, chilled to a crisp with perfectly cooked pasta and parmesan. This 5-ingredient salad is the perfect bite for a hot summer's day.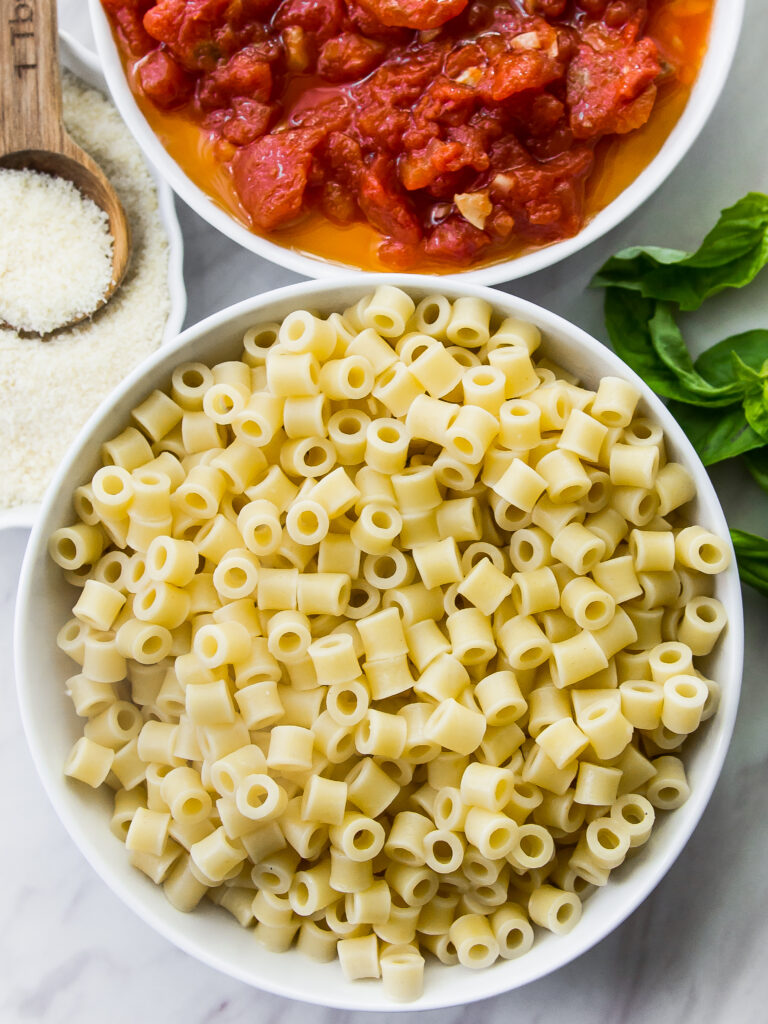 While I want to say this salad is full of fresh tomatoes, I do in fact, rely upon quality organic canned diced tomatoes from Market Street. This canned option allows me one thing: easier prep. No chopping is required when you let someone else do it for you. If you want to use fresh tomatoes, I support this decision. Grab a bundle of roma tomatoes in place of the cans and get to chopping!
If you are leaning into canned tomatoes, like I am this summer, Market Street's canned tomato section is a mecca. I love browsing all the options– whole peeled! crushed! diced! Canned tomatoes are always an item I have stored in my pantry and Market Street knows the power of tomatoes when it comes to dinner time. It's obvious by their selection!
For this recipe, your preference of pasta is key! When you're staring at the vast selection of pasta at Market Street, look for a shape that's bite-size and has an exterior that the tomatoes will easily adhere to. I went with a macaroni variety. You may choose a fusilli in homage to the OG of pasta salads!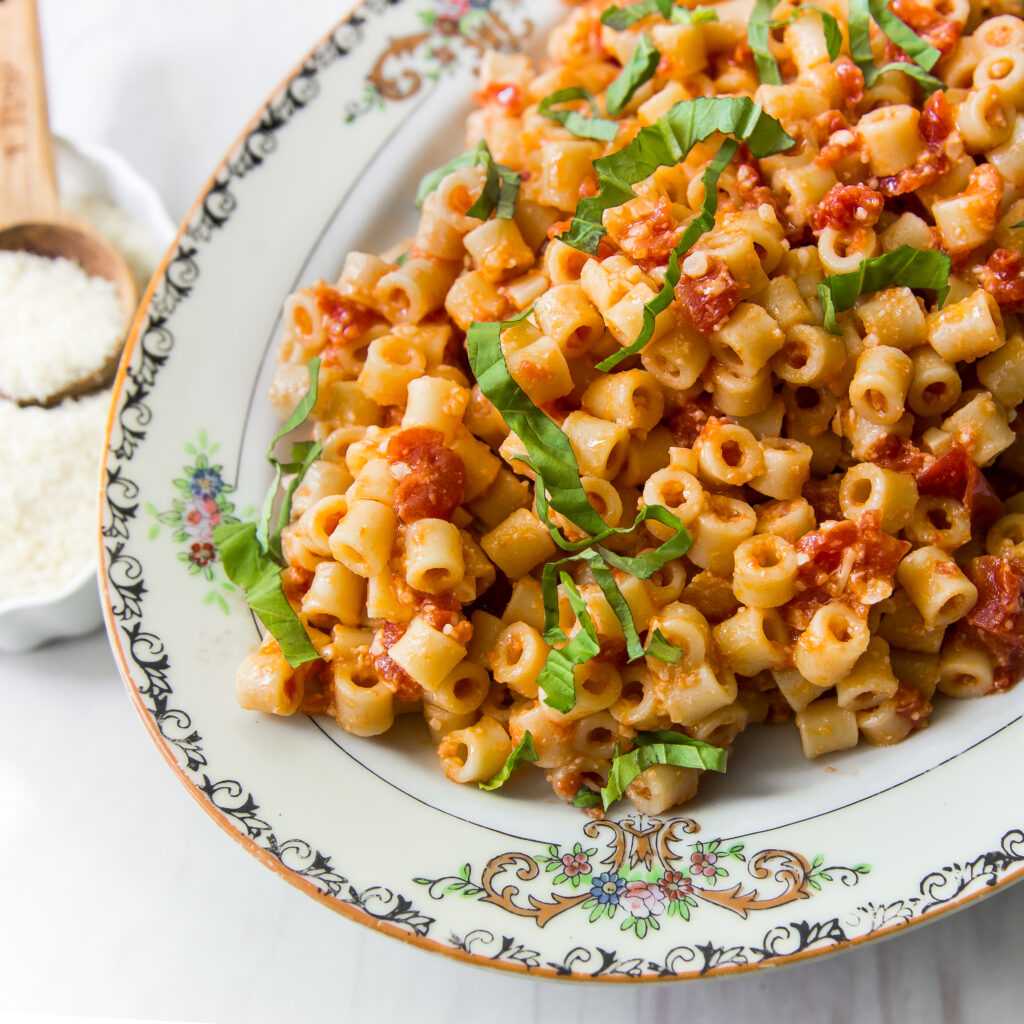 I love the names for pasta—from "elbow" to "butterfly;" each Italian pasta variety you are familiar with has an Italian translation and story. Choose the pasta that moves you.
Enjoy this quick and easy Chilled Pasta Pomodoro Salad this week—oh and just a side note if you don't have time for the two-hour chill, this recipe works great warm as well.
Bon appetito!
This is a sponsored post by Market Street. All opinions are my own.
Chilled Pasta Pomodoro Salad
If tomatoes are in season, feel free to use 28-ounces of chopped fresh tomatoes. The consistency will be slightly different and may need additional olive oil to prevent a dry salad.
Ingredients
1/3

cup

extra-virgin olive oil

10

basil leaves

,

tied together

2

tbsp

chopped garlic

2 14-

ounce

can unsalted chopped tomatoes

1

tsp

kosher salt

16

ounces

favorite macaroni pasta

,

cooked

1

tsp

white wine vinegar

3/4

cup

grated parmesan cheese

1

cup

fresh basil

,

chiffonade (plus more to taste)
Instructions
In a small skillet, heat over low heat the olive oil, basil leaves and garlic. Cook for 2 minutes, stirring occasionally. Add the tomatoes and salt, bring to a simmer for 15 minutes. Remove the basil leaf bundle.

Place 6 cups of the cooked pasta into a large serving bowl. Pour the tomato sauce over the pasta and stir to coat. Let sit for 15 minutes. Add the vinegar and parmesan cheese. Stir to coat.

Place into the fridge and let chill until cold, about 2 hours. Before service toss the pasta with the 1 cup of chopped fresh basil and olive oil to taste. Serve cold.