There are many flavors to celebrate in July and this year I have zeroed in on corn.
Fresh corn off the cob has been a repeat visitor in my kitchen this month thanks to a newfound seasonal favorite. A combination of shrimp and grits, shrimp boil AND elote– Creamed Corn with Old Bay Shrimp takes three beloved classics and fuses them into one mesmerizing dish.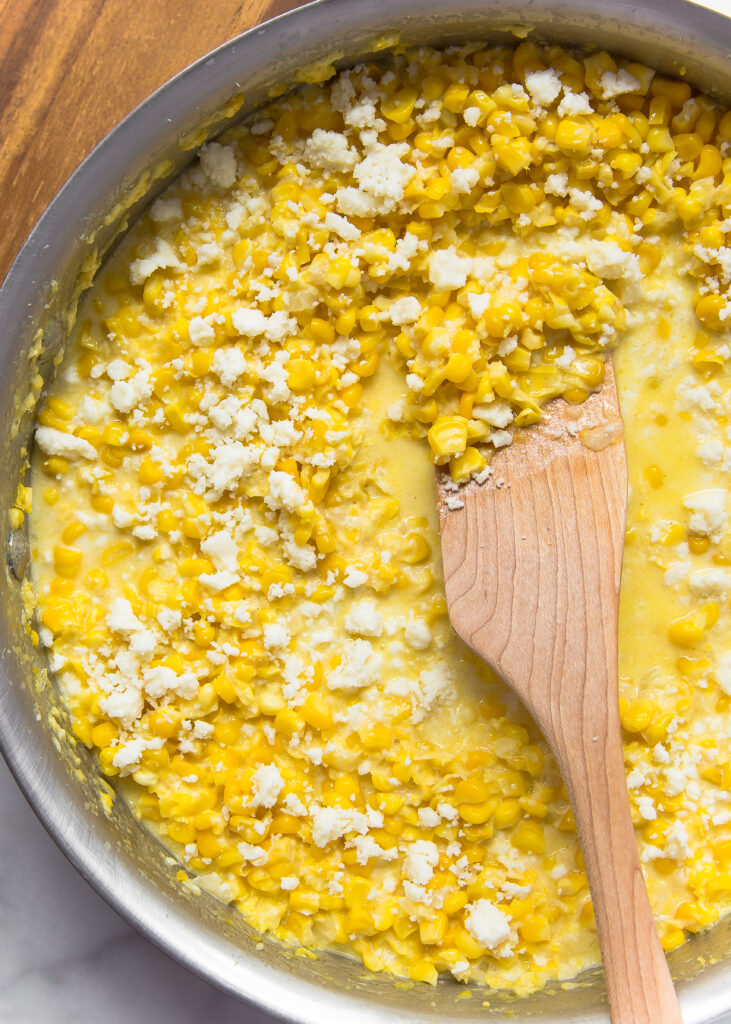 Kernels cut fresh from six ears of corn are sautéed, simmered and pureed to create a decadent creamed corn base. While the creamed corn simmers, shrimp is coated in Old Bay and then quickly cooked on the stove. The two are plated together and then topped with queso fresco.
30 minutes of cook time is all it takes to create a seasonal dish that is sure to become a new family summer classic!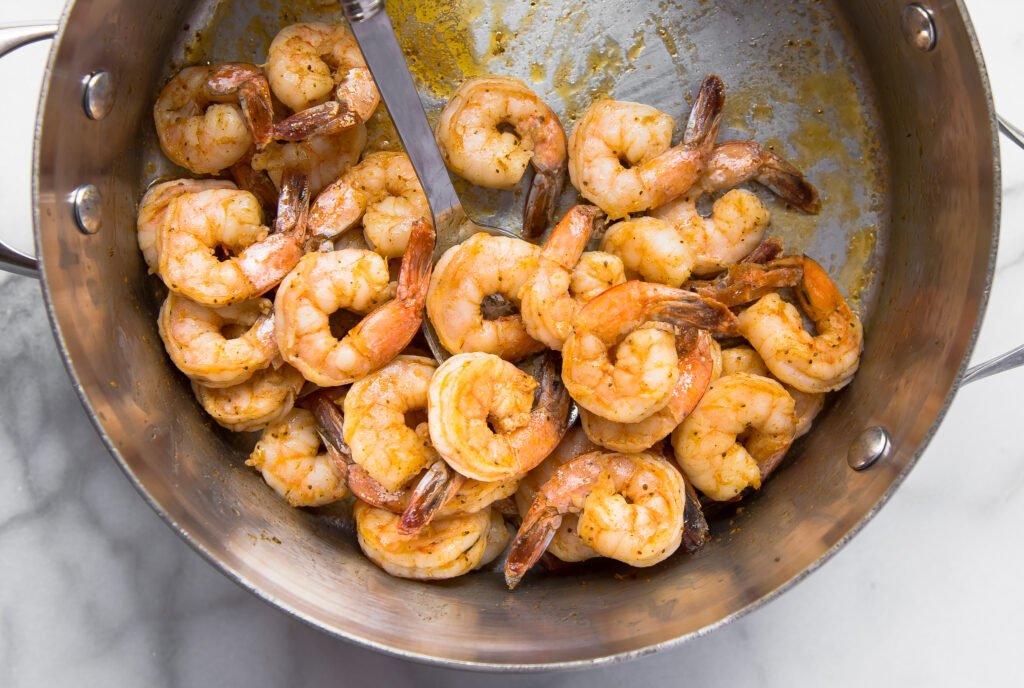 Keep in mind that the richness and flavor of this meal is dependent upon the ripeness of the corn—which is why a reliable grocer or market is a treasure. While we may not all have access to (or the greenest thumb for) a glorious summer garden, there are ways to access quality, flavorful produce. Market Street is my one-stop shop where I know the produce will be ripe with every visit and in every season.
There may be one element to this dish that might be a hurdle for some: shucking the husk from the corn. While I will always treasure the moments spent with my granny removing the layers of husks from ears of corn, I've come to appreciate pre-shucked corn these days. The time it saves is significant.
Market Street can give you a lending hand in removing most of the husk from the ears. In the produce department, Market Street has a glorious bundle of fresh ears of corn, with most of the husks removed, awaiting you to pop into your cart. If you cannot find the corn pre-shucked, ask a member of the produce department if they can remove the husk or you – they helped me out the other day and I was so grateful!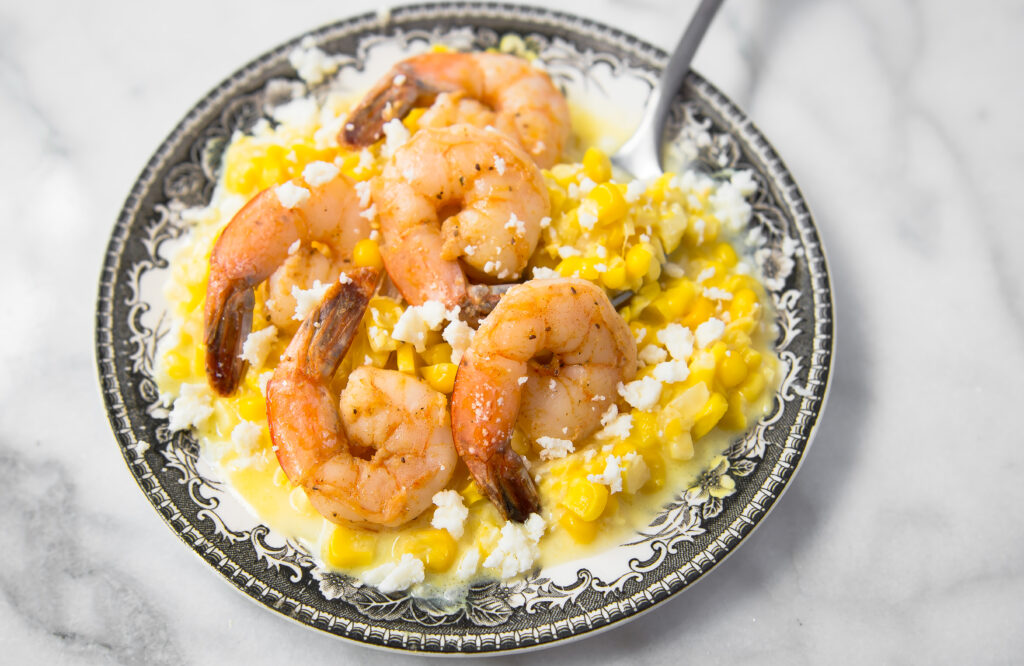 The brightness of summer produce has no comparison. Whether it is tomatoes, peaches, cucumbers or corn—the summer is a cook's best friend. Creamed Corn with Old Bay Shrimp is a dish that will help you celebrate the bounty of cooking with this season's finest.
Disclosure: This is a sponsored post on behalf of Market Street. All opinions are my own.
Creamed Corn with Old Bay Shrimp
Ingredients
6

ears of corn

,

divided

3

tablespoons

unsalted butter

1/2

yellow onion

,

rough chopped

2

cups

heavy cream

1 1/2

teaspoon

kosher salt

1

teaspoon

white wine vinegar.

Old Bay Shrimp

,

see recipe below

queso fresco

,

for topping
for the Old Bay Shrimp
1

lb

shrimp

,

shells removed and deveined

2

tablespoons

extra-virgin olive oil

,

divided

1

teaspoon (or more)

Old Bay

juice of 1/2 lemon
Instructions
Remove the corn kernels from the four ears of corn and set aside.

In a large flat-bottomed skillet, melt the butter over medium heat on the stovetop. Add the onions and corn from the four ears. Cook for 10 minutes. Stir occasionally.

After 10 minutes of cooking, add the cream and salt to the corn mixture. Stir to combine. Let simmer, uncovered, for 5 minutes on low heat. Place this mixture into a blender or food processor and puree until smooth. Add the corn puree back to the skillet.

Remove the corn kernels from the other remaining two ears of corn and add to the pureed corn mixture. Stir until combined. Bring to simmer over medium-low heat and let cook, covered, for 15 minutes. Stir occasionally to prevent browning.

After the 15 minutes remove the corn from the heat. Add the vinegar, stir to combine and season to taste.

Pour into serving bowls and top with Old Bay Shrimp and crumbled queso fresco. Serve warm.
for the Old Bay Shrimp
In a mixing bowl, combine the shrimp, 1 tablespoon of olive oil and the Old Bay. If you want a robust Old Bay flavor, add an additional 1/4 to 1/2 teaspoon of Old Bay to the shrimp (remember, Old Bay has salt in it, so additional Old Bay will increase the saltiness of the shrimp). Stir to thoroughly coat the shrimp. Set aside.

In a large skillet, add the remaining 1 tablespoon of olive oil. Warm over medium heat, about 2 to 3 minutes. Add the shrimp and sauté until cooked through, about 6 to 8 minutes. Remove from the heat and top with lemon juice. Stir to coat. Serve warm.