Friday and pizza go hand-in-hand.
I'm not for sure whose idea it was to push this meal on society for a fun start to the weekend. But whoever it was, they were spot on.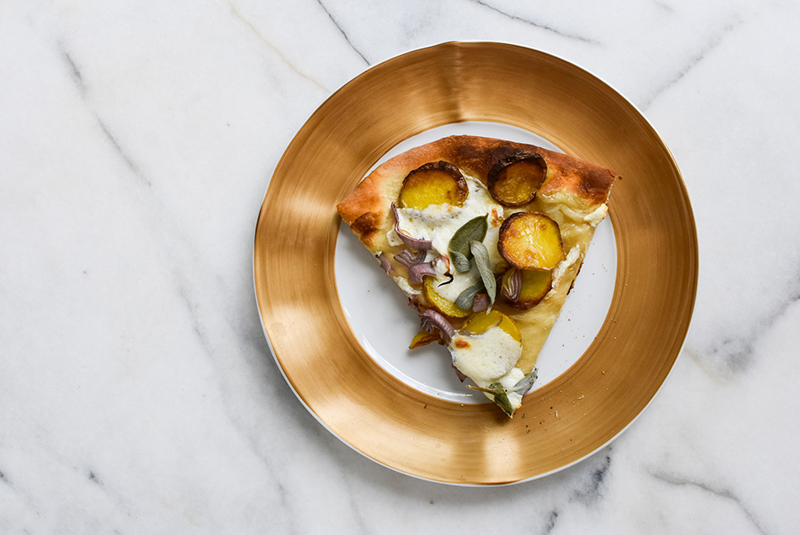 Now that there is a full-time kindergartener in my house, the weekends seems even more special. More time with her and no early alarm clocks for two whole days.
Homemade pizza night is a favorite in A Pleasant Little Kitchen. Whether it's date-night in, or make your own pizza with the kids, it's on our menu rotation for the weekend.
Recently there was a weekday pizza night request. I scanned my kitchen for ingredients.
I spied a half-used bag of Tasteful Selections Honey Gold potatoes. A few remaining mozzarella balls and a never ending supply of garden sage.
Bingo.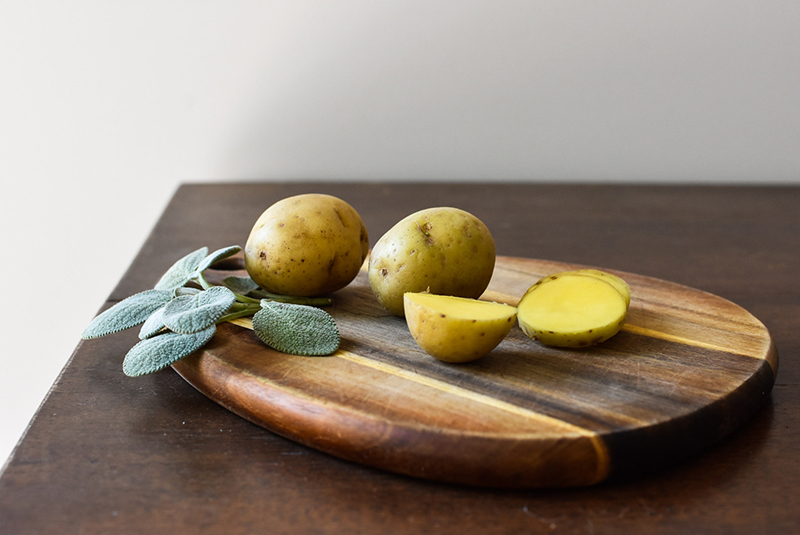 Potato pizza it is.
I popped to the store for the remaining piece. Pizza dough. They even pressed it into a circle for me. My hands stayed cleaned.
Because I wanted my kids involved with the cooking process, I did all the prep work in the afternoon.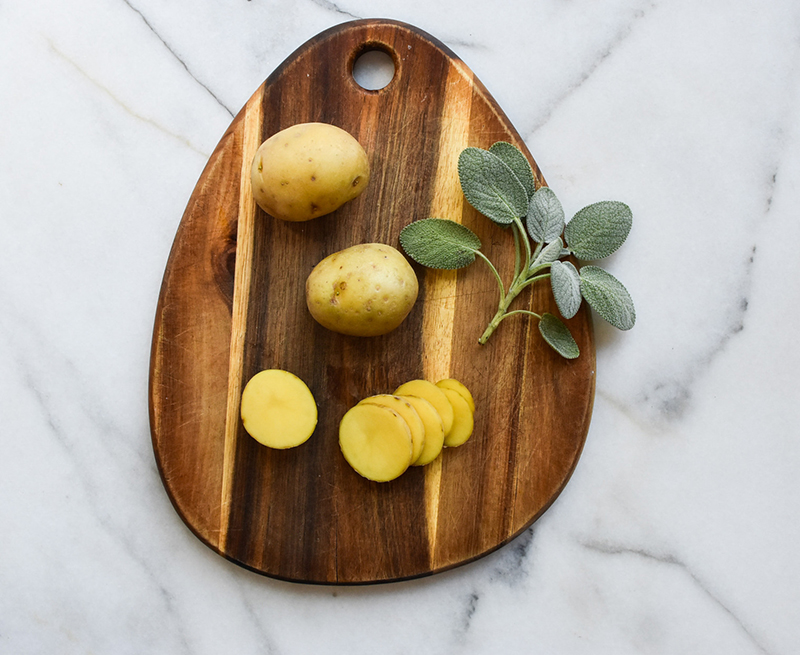 I grabbed the remaining pre-washed potatoes, sliced and sautéed them (and then nibbled on them bit, because I couldn't resist eating the delicious creamy texture of Tasteful Selections potatoes).
Shallots were sliced.
Sage was washed and dried.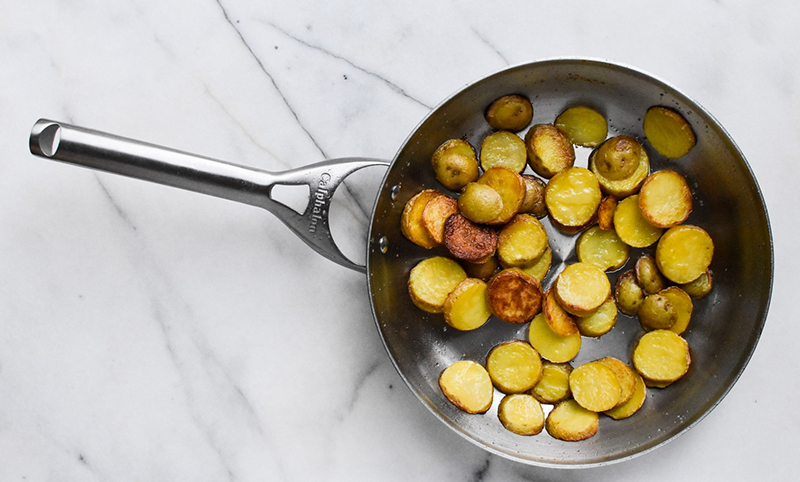 I set the ingredients into the fridge to await dinner time.
When it was pizza time, I brought the kids into the kitchen, put their aprons on and pulled up their little stools next to me.
The dough was there waiting to be dressed.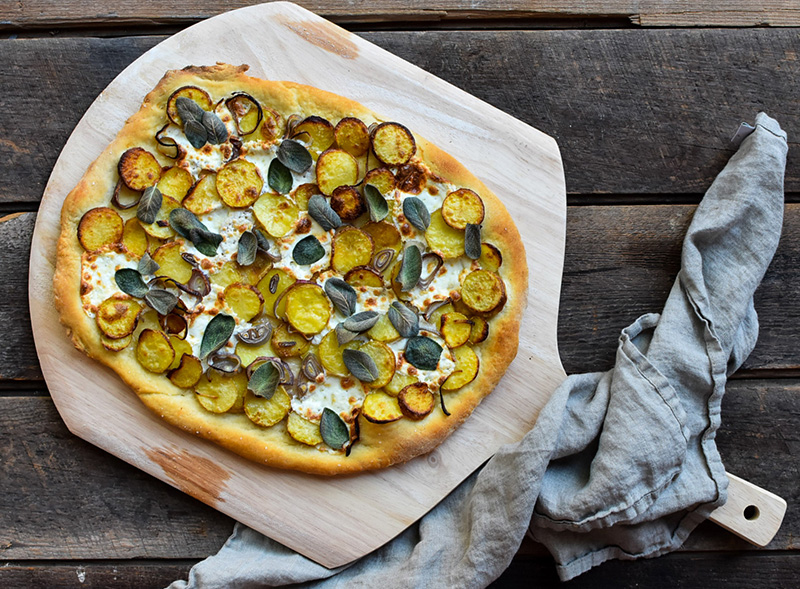 I drizzled the olive oil. They managed the rest– with a little bit of directional input from me.
There's nothing quite like family time in the kitchen cooking with quality ingredients.
Now it was time to let the pizza cook and ask that sweet kindergartner about her day.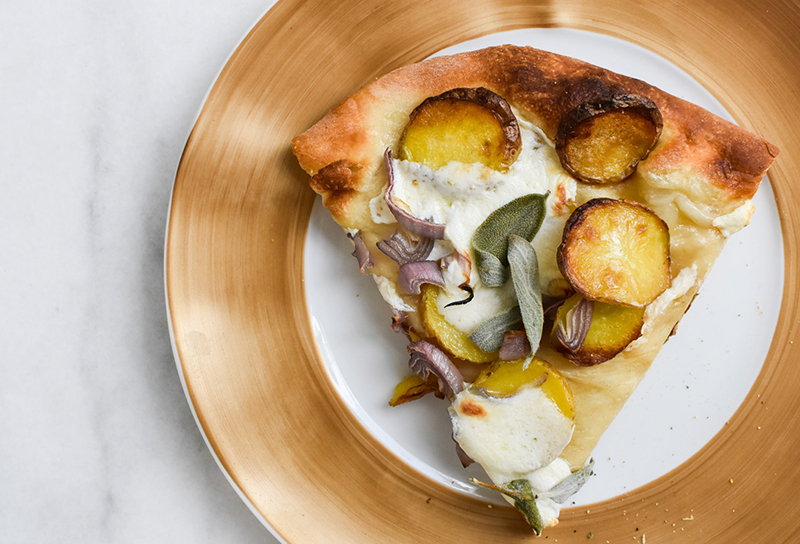 P.S. Tasteful Selections wants to make your kitchen a little more pleasant not only with their wonderful potatoes, but also with instructional online cooking videos, recipes and a sweepstakes for a kitchen remodel. Click here to visit their website. Who knows, you may be eating Potato Sage Pizza in a brand new kitchen very soon. Happy cooking and entering!
Disclosure: This is a sponsored post on behalf of Tasteful Selections. All opinions are my own and I appreciate your support of the brands/companies that I love.
Potato Sage Pizza
Ingredients
2

tablespoons

extra-virgin olive oil

,

plus more for pizza dough

3

garlic cloves

,

crushed

2

cups

Tasteful Selections Honey Gold Potatoes

,

sliced

1

teaspoon

kosher salt

1/2

cup

shallots

,

sliced

20

fresh sage leaves

9

small mozzarella balls

,

shredded mozzarella also works

pizza dough
Instructions
Heat the oven to 500 degrees.

In a skillet, heat the oil and crushed garlic for 8 minutes. Flip the cloves once, about 4 minutes into the heating process. Remove the garlic.

Add the potatoes and 3/4 teaspoon of salt into the garlic infused oil. Stir well to coat the potatoes with the oil. Cook until the potatoes are softened, about 6-8 minutes depending on their thickness. Stir occasionally.

Meanwhile, rollout the dough out onto a floured surface. Lightly drizzle the top with olive oil and season with 1/4 teaspoon kosher salt.

Evenly distribute the sautéed potatoes, shallots, sage and mozzarella balls onto the dough.

Place the pizza in the oven and cook for 13 minutes or until the dough is golden and the mozzarella browned.
Notes
Be sure to slice the potatoes fairly thin. This pizza does not do well with thick slices of potatoes. For this recipe, use your favorite pizza dough (store bought makes for a quick meal). Lastly, the potatoes can be cooked and the shallots sliced in advanced for quick assembly at dinner time.