In 2005 my fiancé, soon-to-be-husband, gave me a treasure: my first cookbook as an adult. I had recently shared a goal of mine with him; one day I wanted to be able to cook really really good soup. The cookbook gift was a way to support me in that goal.
Once settled into our Lubbock love nest, I started tackling my goal. The first recipe I tried from the soup book was Sausage and Potato Chowder.
New to cooking, and new to Texas, I didn't quite know where to grocery shop. Luckily, our apartment was near a "fancy" grocery store that I heard was the place to shop. With my grocery list in hand, I walked into Market Street ready to learn how to cook and grocery shop. I couldn't think of a better environment in which to begin my cooking journey.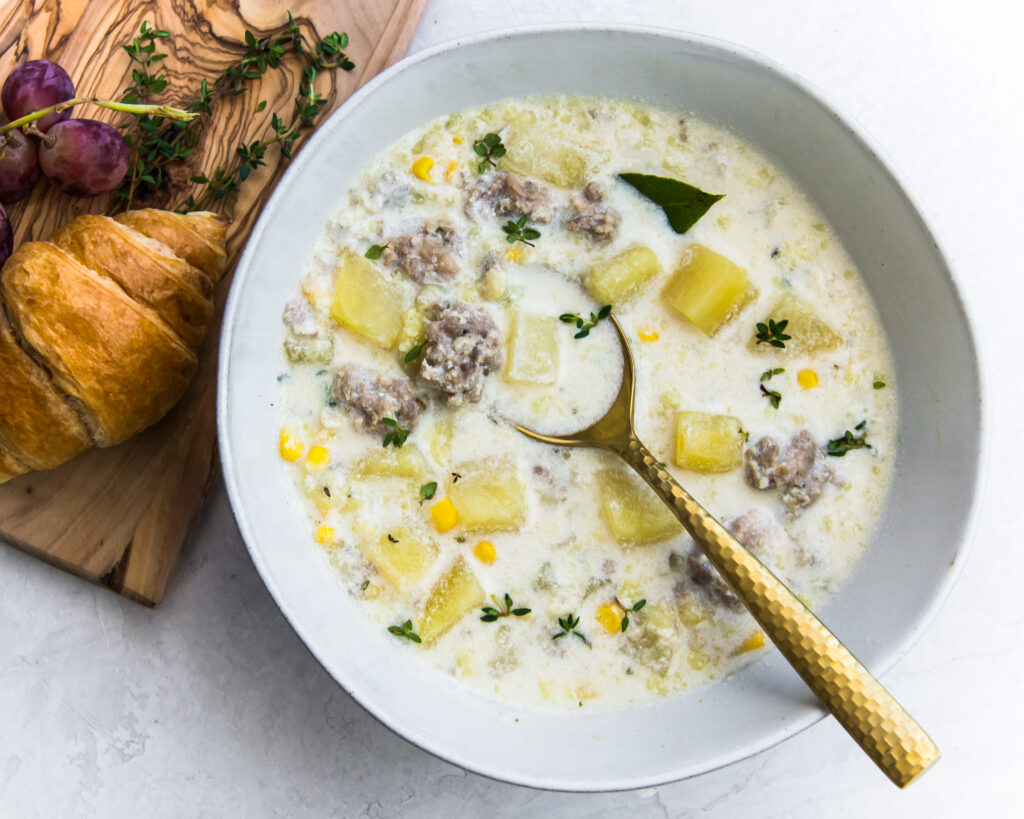 From familiar and basic staples to elevated, epicurean delights, I remember walking the aisles of Market Street excited and inspired to shop for that evening's dinner.
The first recipe I made was a hit and almost two decades later I'm still making it, with a few adjustments. Sausage and Potato Chowder is a bowl of warm and filling goodness that has evolved to reflect my kitchen rhythm and cravings.
What I love most about this chowder is what it brings to mind every time I make it: cooking is a never-ending path of joy and fulfilment, if you want it to be.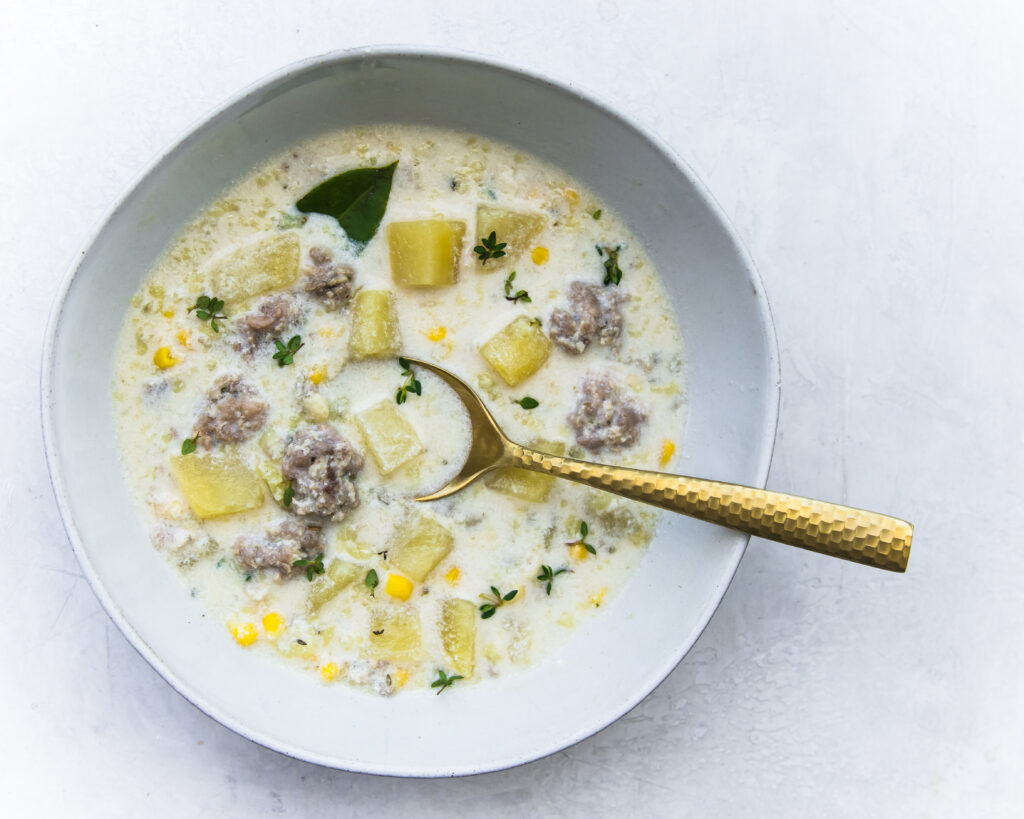 The story from 2005 is still true today. Each week I walk into Market Street, with a grocery list in hand, excited to shop for the evening's dinner. I still get lost within the aisles, discovering new treasures while relying on old standbys. A few things have changed though; Dallas is home, I'm cooking for four annnd I know how to cook.
This post is sponsored by Market Street. All opinions are my own.
Sausage and Potato Chowder
If you prefer soups to be more liquidy, add 6 cups of stock. Adding corn is optional.
Ingredients
1

lb

uncased sausage

3/4

cup

diced onion

4 to 5

cups

low-sodium chicken stock

3 to 4

cups

diced and peeled potatoes

Bundle of sage and thyme sprigs

,

tied together

pinch

red pepper flakes

,

optional

3/4

tsp

kosher salt

2

cups

half and half

1/2

tsp

white wine vinegar

3/4 to 1

cup

frozen corn
Instructions
In a large Dutch oven, cook the sausage over low heat for five minutes, stirring occasionally. Add the onions, increase the heat to medium and continue to cook for 5 to 8 minutes, or until the sausage is cooked through and slightly browned on the bottom of the pan. Stir occasionally.

Deglaze the pan with chicken stock. Add the potatoes, herbs, red pepper flakes and salt. Cover and bring to a boil. Reduce the heat to a simmer and cook until the potatoes are pierceable with a fork, about 20 to 30 minutes.

Remove the lid and add the half and half, vinegar and corn. Cook, uncovered for 10 minutes. Salt to taste. Serve warm.