The robust flavor of late summer produce makes the simplest combinations magical. Peaches and wine are a delicious, classic pairing that takes minimal effort to prepare and will easily become the star of any meal. Sugared Peaches with Sparkling Rosé is a fun spin on this classic combination that utilizes the flavors of summer to make a special adult treat!
Market Street's summer peaches fill the produce department with a sweet, alluring fragrance. The selection of peaches ranges from white to peach pie, organic to yellow; there's room to pick the peach that makes you (and your budget) happy! Once the peaches are selected there's only one to two more items to get. Organic herbs and sparkling rosé wine.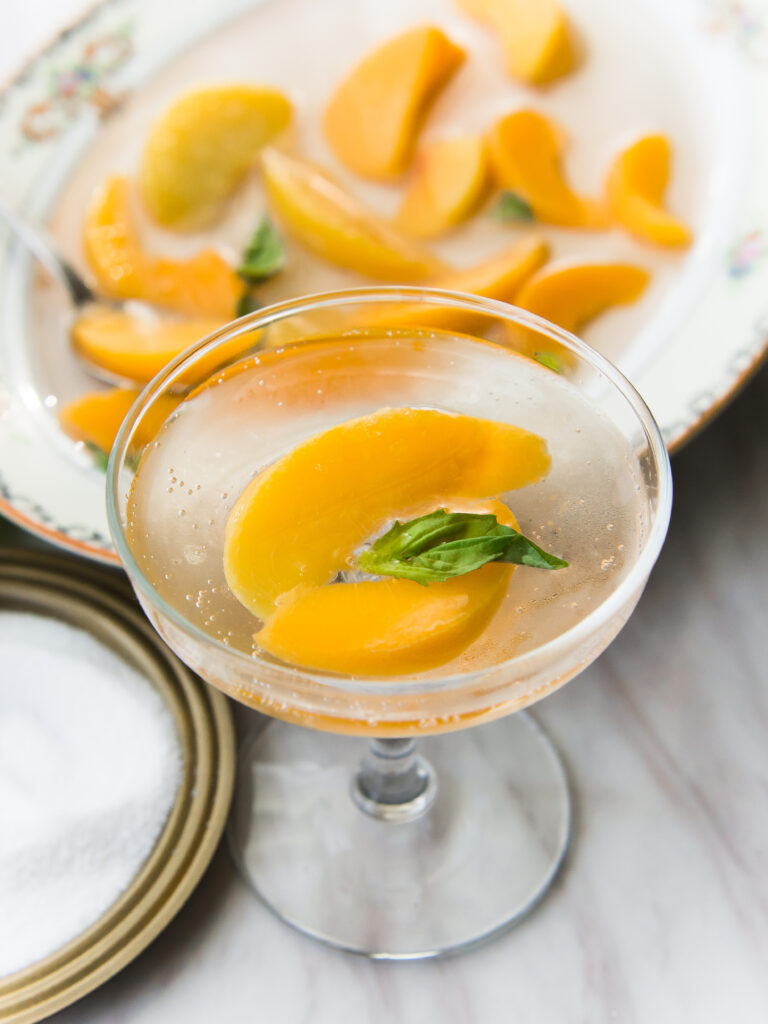 How much effort put into the recipe is now up to you! Sliced peaches (either peeled or not) are placed into a bowl and topped with sugar. Place the peaches into the fridge and chill. About 30 minutes before service, top the peaches with the sparkling rosé, just enough to barely cover the tops.  Let the peaches marinate in the rosé for 30 minutes to lightly infuse.
How and when to serve this treat is up to you too. Perfect for brunch, happy hour or after dinner, these darling bites will be a hit! Be creative with the presentation! Place in small bowls or coups and top with fresh mint! or fresh basil! or even fresh tarragon!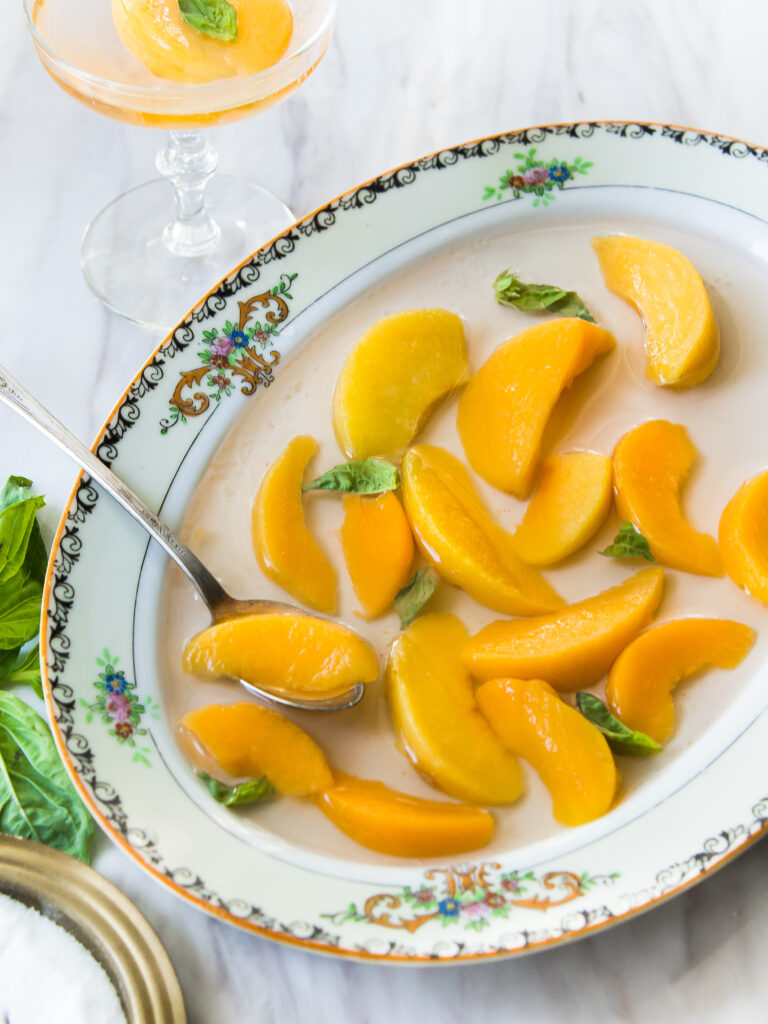 Lastly, if you're looking to enjoy the bounty of summer fruits, may I add suggest adding raspberries? Market Street's summer berries are always a hit and raspberries are another classic combination with summer peaches.
Sugared Peaches with Sparkling Rosé is a mesmerizing, light-hearted summer recipe. The ingredients are a cinch to find at Market Street and a breeze to combine at home. Enjoy these last few lazy days of summer with the best of summer produce and bubbles!
This post is sponsored by Market Street. All opinions are my own.
Sugared Peaches with Sparkling Rosé
There are no measurements to this recipe as the amount is determined by preference and how many will be served. I typically use 1 1/2 teaspoons of sugar for 2 medium-sized peaches. Fresh raspberries are a nice addition to this recipe. If serving during the fall, winter or spring thawed frozen peaches will also work. There are two ways to peel peaches. If the peach is ripe enough the skin should easily peel off with your hands. If the peaches prove difficult to peel, blanch the peaches in boiling water for 1 minute. Remove the peaches from the water, let cool and then peel off the skins.
Ingredients
peaches

,

peeled and sliced

sugar

sparkling rosé wine

,

chilled

fresh mint

,

or basil
Instructions
Place the peach slices into a bowl. Top with sugar, to taste. Stir to coat and place into the fridge to chill. 30 minutes before service, pour the sparkling rosé over the peaches until barely covered. Place back into the fridge and let sit for 30 minutes.

Remove the peaches and serve in small bowls or coups. Top with your favorite torn green herb, like mint or basil.