I love winter. It's my favorite season not only because of the lower temperatures and celebratory holidays, but also because of the flavorful fruit. It is a season of apples and citrus.
A walk past the fruit stalls in December is in itself a celebration of winter fruit– it's bursting with colors and scents of citrus.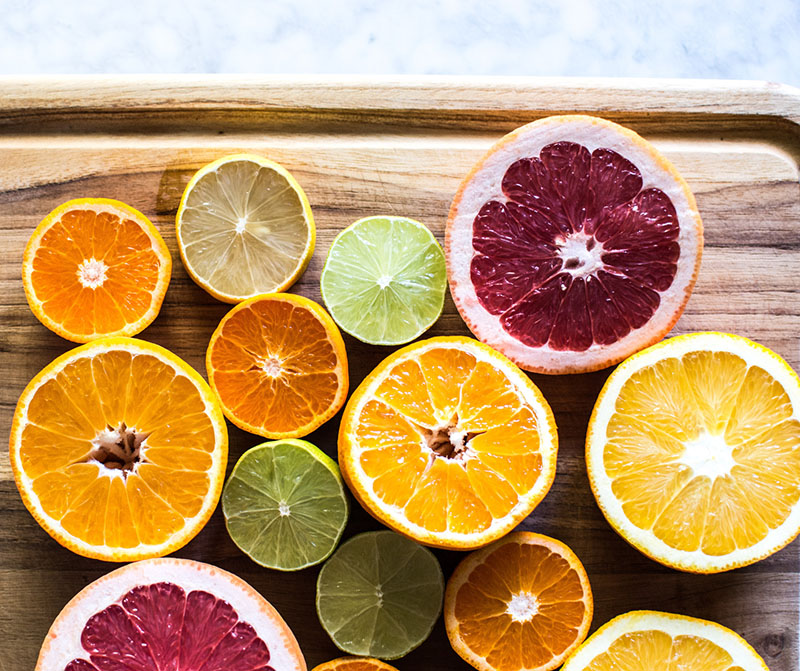 Fresh citrus bursts with flavor and is incredibly versatile in the kitchen. Wondering what can be done with ripe citrus besides peel and eat it? Let me help. Use the:
zest for dressings, marinades, or custards
juice to flavor cocktails, syrups or desserts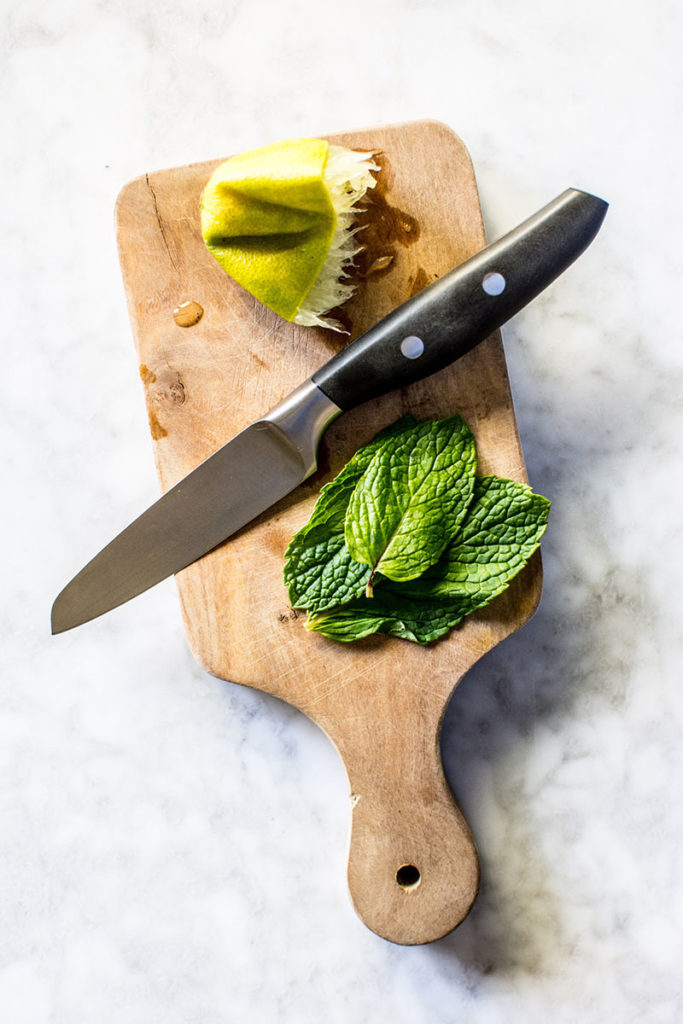 entire citrus as an aromatic when roasting poultry, fish or even mulled wine and ciders.
as a centerpiece when decorating a table or side tables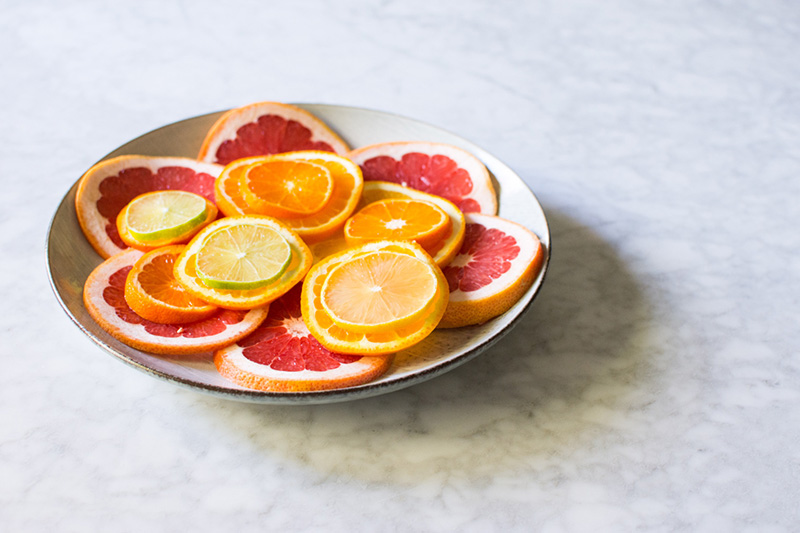 I'm pretty sure you've got the gist of the greatness of citrus. Winter citrus is not only tasty but it's also versatile and waiting to be utilized in your kitchen.
I propose using the citrus in such a way that showcases the best elements of each variety AND creates a stunning showpiece. I give you the winter citrus salad.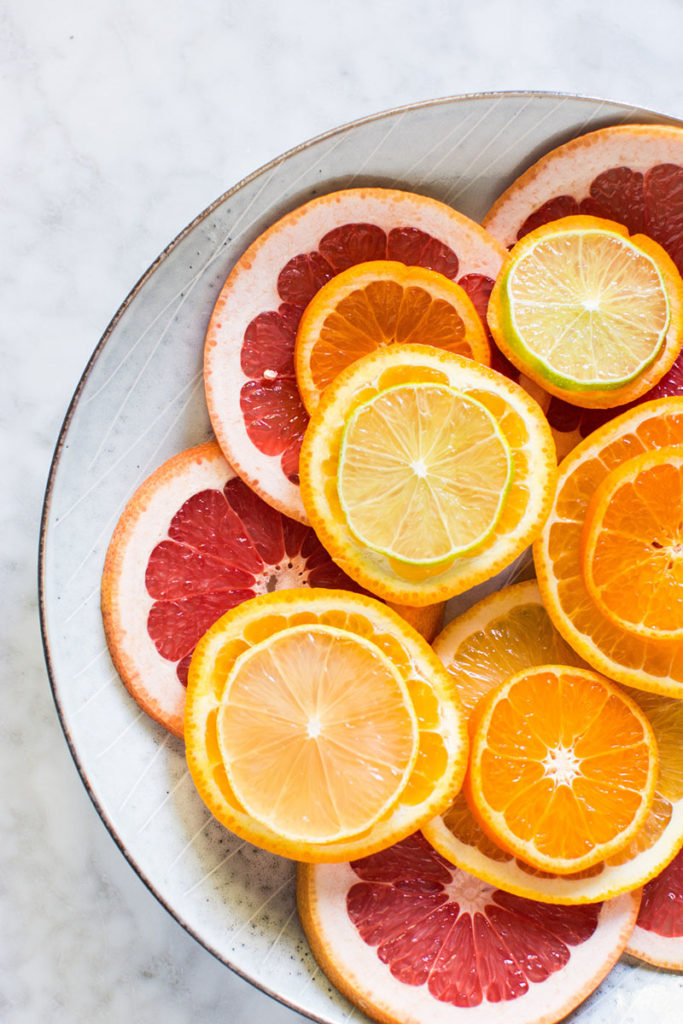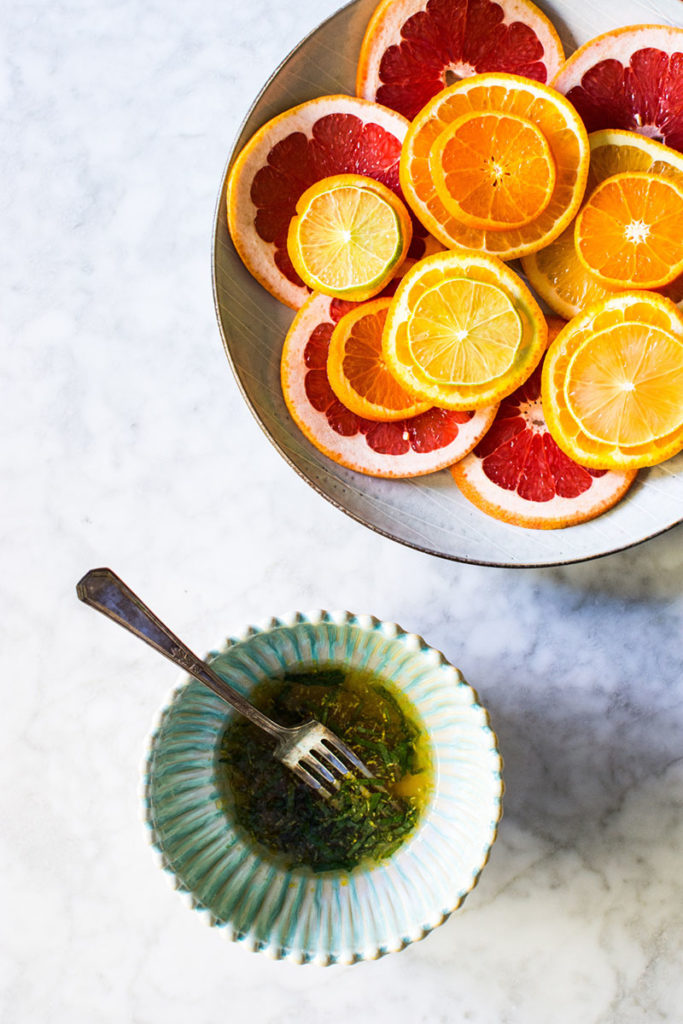 Slice the selected varieties of citrus, arrange in a pattern and drizzle with a homemade of dressing that combines the tartness of fresh lime juice with the sweetness of lemon zest and the stickiness of organic raw honey. Stir in organic mint leaves and serve.
Winter Citrus Salad
Ingredients
2 to 3

oranges

2 to 3

tangerines

4 to 5

mandarins

1

grapefruit (optional)

honey lime dressing

,

recipe below
for the Honey Lime Dressing
2

tablespoons

honey

juice of 1 a lime

zest of 1 lemon

pinch

salt

2 to 3

tablespoons

fresh mint leaves

,

finely chopped
Instructions
Slice each citrus to your preferred thickness. Arrange on a platter and drizzle with honey lime dressing.
for the Honey Lime Dressing
Place all ingredients into a small bowl. Whisk well to combine. Serve chilled or at room temperature.
Notes
There are no amounts listed on the fruits. This is to let you add the preferred quantity of whichever citrus is your favorite. If you prefer chunks of fruit opposed to slices of fruit, feel free to prepare the fruit according to your preference. The dressing may need to be doubled depending on how much fruit is used.