The Instant Pot is one of my most trustworthy and cherished kitchen friends. While its magic can be applied to many recipes, I use it mostly for rice, beans and hearty soups (click here for some of my favorite Instant Pot recipes).
Instant Pot Red Wine Lamb Stew is a standout, especially in the cold month of February when cozy meals shine. Full of umami, this recipe is lovable and one I'm excited to share with you.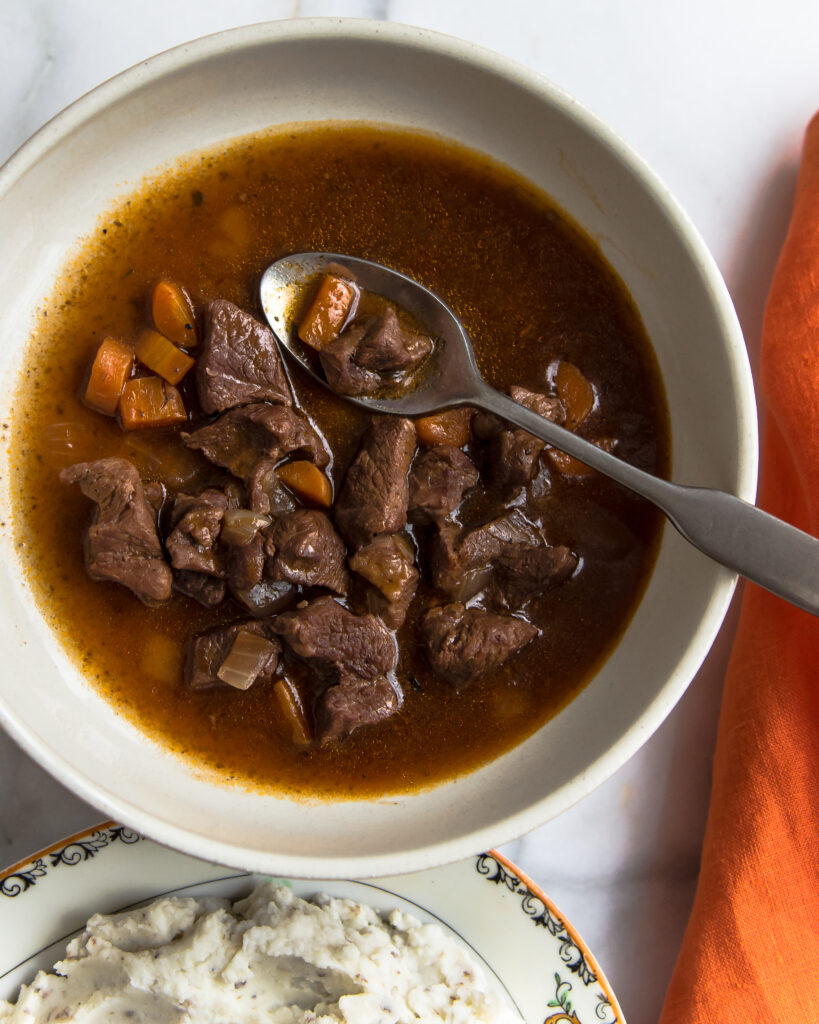 While many hesitate to cook with lamb (due to its unique flavor), I embrace it. Adding lamb into your protein rotation opens up opportunity to try new ingredients and flavors from around the world. If you are unsure about cooking with lamb, this particular recipe is ideal to begin with because it utilizes the familiar flavors of beef stew but contains lamb instead of beef.
Market Street's butcher is readily supplied with an array of quality cuts of lamb. From loin chops to boneless shoulder, from ground to a rack of lamb; my cravings can always be fulfilled at my favorite local market.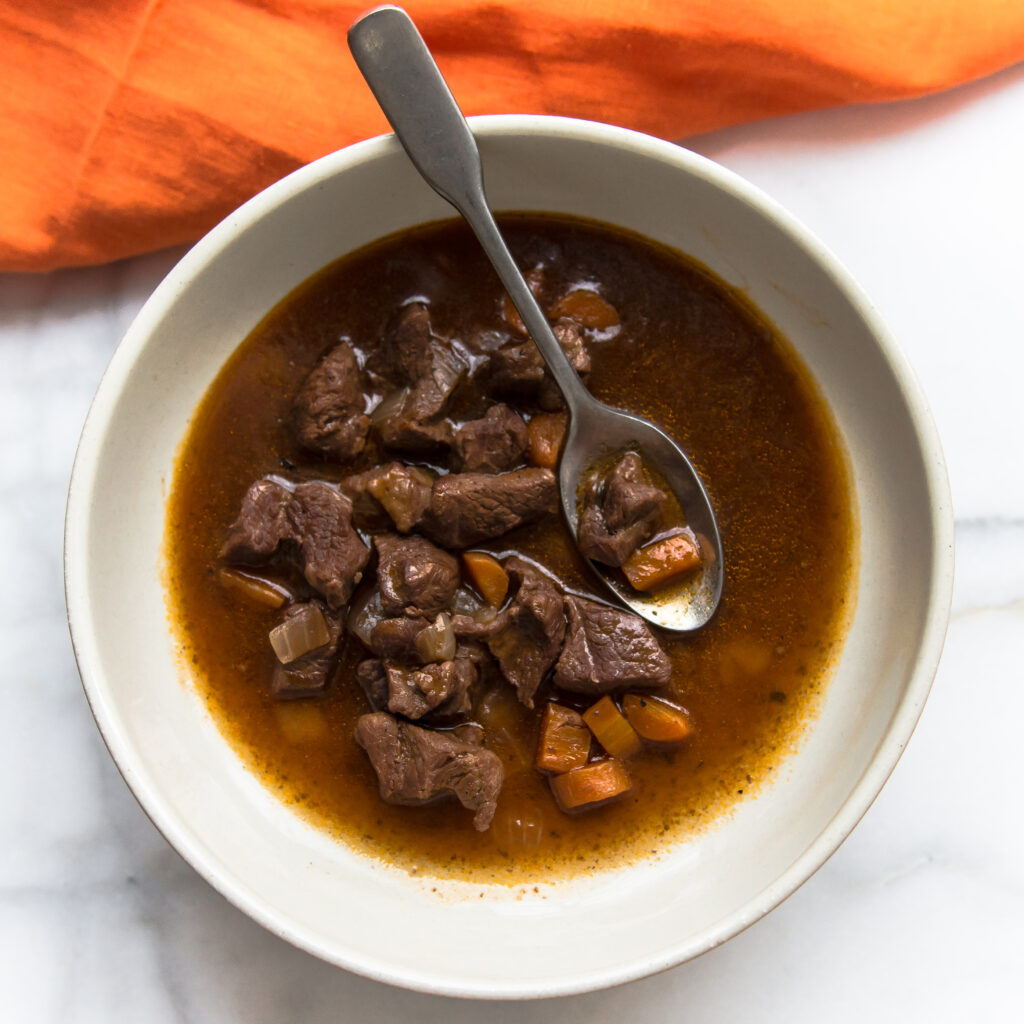 Another benefit of this recipe is the use of the Instant Pot. With lamb shoulder, a low and slow method of cooking is the best approach. However, the Instant Pot turns this 1 1/2 hour simmer into a 20 minute pressure cook. That is something to celebrate!
One downside to pressure cooking is the difficulty in creating a thickened soup, so this recipe employs a gluten-free thickening agent: corn starch. By adding cornstarch to the cooking liquid, a thickened stew-like consistency will be the result instead of a thin watery soup.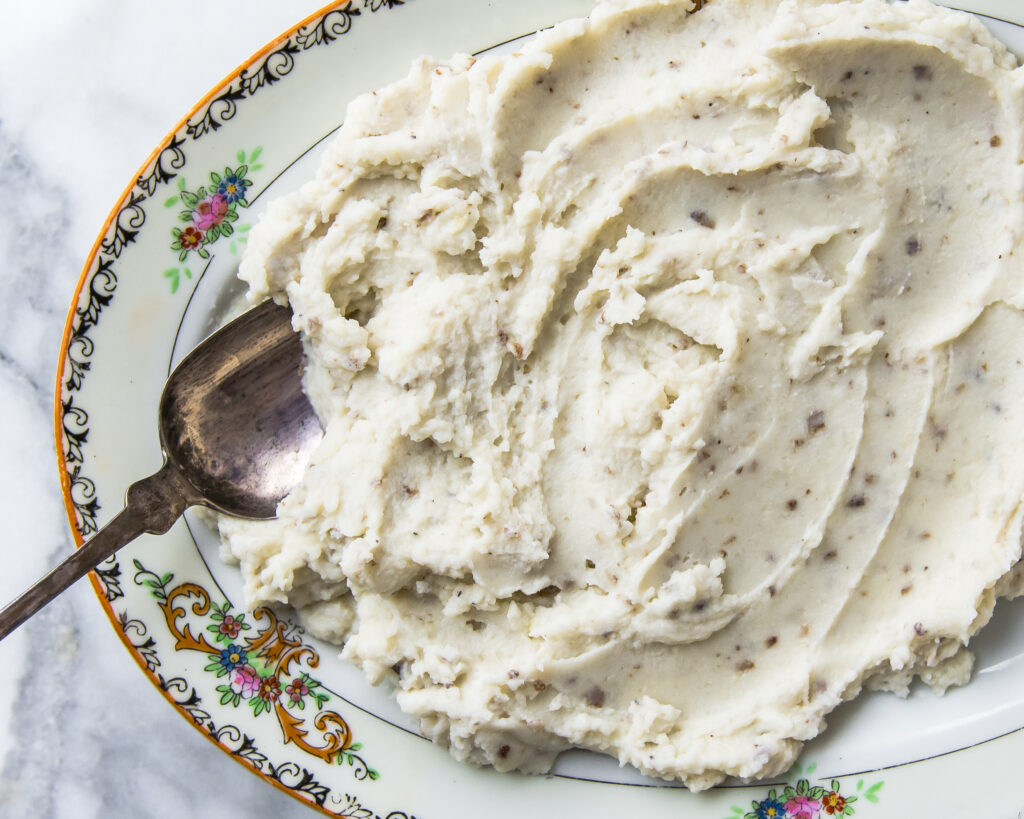 The cherry on top to this meal is the hearty scoop of mashed potatoes that pair perfectly with this cozy stew. Whether it's homemade mashed potatoes (click here for the recipe) or Market Street's decadent ready-to-heat mashed potatoes (found in the Food to Go section), there's no wrong way to pair potatoes with this stew.
I love this recipe. You will too. It's hearty, comforting and flavorful. This one-pot wonder will become your go-to lamb craving recipe and I am excited for you.
Disclosure: This is a sponsored post on behalf of Market Street. All opinions are my own.
Instant Pot Red Wine Lamb Stew
When browning meat in the Instant Pot it is important to keep a watchful eye. The heat does not evenly disperse, making for a very hot center and warmish sides. If you're short on time, Market Street has some of the most delicious mashed potatoes to serve with this stew. About 2 containers does the trick.
Ingredients
1 1/2

pounds

boneless lamb shoulder

,

cut into 1 ½ inch bite sized pieces

2

tablespoon

olive oil

1/2

yellow onion

,

diced

3/4

cup

carrots

,

diced

1

tablespoon

tomato paste

1

teaspoon

kosher salt

1/2

teaspoon

black pepper

2

cups

beef stock

1

cup

red wine

1

beef bouillon cube

1

tablespoon

corn starch

,

optional

1

teaspoon

red wine vinegar

mashed potatoes

,

optional, for serving, see below for recipe
Instructions
Start the Instant Pot using the sauté feature set on high for 20 minutes (you will not use this feature for 20 minutes but it gives you freedom to cook at your own pace.

Add the olive oil to the Instant Pot insert and heat for 2 to 3 minutes. Add the lamb and brown for 5 to 8 minutes, stirring occasionally as to not burn the bottom of the pan.

Remove the lamb and set aside. Add the onions, carrots, tomato paste, salt and pepper to the Instant Pot. Sauté for 2 to 3 minutes. Add the beef stock, red wine and bouillon cube. Deglaze the pot by scraping up any pieces stuck to the bottom. Return the lamb with its juices to the Instant Pot, stir to combine.

Place the cornstarch into a small bowl and top with a few ladles of hot cooking liquid. Stir until the cornstarch is dissolved. Add this into the Instant Pot and stir.

Before sealing the lid, make sure that the bouillon cube has dissolved. Seal the Instant Pot and cook at high pressure for 20 minutes. Allow the pressure to naturally release for 10 minutes, then manually release any remaining pressure. Stir in the vinegar.

Serve the stew in warm bowls alongside mashed potatoes.