For those looking for a unique Asian-inspired, make-ahead weeknight meal, look no further. Spicy Shrimp Sushi Casserole is here to fill the requirement!
This casserole, while not true sushi, utilizes the ingredients that are used in many sushi rolls. It's a large-batch take on the classic and lovable staples found at your favorite Japanese restaurant.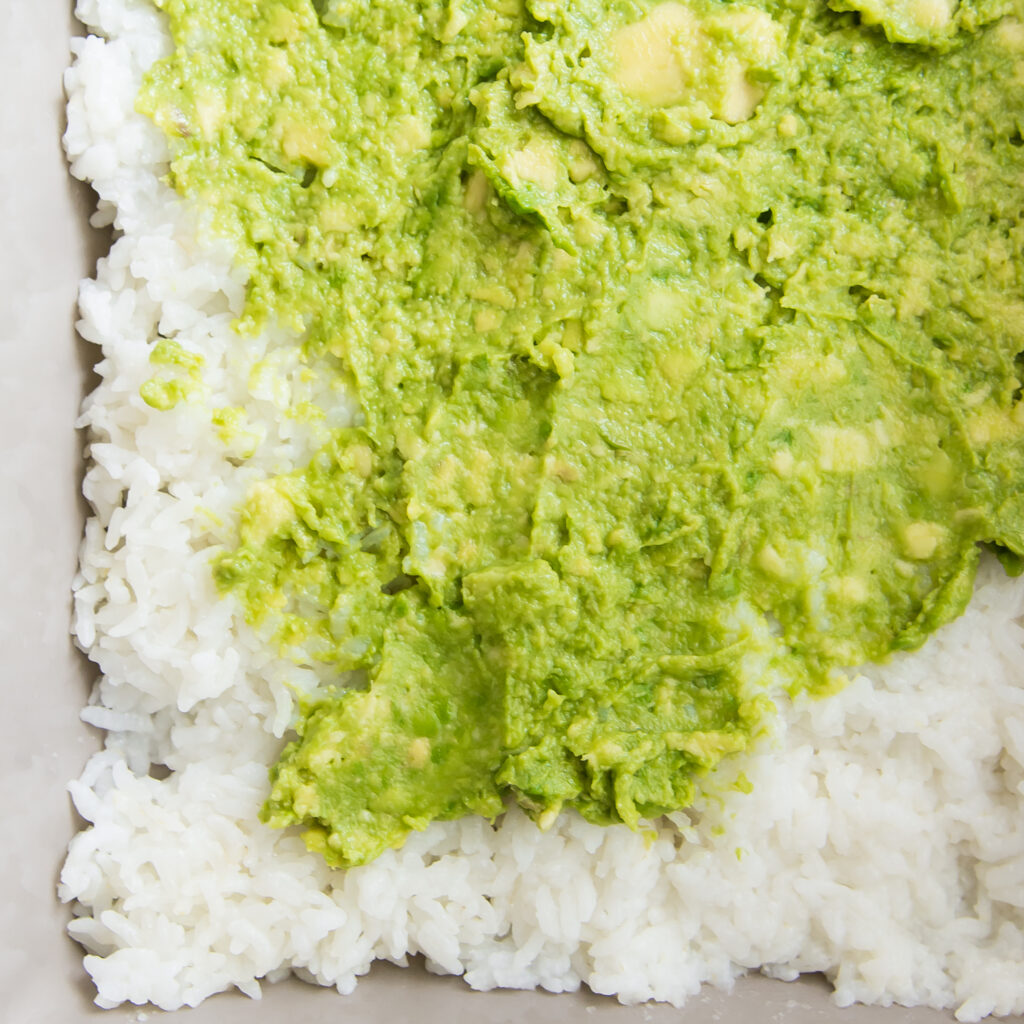 A few things about this recipe to keep in mind:
Sushi Rice: To make this recipe have the overall sushi roll consistency, using sushi rice is a must. It is a short grain rice that has a very sticky consistency. Note that sushi rice takes time; it requires 15 minutes to soak before cooking. Market Street provides varieties of sushi rice to choose from in the international aisle among the Asian culinary ingredients (be sure to grab some rice wine vinegar to mash with the avocados!).
Protein: The protein used to fill the casserole does not have to be shrimp. It can be any cooked seafood from crab to smoked salmon– or even a combination of your favorite two. If you're looking to save time when making this casserole, browse Market Street's prepared meals. You'll find pre-cooked shrimp that would work perfectly for this meal!
Set Time: Allow the sushi to set in the fridge for at least four hours before serving. It needs to chill while the ingredients adhere to one another. The time needed for this casserole to set makes it perfect for those busy evenings; build in the morning, eat in the evening!
Sides: When serving Spicy Shrimp Sushi Casserole, my family also craves ramen. If time is available, I'll make an easy homemade ramen (click here for recipe), but if time is limited, I grab a few packages of instant ramen during my Market Street trip and cook a large batch while setting the table for dinner.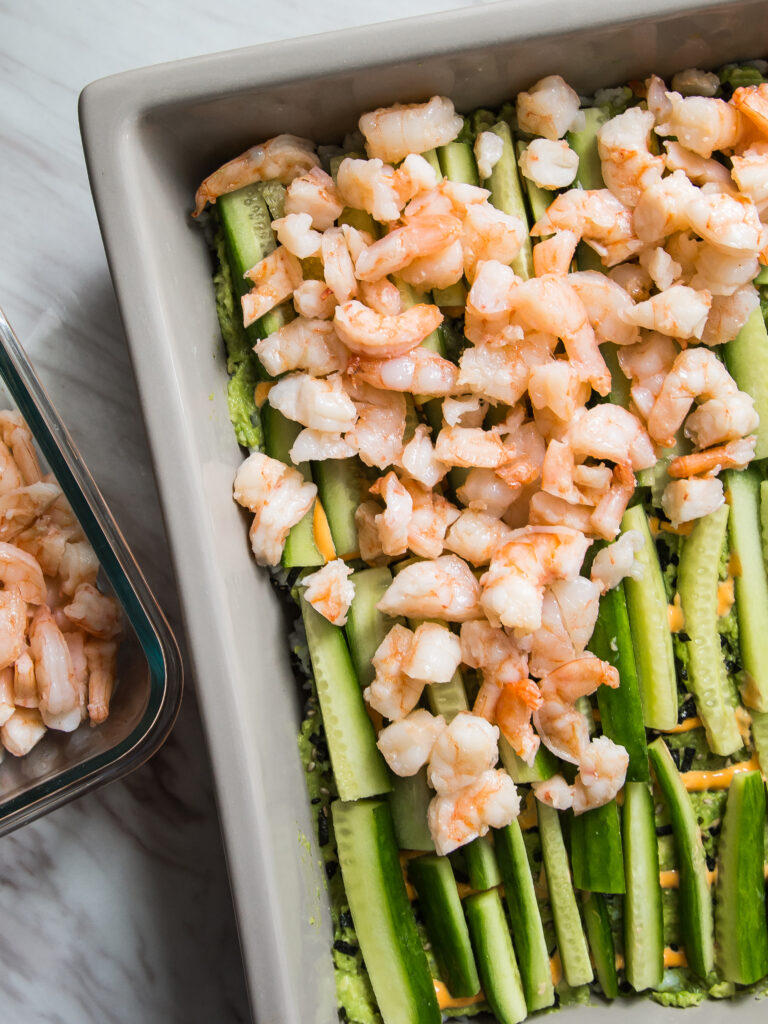 To all of those juggling busy season chaos, let this recipe be dinner encouragement. Unique meals can be made in advance! Dinner does not have to be made in the evening! Homemade meals can be "semi" homemade with the help of Market Street!
Spicy Shrimp Sushi Casserole is a fun meal that the entire family will get excited about! It's a large batch, easy to construct, make-ahead meal that is filling and healthy. Plus, I have found that this meal typically makes great lunches for the next day, which is also an added bonus!
This post is sponsored by Market Street. All opinions are my own.
Spicy Shrimp and Cucumber Sushi Casserole
For this casserole, I used a 9x 13 baking pan. Be sure to include time to make the sushi rice and shrimp. To speed up the process of this casserole, use simply seasoned pre-cooked shrimp from your local fish monger. Feel free to use your favorite cooked fish or shellfish for this recipe, like smoked salmon or crab.
Ingredients
3

cups

dry sushi rice

,

cooked

2

lb

cooked shrimp

,

chopped (see recipe below)

2 to 3

avocados

3

tsp

seasoned rice wine vinegar

furikake

,

Japanese multi-purpose seasoning

3 to 4

Persian cucumbers

,

sliced thin

Sriracha mayonnaise

wasabi paste

,

for serving

soy sauce

,

for serving
Instructions
In a small mixing bowl, combine the avocado and vinegar. Mash with a fork or potato masher to combine. Set aside.

In a large baking pan, create an even bottom layer of cooked sushi rice. Spread the avocado mixture on top of the rice. Sprinkle with furikake and drizzle with sriracha mayonnaise to lightly cover the avocado. Next, evenly distribute in one layer, the cucumber slices on top of the avocado.

Place the cooked shrimp in an even layer on top of the cucumbers. Top the shrimp with the remaining two cups of rice. Using the palm of your hands or the back of a spatula, press the rice flat and make as compact as possible. Add the sriracha mayo and furikake on top to preference. Cover the baking dish and place into the fridge to chill, for at least 4 hours or until ready to serve.

Serve cold with wasabi paste and soy sauce.
For the shrimp
In a large skillet, heat 3 tablespoons of canola oil. Add the raw shrimp and one 1 teaspoon of kosher salt. Stir to combine and let cook for 6 to 8 minutes, or until cooked through.