Hatch Chile season is one that I look forward to every summer. Rarely is there an opportunity to focus on one particular ingredient that is both a seasonal and regional specialty. Hatch Green Chilies is exactly this combination and that's why I get excited!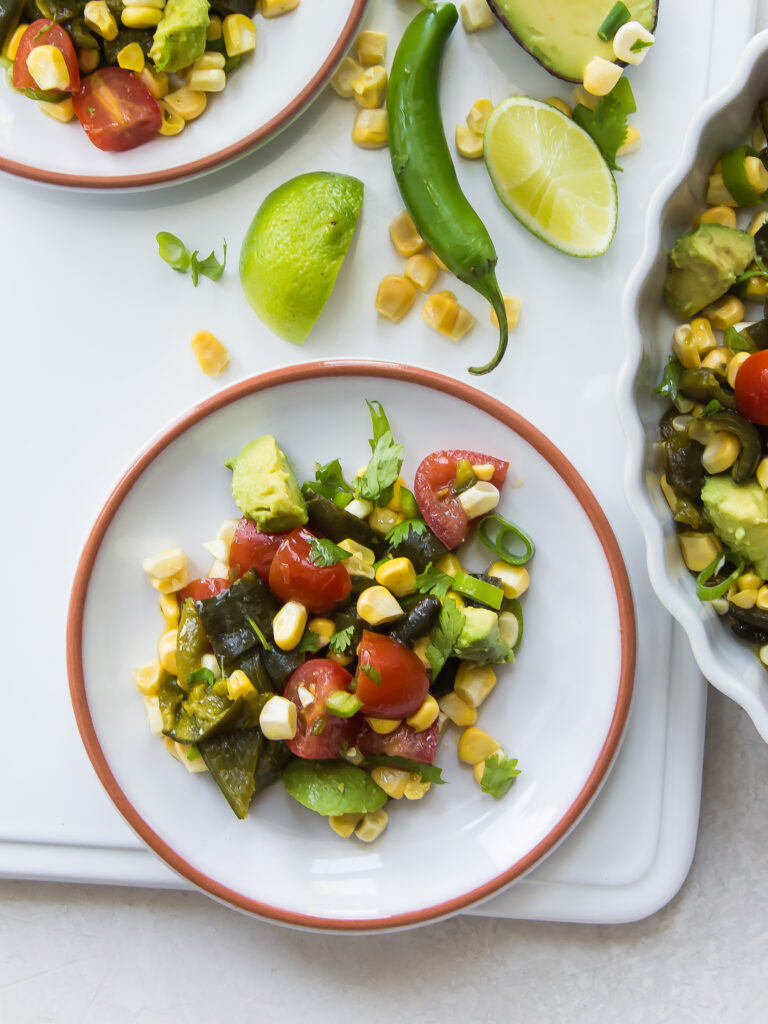 There are two ways to approach Hatch chilies; from a traditional southwest angle, like Hatch Chile Pork Stew or with a non-traditional flare, like Hatch Chile Lime Sherbet. Whatever direction taken; I do know you'll always find the ingredients at Market Street to help make your Hatch Green Chile dreams come true.
This summer I leaned into southwest flavors and created a Hatch Green Chile salad bursting with fresh, season ingredients. Corn! Tomatoes! Hatch Chilies! Once I started to brainstorm this Hatch Chile, Avocado and Corn Salad, I knew I had hit a goldmine.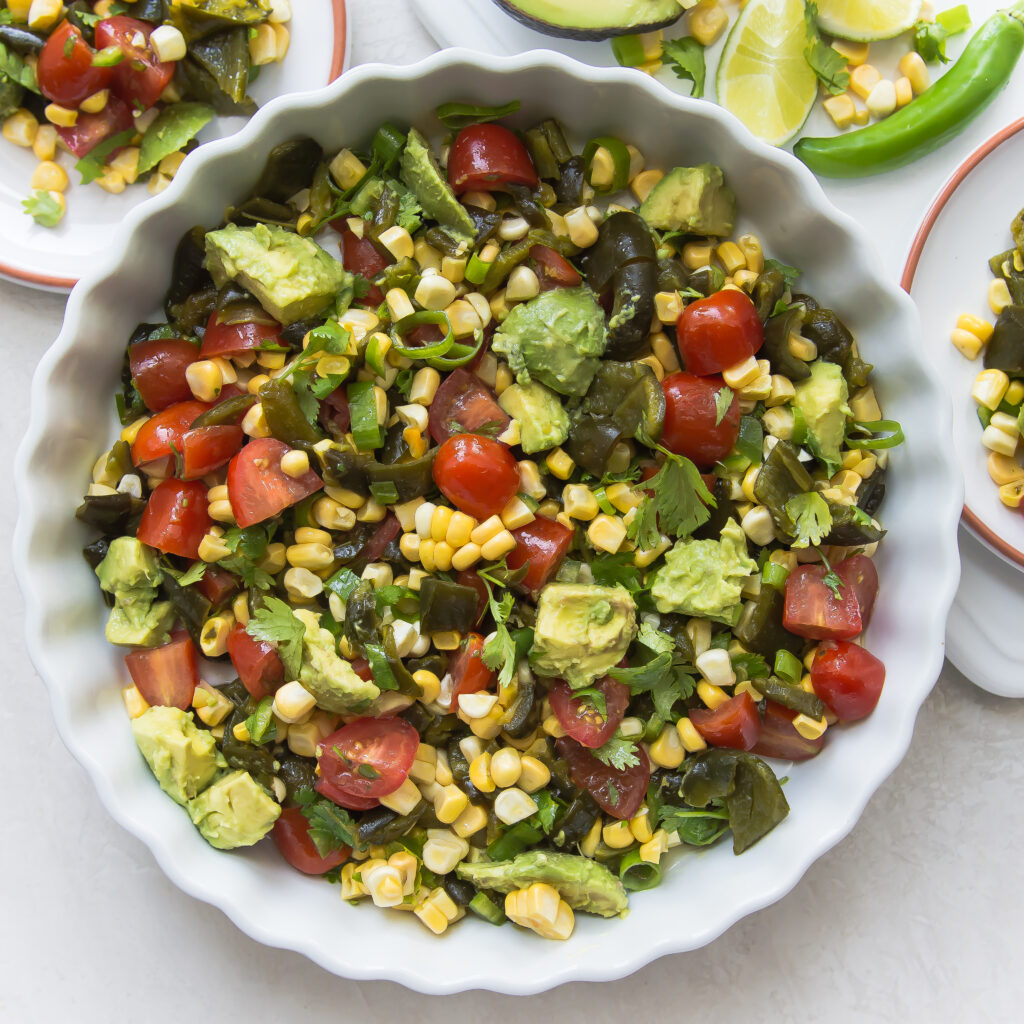 I relied on Market Street to provide me with all the goods for this salad: avocado, serrano peppers, Hatch green chilies, corn, cherry tomatoes and cilantro. How can a salad go wrong with all this fresh produce?!
Also, the produce department was extra helpful with its pre-prepped fresh ingredients, like already shucked corn on the cob and chopped fresh green onions. With these two items already taken care of, I had only a few more steps to complete at home, once it was time to construct the salad.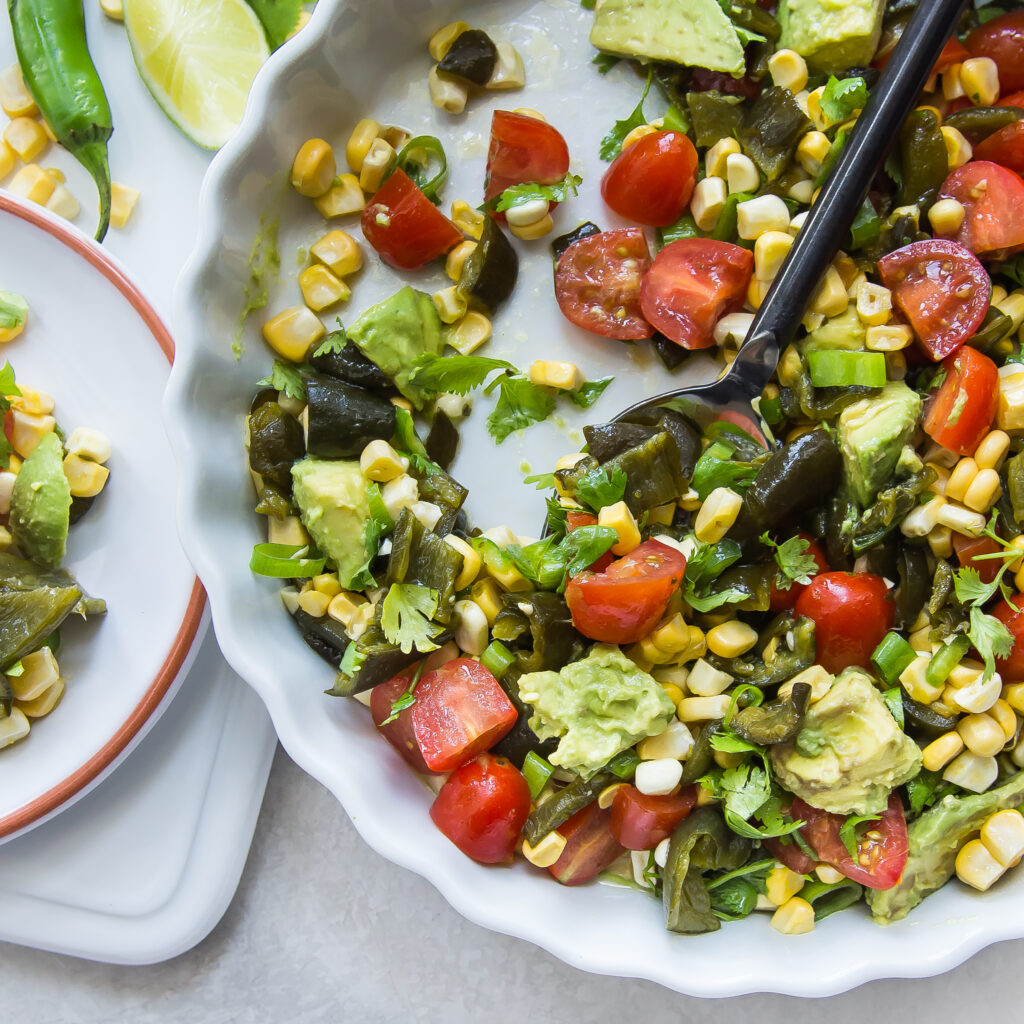 This recipe is wonderful for a variety of reasons. It's filling, healthy and versatile. I hope this dish finds its way into your kitchen soon, you will love all the ways in which you can serve it (I've listed a few ways below!). Enjoy!
Hatch Chile, Avocado and Corn Grain Bowl
Grilled Salmon topped with Hatch Chile, Avocado Corn Salad
Black Bean and Hatch Chile, Avocado and Corn Tacos
Chips and Hatch Chile, Avocado Corn Dip
This is a sponsored post by Market Street. All opinions are my own.
Hatch Chile, Avocado and Corn Salad
Depending on how well the avocado is coated with acid, it will brown with time. Don't fret, it will still be delicious. However, after one day, the avocado will begin to brown even more, which will begin to affect its flavor. To make this salad ahead, follow steps 1 and 2. Prepare and add the avocados right before service to prevent the browning of the avocado.
Ingredients
for the dressing
2

tsp

red wine vinegar

2

tsp

honey

4

tbsp

olive oil
for the salad
3

cups

fresh corn off the cob

1/4

cup

green onions

,

chopped

1 1/2

cups

Hatch green chiles

,

roasted and peeled

1 1/2

cups

halved cherry tomatoes

2

serrano peppers

,

seeded and diced

1

tsp

kosher salt

2

limes juiced

1 1/2 to 2

cups

diced avocado
Instructions
for the dressing
In a small bowl, add red wine vinegar, honey and olive oil. Set aside.
for the salad
In a large bowl, add the corn, green onions, chiles, tomatoes, serranos and cilantro. Top with the dressing and salt. Stir to combine.

In the bowl with the dressing (that's now empty) add the lime juice. Dice the avocado and place into the bowl with the lime juice. Stir to thoroughly coat.

Add the avocado to the salad. Stir to combine and serve immediately or cover and place into the fridge to chill for 1 to 2 hours.