Late summer ushers in the glory of the Hatch Chile Season. And while I love creating traditional classics like Hatch Chile Stew or Hatch Chile Corn Bread, I mostly get a kick from creating unique Hatch combinations.
In the past I have rolled out other distinctive Hatch recipes like Hatch Green Chile Lime Sherbet (click here for recipe), Hatch Green Chile Lasagna (click here for recipe) and Hatch Green Chile Cheese (click here for recipe) – I can't get enough of combining this beloved, seasonal ingredient with other food genres that typically are not considered when cooking with Hatch. Hatch Chile Ramen Noodle Soup is this seasons' Hatch pièce de résistance.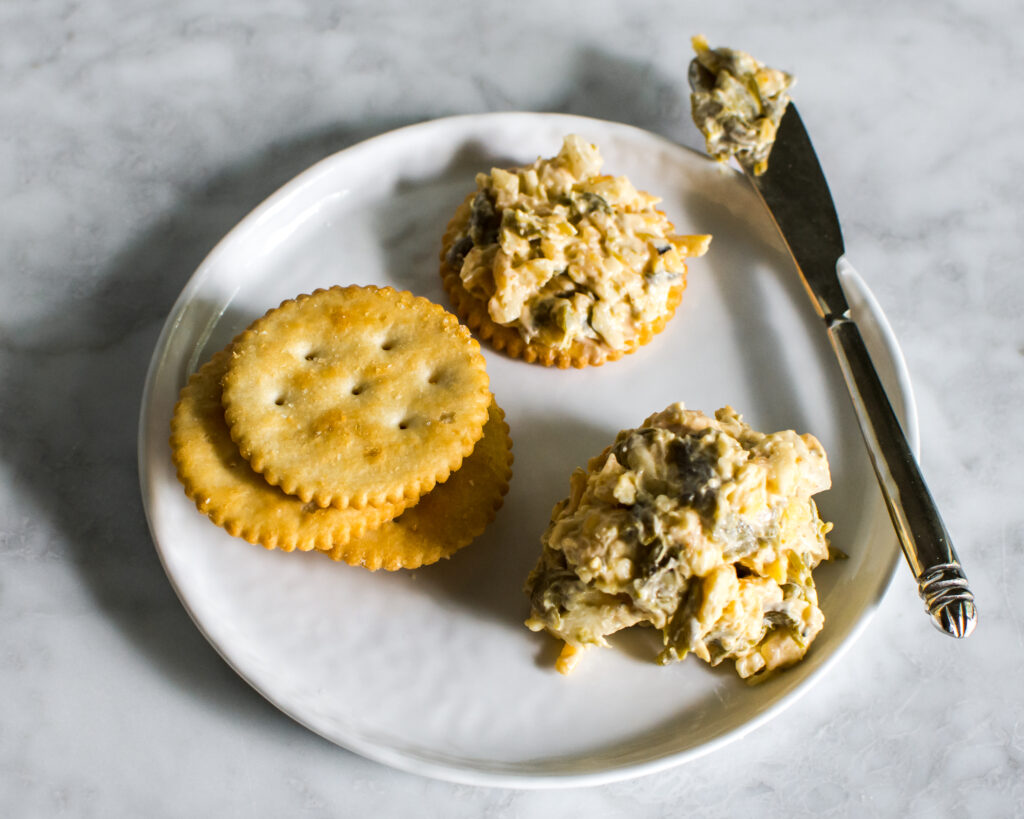 Hatch Green Chile Ramen Noodle Soup is easy and fun to create. A trip down the international and soup aisles at Market Street will yield all the ingredients needed to create the base to this comforting dish. Sesame oil, soy sauce, and O Organics Miso Broth are the magical ingredients that will kick-start this umami filled, hassle free broth.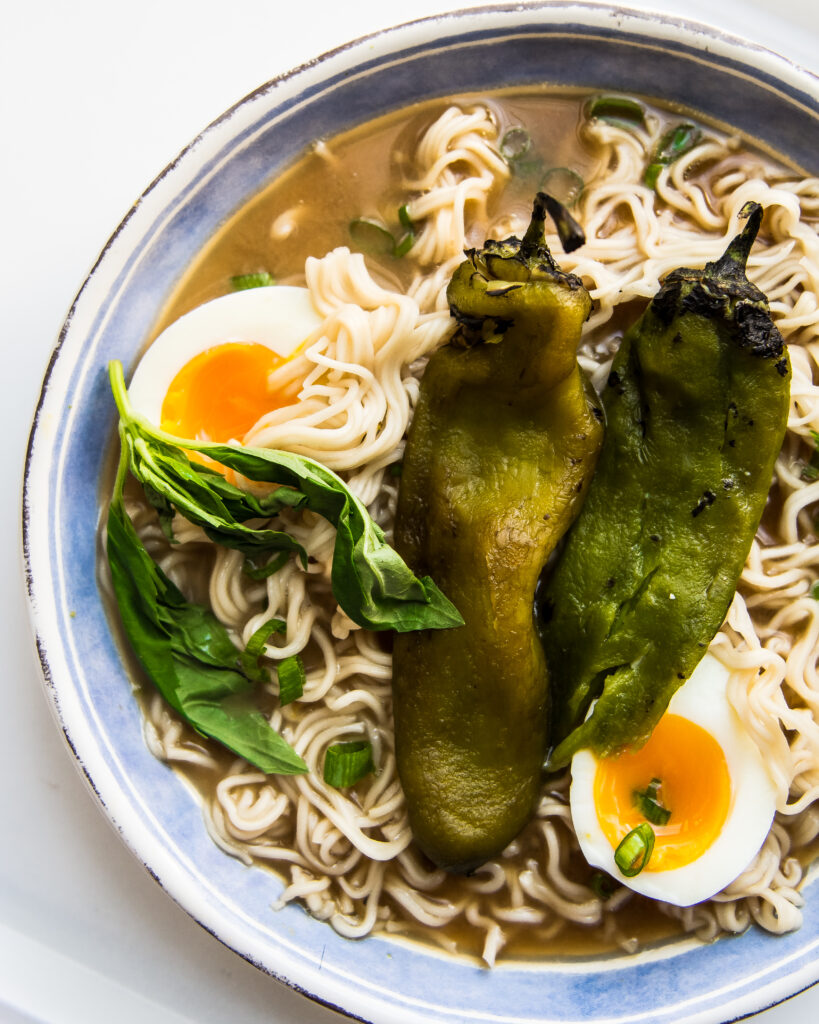 Once home and the broth is simmering, fill a saucepan with water and cook eggs and the instant ramen noodles (don't worry about the "flavor packet", you only will need the noodles) together. Once the eggs are soft boiled and the noodles al dente, place these two ingredients into warmed bowls. Top the noodles with organic basil, Market Street's fire-roasted Hatch chiles and your homemade ramen broth.
After 15 minutes of cook time a bowl of Hatch comfort is waiting to be devoured!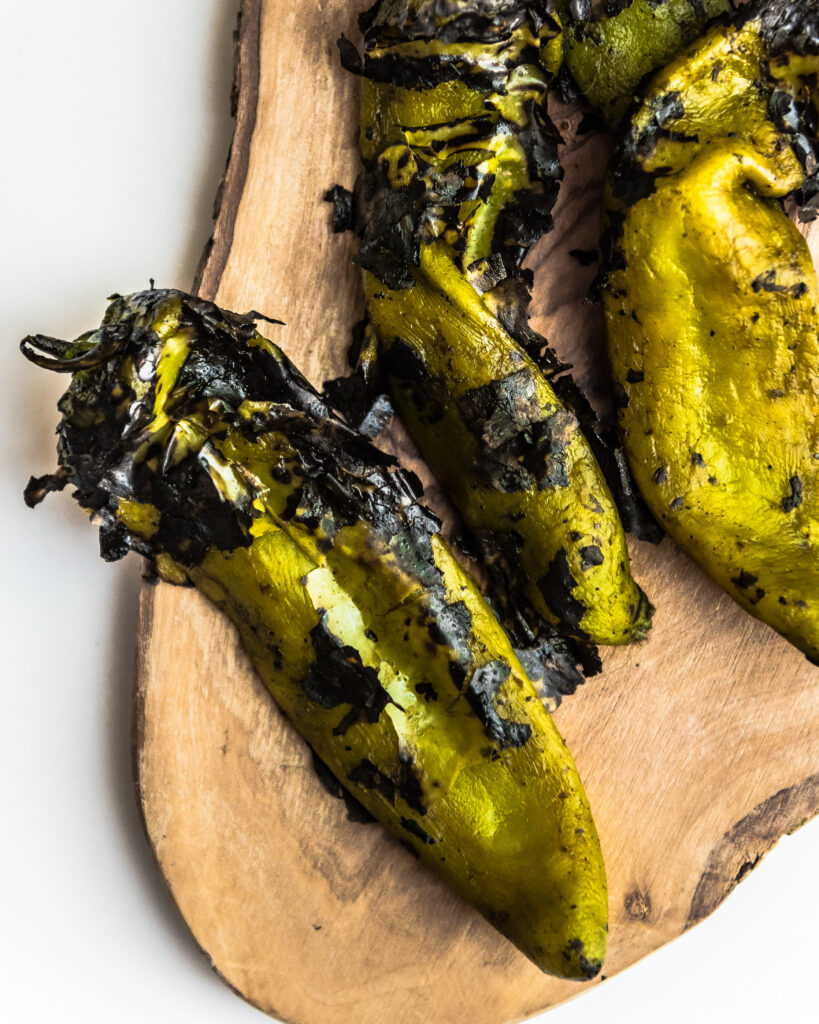 Hatch Chile Ramen Noodle Soup is a unique and layered Hatch recipe. Thanks to Market Street with their fire-roasted Hatch chiles and miso broth, this recipe is minimal ingredient, seasonal cooking bundled up together in one delicious bowl!
Now then, what are you waiting for? Get to slurping!
Disclosure: This is a sponsored post on behalf of Market Street. All opinions are my own.
Hatch Chile Ramen Noodle Soup
Do not worry about the flavor of the instant ramen noodle soup purchased. All that is necessary for this recipe is the instant ramen noodle bundle. Slightly reduce the cook time for the egg if using anything smaller than a large egg.
Ingredients
6

roasted Hatch chiles

,

peeled and rinsed

5

green onions

4

cups

Miso broth

1

teaspoon

rice wine vinegar

2

teaspoons

toasted sesame oil

1

tablespoon

soy sauce

2

large eggs

2

instant ramen noodle bundles

fresh basil

,

for topping
Instructions
Rinse the roasted Hatch chiles with water to remove any excess skin. If desired, remove the stem and seeds from the chiles. Slice the chiles into thick strips, place into an oven-safe bowl. Gently heat the chiles in a warm oven.

Remove the green onion roots and discard. Remove the white end from the green onion and set aside. Finely chop the green onion and set aside.

In a saucepan combine the white onion ends, Miso broth, vinegar, sesame oil and soy sauce. Bring to a boil and reduce heat to a simmer. Cover and cook for 15 minutes. Salt to taste.

Meanwhile, fill a large saucepan with water and bring to a boil. Once boiling, gently place 2 eggs into the water. Cook for 7 to 8 minutes and immediately place the eggs into an ice bath. Peel and slice the eggs just before service.

With 3 minutes remaining in the egg cook time, add the ramen noodles to the boiling water. Cook the ramen (alongside the eggs) for 3 minutes or until desired doneness.

Add the cooked noodles into two shallow bowls and cover with the miso broth. Add the basil leaves, soft boiled eggs and 2 to 3 Hatch chiles to each bowl. Top with green onions and serve warm.