As a child I always found two food rituals of my grandfather peculiar. When he ate watermelon, it was salted. And when he ate radishes, it was freshly washed and over the sink.
Salt on watermelon and an abnormal excitement to consume radishes. I couldn't wrap my mind around it.
Now I get it.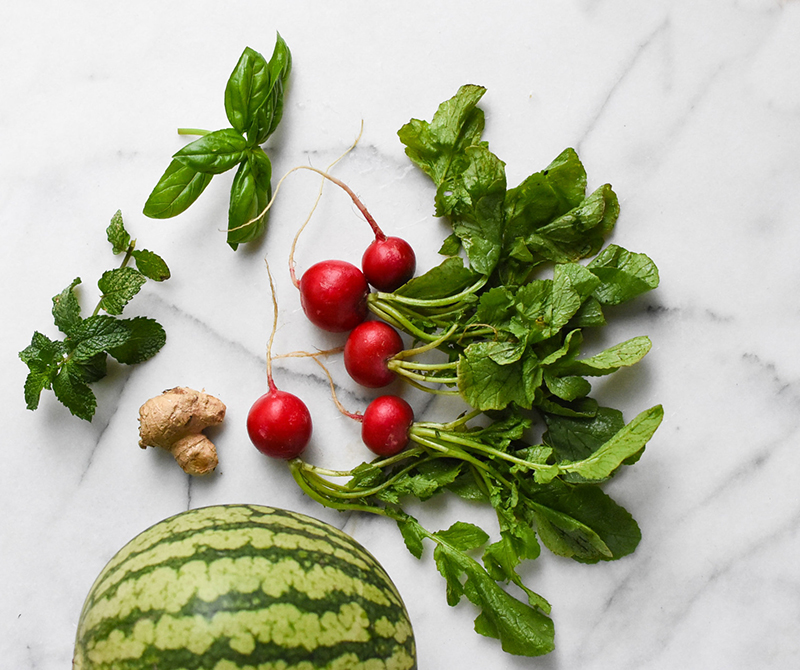 Normally I'm inspired by what's available at the market for recipes. The seasons help guide this. However, with this particular dish, it was a person who inspired it. Grampy Max.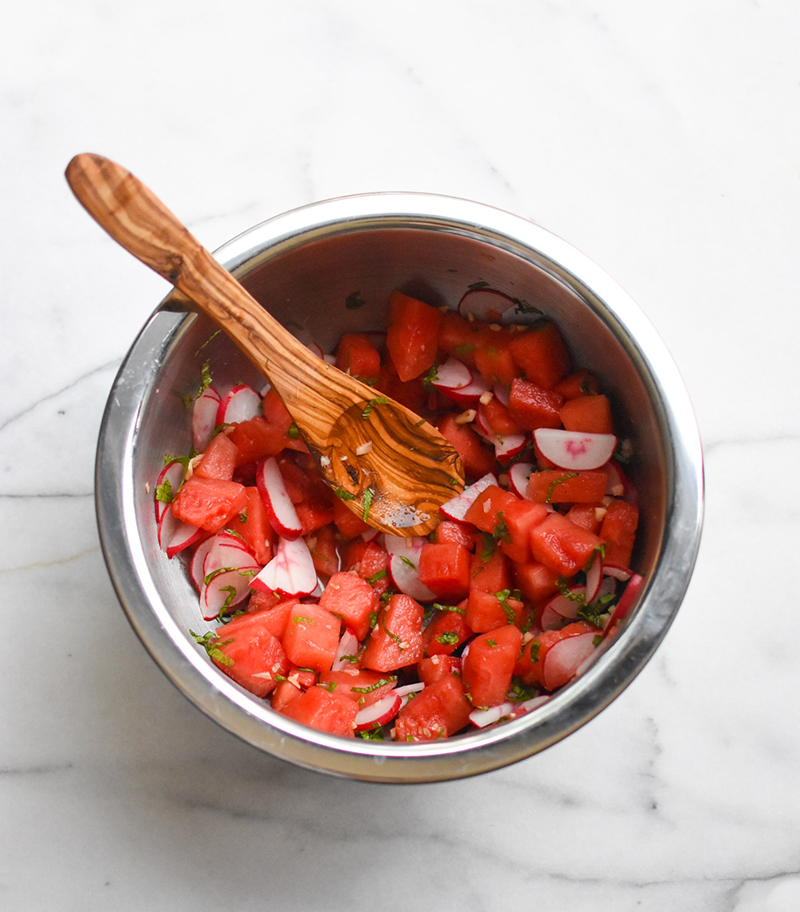 Market Street was the best spot to pick up the produce for this salad. Not only did I get five choices of watermelon (Texas Red Seedless and Baby Seedless Watermelon, just to name a few), but the store also had them showcased outside. No need to make room in the cart halfway through my shopping trip.
The watermelon was the first baby in the cart, and then two little humans followed.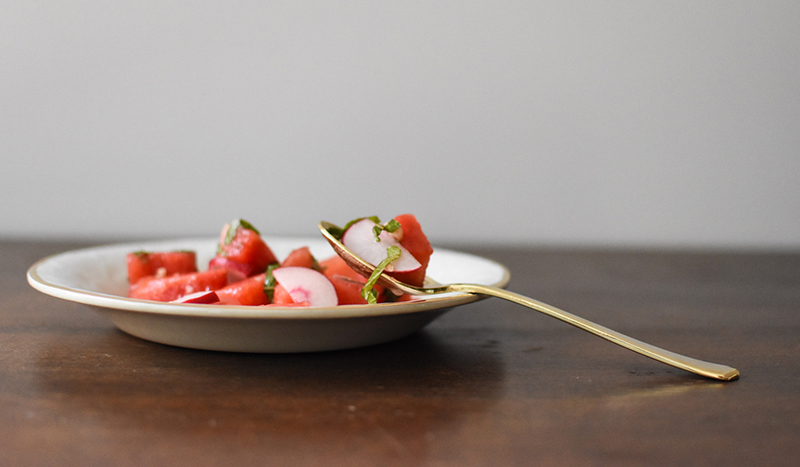 When you see a recipe on A Pleasant Little Kitchen it's been tested at least three times. That means three trips to Market Street, talking to their produce staff and keeping them posted on how the recipe progresses (it's nice getting to know the staff at your local grocer, give it try!).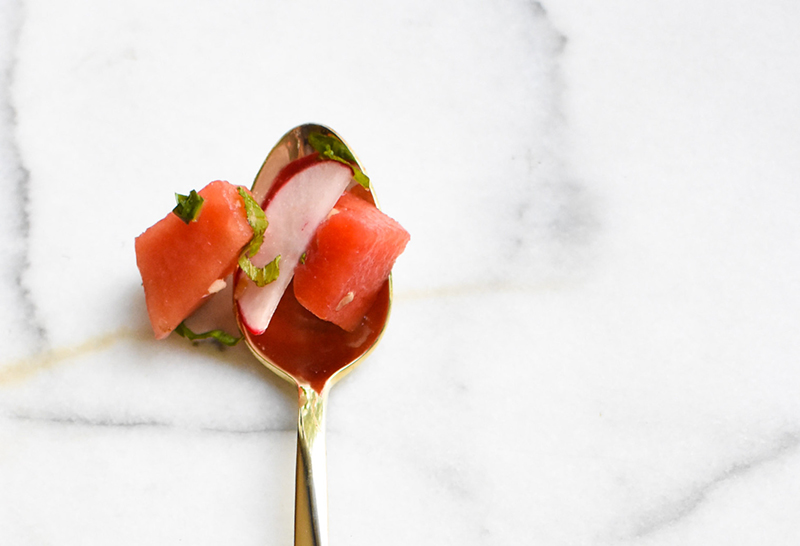 It's not all leisure in a pleasant little test kitchen, that's why I go for convince too.
Pre-diced watermelon AND prepped radishes started showing up around the third test (watermelons can get messy REAL fast with a five and three year old helping).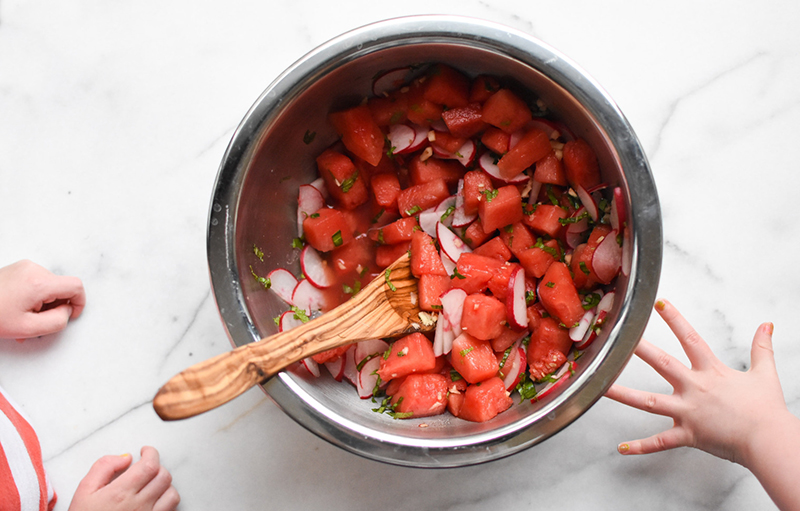 I am thankful for a local grocer that not only provides a variety of organic produce but also understands a busy working mom (i.e. offering pre-diced watermelon in four different sizes…along with other fresh produce).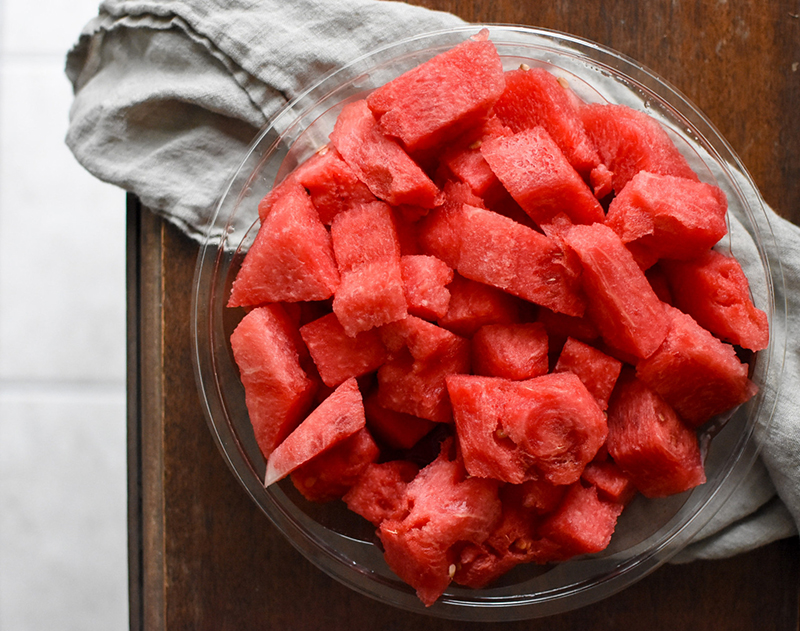 This salad is inspired by summer, but also by my grandfather.
Would he have liked the ginger and lime? Probably not. The basil and mint? Maybe. The watermelon, radish and salt? Absolutely.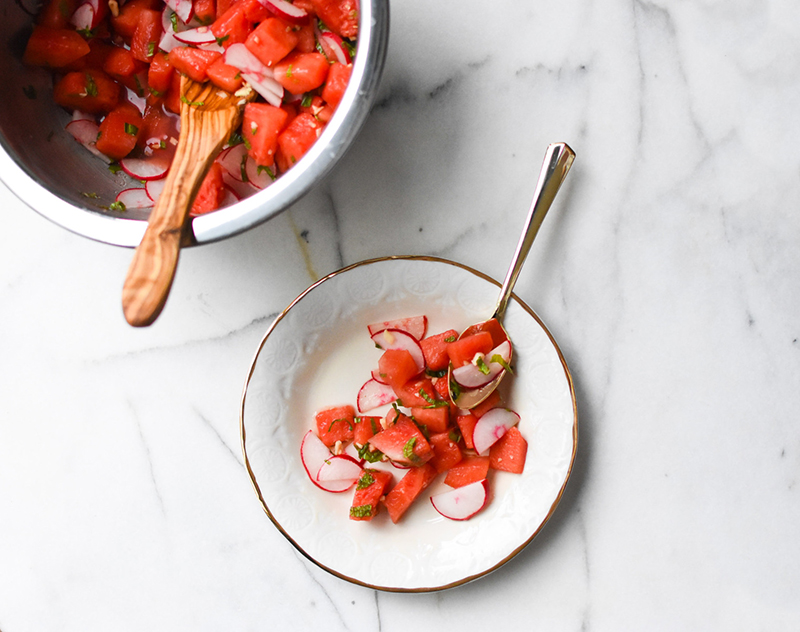 P.S. Wondering what to do with the leftover radish greens, basil and mint? Make pesto.
Basil, Radish Greens and Mint Pesto
2 cups basil
1 cup radish greens
1/4 cup mint
1/2 cup pine nuts
3/4 cup parmesan, grated
1/2 teaspoon kosher salt
1/2 cup olive oil
zest of half a lemon
Place the greens, herbs, pine nuts, cheese and salt into a food processor. Puree.
While pureeing, slowly pour the olive oil into the mixture. Continue to puree until well incorporated.
Pour the pesto into a bowl and add the lemon zest. Serve at room temperature.
Click here to see what else to make with radishes.
Happy cooking!
Disclosure: This is a sponsored post on behalf of Market Street. All opinions are my own and I appreciate your support of the brands/companies that I love.
Watermelon Radish Salad
Ingredients
6

cups

watermelon

,

cut into bite-sized chunks

2

cups

radishes

,

thinly sliced and halved

2

tablespoons

fresh ginger

,

finely chopped

1/4

cup

basil

,

chopped

1/4

cup

mint

,

chopped

1/4

teaspoon

salt

4

tablespoons

fresh lime juice

,

approximately 2 limes
Instructions
Combine ingredients into a large bowl. Mix well, serve chilled.
Notes
If you are short on time, pick up pre-diced watermelon. I prefer to get mine at Market Street. There are four size options to choose from (8 ounce, 14 ounce, 32 ounce and 48 ounce). This recipe is easily doubled if serving a crowd.