Sometimes simple creates the best results. Crudité embodies this concept. This Christmas Eve, add a bit of curated freshness to your table and embrace the joy that it brings.
While a classic and beloved concept, crudité has been forgotten by many or passed off as boring and unassuming. A simple combination of raw and slightly cooked vegetables, combined with a variety of flavorful fixings, the concept of crudité can be exciting. It is most likened to the current obsession with "boards."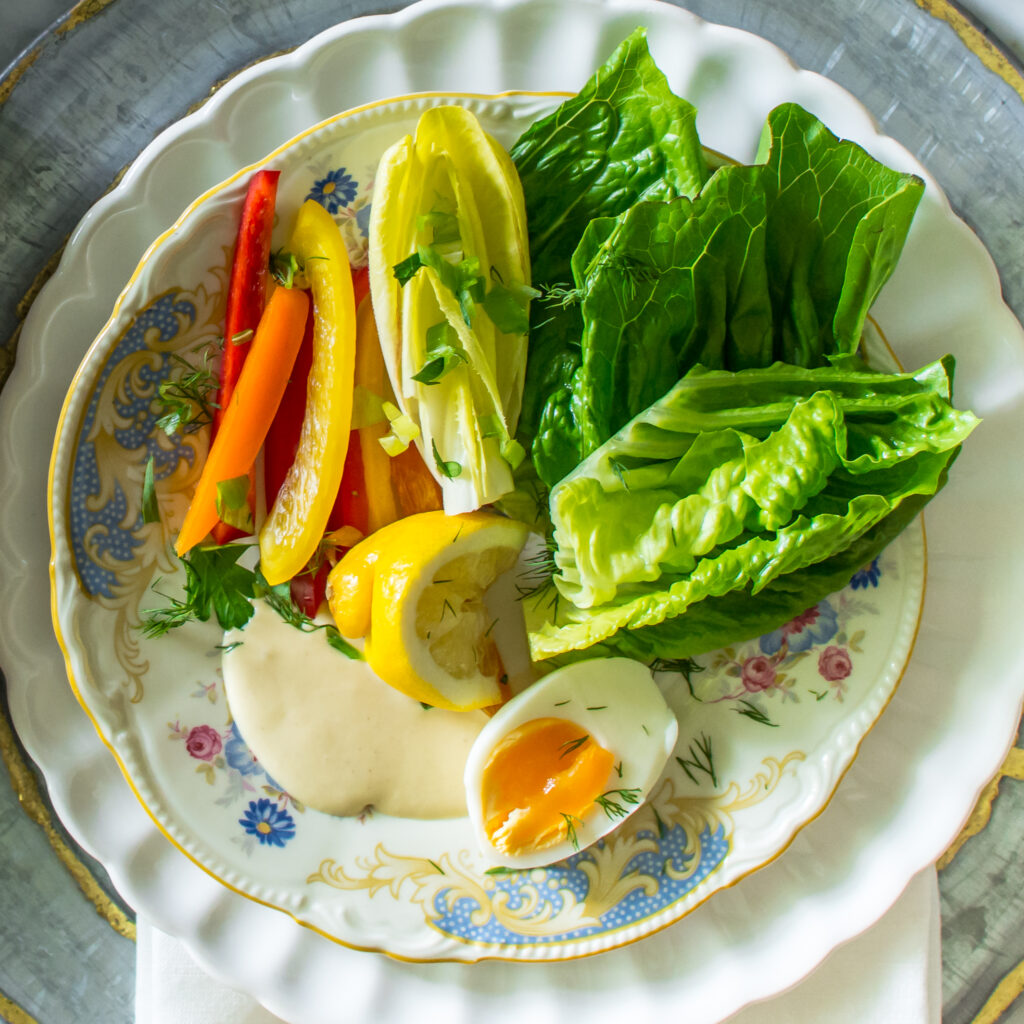 When it comes to crudité, start with the idea of a deconstructed salad. Once those components are in place (endive, sliced cucumbers, chopped shallots, and fresh chopped herbs), move to the "fixings". Soft boiled eggs, blanched green beans, chopped nuts and pickled red onions are unique and delicious elements that can be found on salads, so use them to crudité! Finally, a salad needs a dressing: Olive oil, red wine vinegar, Dijon mustard and lemon wedges are all components that would make a simple homemade dressing.
To crudité, all these ingredients are combined onto a platter and then served at dinner time, allowing the diner to create their own plated vegetable smorgasbord. Not only is this type of dinner hands-on, but it's also perfect to make ahead.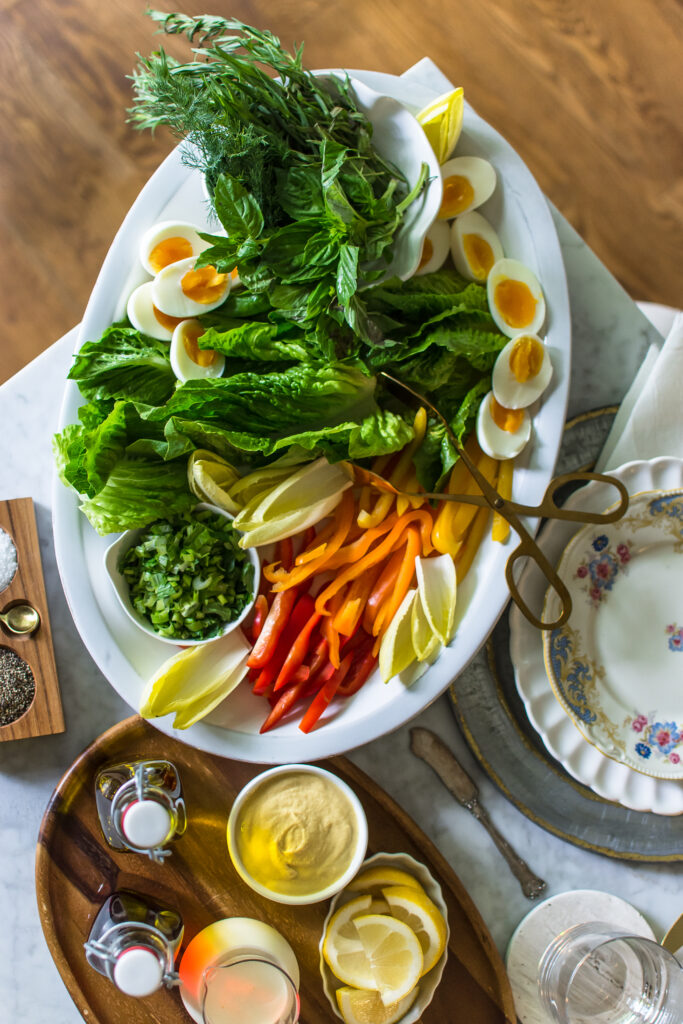 While crudité is not new, we have forgotten the joy that it can bring to the dinner table. By providing an array of fresh, unique ingredients, diners can choose what they want to fill their plate and how they would like to dress it. Not only does it allow individuals to personalize their plate but it also allows the diner to engage with their dinner; which ultimately brings up many talking points. Conversations of unexpected flavor combinations will abound.
Creating a crudité platter is fun, creative and open to individual interpretation. Its simplicity and make-ahead characteristics make it perfect for Christmas Eve; exactly when the hustle of the season reaches its peak.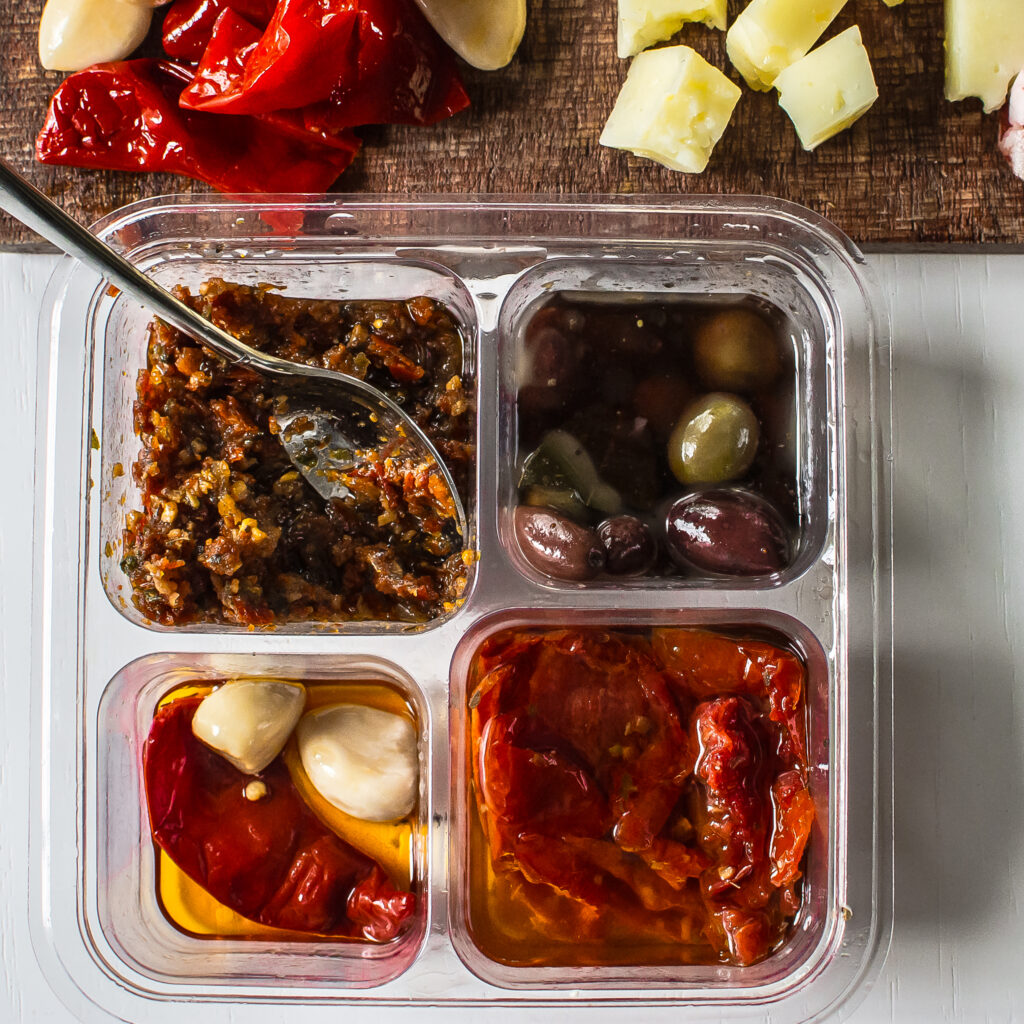 If you don't know where to start or even HOW to start, I've teamed up with Market Street to create a simple, fresh and curated crudité spread. Bringing back this classic will make your Christmas Eve simple, delicious and memorable.
If you are feeling crunched on time, don't fret. There are ways to make this crudité platter come together a bit more quickly. Market Street's salad bar has fresh vegetables prepped and ready to be scooped up. Cucumbers! Lettuce! Olives! Marinated Bell Peppers! Grab a to-go container and personalize with their options.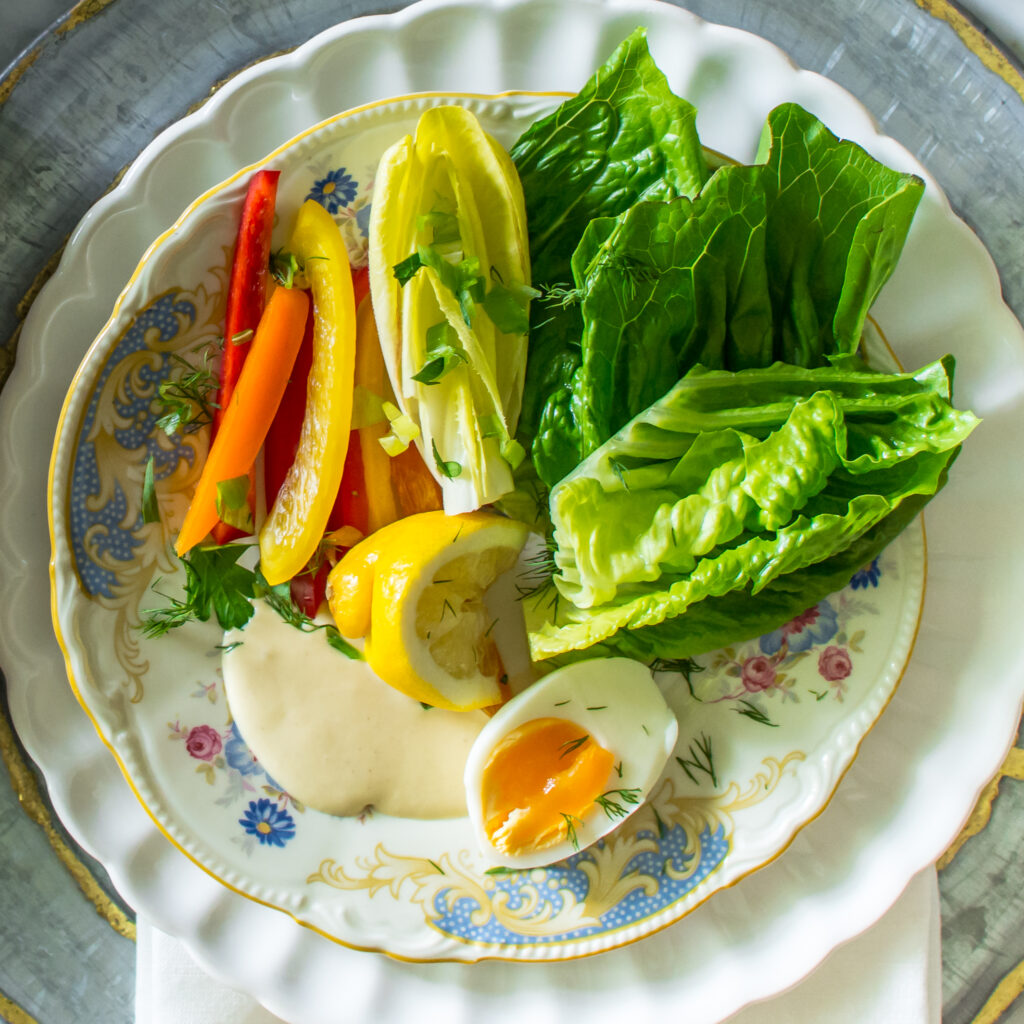 While the make-your-own dressing of the crudité is one of my favorite parts of this recipe, you can also swing by Market Street's produce section and select from a variety of chilled, specialty dressings for your guests.
This Christmas Eve, reinvent classic traditions for your dinner table, and crudité! May your table be full of fresh food and happy faces. Merry Christmas!
Crudité
Ingredients
for the fresh produce
endive

,

sliced in half

butter lettuce

,

chopped into bite-sized pieces

Persian cucumbers

,

sliced

bell peppers

,

sliced

fresh herbs

,

tarragon, basil, dill, cilantro, chopped
for the cooked ingredients
blanched green beans

,

see notes for recipe

soft boiled eggs

,

see notes for recipe

pickled red onions

,

see notes for recipe
for the dressing
Dijon mustard

red wine vinegar

cream

lemon wedges

extra-virgin olive oil

kosher salt

black pepper
for the tabletop
large platter

3

pourable bottles

,

for the cream, olive oil and red wine vinegar

4

small serving bowls

,

for the herbs, onions, almonds and olives

individual ramekins for each guest

,

to make individual dressings

individual appetizer spoons or small spoons for each guest
Instructions
On a large platter, arrange the endive, butter lettuce, Persian cucumbers, bell peppers, green beans and soft-boiled eggs.

Add the tarragon, basil, dill and cilantro into a small bowl and stir well. Place the pickled red onions, almonds and olives into their own small individual bowl. If the platter is large enough, place these bowls onto the platter. If it's not large enough set them aside to be placed on the table next to the crudité platter.

Place the Dijon into a small serving bowl. Pour the cream, oil and vinegar into their own pourable containers. Add salt and pepper to their own serving container.

Store all ingredients, covered, in the fridge until time for service. When ready to serve, place on the table with serving spoons. Provide individual plates to the guests to build their plate. Give the diners ramekins with spoons, to stir together the dressing ingredients into the ramekins (my favorite combination is a dollop of Dijon and a dousing of olive oil that is then topped with a fresh herbs, salt and a splash of vinegar and cream).

Get creative with the ingredients and have fun!

The bulk of the labor involved in such a spread is not cooking, but prepping. Expect about 30 to 45 minutes to prep this crudité.